From spicy salame with mozzarella to prosciutto di parma, at Pizza Ponte, jovial pizzaiolos serve up Pizza al Taglio, Sicilian-style pizza by the slice for those Disney Springs guests seeking something pronto yet also deliziosa.
There's also a variety of handmade Italian sandwiches (mortadella!) and salads alongside house-baked sweet-and-savory Italian pastries as well as a selection of Italian coffee, birra (beer) and vino (wine) for those seeking refreshment.
Pizza Ponte is the quick-service restaurant that rounds out the collection of Italian-based concepts from the Patina Restaurant Group at Disney Springs, who also operates the sit-down Italian restaurant Maria & Enzo's next door and the speakeasy-ish Enzo's Hideaway. The group also operates Morimoto Asia Japanese Restaurant and The Edison nearby.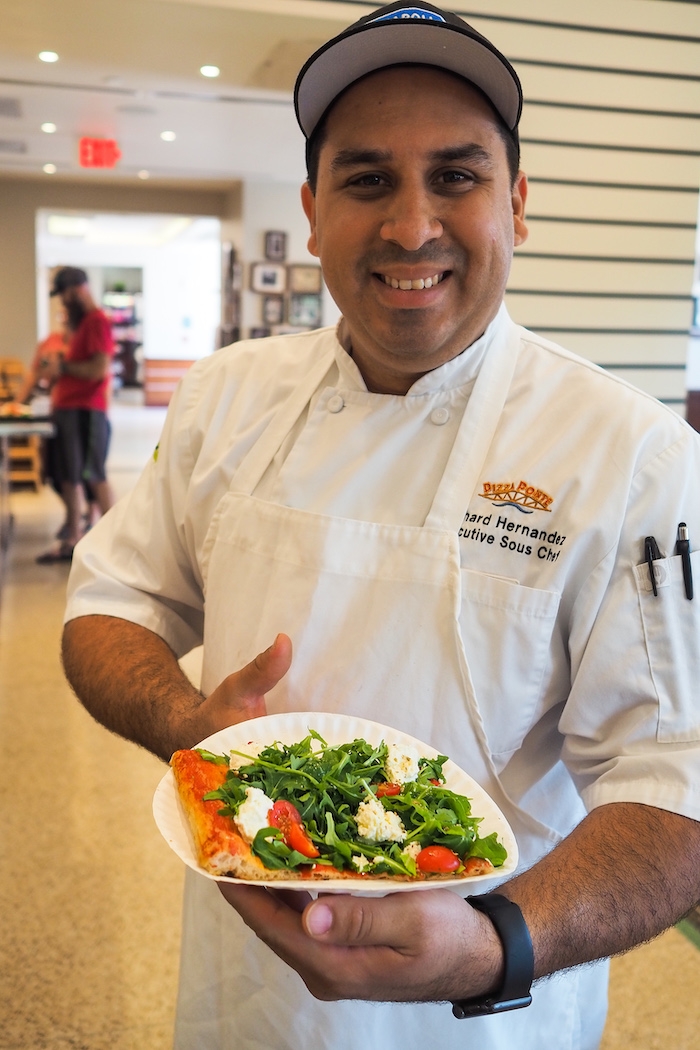 You may be familiar with Patina Restaurant Group's work inside Epcot at Walt Disney World, where they own and operate celebrity chef Joachim Splichal's Tutto Italia Ristorante  and the much loved Via Napoli Ristorante e Pizzeria at the Italy World Showcase.
With such great experience and knowledge of real Italian pizza and cuisine, it's no wonder Pizza Ponte serves up some wonderful slices of pizza and Italian sandwiches. We recently chatted with Executive Chef Charlie Restivo who oversees the operations at Pizza Ponte at Disney Springs about the restaurant, the "secret" to great pizza, and their upcoming plans this summer. Buon Appetito!
Interview with Executive Chef Charlie Restivo of Pizza Ponte at Disney Springs 
Chef Charlie Restivo has worked with Patina Restaurant Group for over 25 years. As a Head Pizzaiolo, he has overseen Patina's Italian restaurants that specialize in pizza and managed those programs such as Naples 45 in New York City, the flagship restaurant that launched Via Napoli at Epcot. He grew up in a Sicilian family with a strong culinary background and have traveled to Italy many times over the years, reconnecting with those roots.
Tasty Chomps: What is your favorite memory around food growing up?
Chef Restivo: Sunday supper. It started at 1 p.m. and the aroma of the meal and spices that wafted throughout the house all day as it cooked was amazing.
Tasty Chomps: What inspired you to become a chef?
Chef Restivo: I wanted to observe guest satisfaction over and over again as a direct result of the dishes that I had a hand in creating.
Tasty Chomps: What are the most popular dishes right now at Pizza Ponte?
Chef Restivo: The Big Roman. It's a huge slice of pizza (12 inches) covered with cheese and baked to perfection, also making it my favorite menu item.
Tasty Chomps: What are some upcoming dishes that would be perfect for the summer at Pizza Ponte?
Chef Restivo: An upcoming pizza that we have slated to debut at Pizza Ponte is the Pizza Bianca. It's made with arugula, charred lemons, whipped ricotta , and Florida shrimp, making it the perfect summer indulgence.
Tasty Chomps: What is the secret to the "Perfect" Pizza?
Chef Restivo: The flour and process of making the dough are the make or break components of "perfect" pizza. We use Caputo "00" flour imported from Italy, which means it's the best selected wheat and is milled twice. This makes pizza dough flavor very intense. The process is comprised of a three day proofing made with a mother's yeast at 80 percent hydration.
Tasty Chomps: What makes pizza at Pizza Ponte special?
Chef Restivo: Our signature cooking methods and ingredients. We use water that mirrors the chemical composition of the water found in Naples to help create the consistency of our dough, which contributes to our pizza's perfectly chewy texture. The slight char on the crust that is characteristic of Neapolitan style pies is another aspect that is key in delivering results to our guests reminiscent of the slices of pizza they could order on the streets of Naples.
Tasty Chomps: If you could eat anything for the rest of your life, what would it be?
Chef Restivo: I think I already have! If I could choose one food to eat for the rest of my life, it would have to be pizza. I even have a pizza oven in my backyard at home.
Tasty Chomps: What are some upcoming plans for Pizza Ponte?
Chef Restivo: We're constantly playing with combinations of toppings and dreaming up new types of pizza to introduce. We also look forward to continuing to offer new pastries that are all freshly made onsite.
Pizza Ponte at Disney Springs
1560 East Buena Vista Drive, Lake Buena Vista, FL 32830
http://pizzapontefla.com
OPEN DAILY
Sunday-Thursday 11:30AM-10PM
Friday-Saturday 11:30AM-1AM
Here are Some More Scenes Inside Pizza Ponte at Disney Springs: