The Good Taste Series competition presented by Hyatt is an annual global contest that cultivates emerging chefs and celebrates cultural diversity. A testament to Hyatt's commitment to culinary excellence and creativity, The Good Taste Series is open to anyone from line cooks to executive sous chefs in Hyatt hotels globally.
This annual competition, which has grown from a regional competition to a global stage, recognizes and further "develops Hyatt's culinary talent, while reinforcing Hyatt's commitment to food and beverage excellence."
"Our purpose is to care for people so they can be their best, which includes helping our colleagues grow and realize their potential," said Mark Hoplamazian, president and chief executive officer, Hyatt. "The Good Taste Series enhances the strong foundation that Hyatt has built for career development – from having inspiring mentors to providing an international platform to showcase our food and beverage talent – that will in turn enable our chefs to create unparalleled experiences for our guests."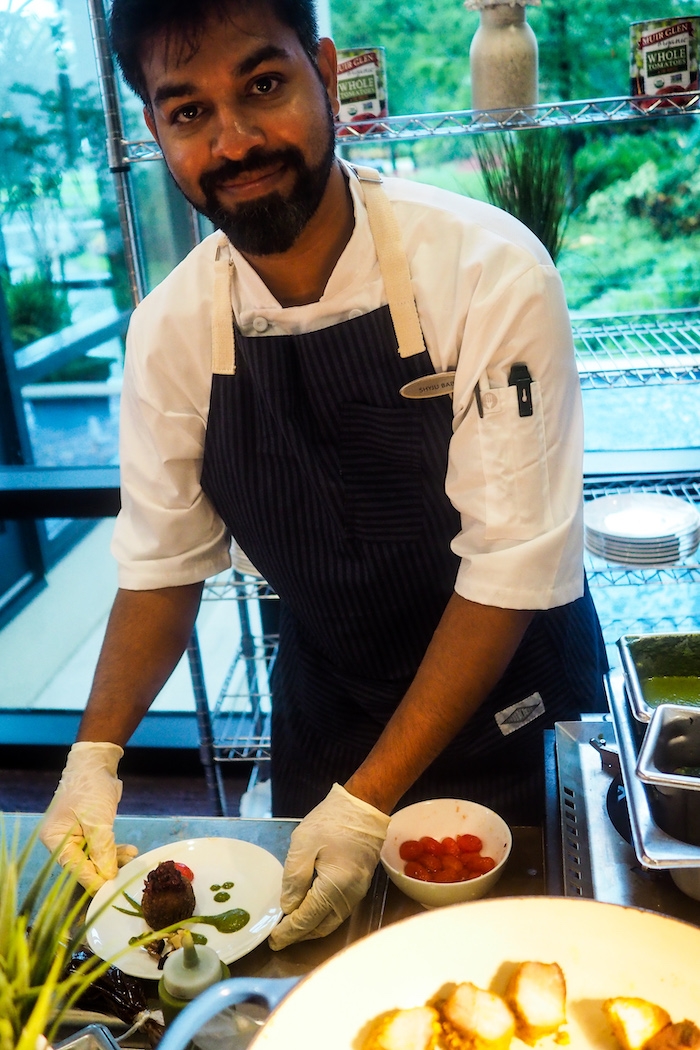 This year, the chefs were given secret ingredients including: Teff, an ancient grain, mushrooms, pork, and Beyond meat to make two dishes at the area competition at Hyatt Regency Grand Cypress.
Ten participating chefs prepared two dishes incorporating four out of five of the items from a mystery box revealed two days prior to the competition. They came from all over the region including Tampa, Atlanta, Baha-mar, and Miami.
Chef de Cuisine Shelby Farrell of Hyatt Regency Orlando International Airport won first place and will be heading to the regional competition in Seattle next.
Interview with Chef de Cuisine Shelby Farrell of Hyatt Regency Orlando International Airport
Tell us about your inspiration behind your dishes
Chef Shelby Farrell: For the Pork and Waffles dish I was inspired by the idea of combining ingredients from my southern background (ie. chicken and waffles, sorghum, and benne seed) with an Asian flavor profile. I love to take the food I grew up around and give it a fun international spin! Using heritage grains and produce is also super important in my culinary style so when I was presented with the Teff I knew I had to find a way to make it shine.
For the Beyond Tartare the inspiration was taking a classic dish and totally spinning it on its head and making it new. Coming up in hotels I've always had to ride the line between the old and new, knowing how to create the classics while trying to push the boundaries at the same time. I get a kick out of making a "traditional" dish in a way no one will expect. The tartare dish came from that through and through, egg yolk, Dijon, chive, crackers, pickles, ect. Everything you'd expect in a tartare but none of it presented in the way you'd presume.
How does it feel to win the competition?
Absolutely elated! I've worked my way up the ladder in Hyatt, from an entree level cook to Chef de Cuisine over the past 7 years, and for the most part I've focused on building my career internally and rarely put myself in the spotlight like that. To know that not only can I hold my own against so many other talent Chefs but that I can win as well!? It was definitely a day I won't be forgetting anytime soon.
What did the judges think of your dish?
The judges were all wonderfully complementary, from the presentation, to the flavors, to the ways I utilized the mystery ingredients. The waffle itself was definitely one of the highlights from what I heard, it was something completely original and no one expected it.
Where do you go from here?
On to Seattle! September is the national competition with the winners from each region going head to head, top two go onto the international competition, which rumor has it might be in Paris!
What are some upcoming plans at Hemisphere?
My biggest plan with Hemisphere is to continue to promote our name in the local community and make us the hot "new" spot in town. Until a couple years back we were a good ole steak and sides kind of restaurant and that's definitely the image most of Orlando still has of us. It's about time that people realize we are serving fun, creative, and absolutely delicious food in one of the coolest dining rooms in the city. We aren't serving your typical hotel food, and definitely not your typical airport food! Its time more locals give us a shot!.
What are your favorite dishes at the restaurant right now?
Oh man, tough question! From our small plates selection I'd have to say the Panko Oysters with Kewpie Remoulade and Watercress Salad, the Grilled Octopus with Smoked Avocado and Confit Heart of Palm, and The Farro and Ramp Salad. From our entrees you can never go wrong with the Tomahawk Pork Chop with Jai Alai IPA Mustard Sauce or the Cauliflower Steak with Panang Coulis.
Here are more scenes inside the 2019 Hyatt Good Taste competition event here in Orlando: