We were recently invited to Bulla Gastrobar in Winter Park to try out their new seasonal summer menu where guest can enjoy a spin of their favorite Spanish flavors for a limited time, during dinner hours only.
Seasonal cocktails (pictured above): LIFE IS A BRAMBLE – Blackberries, Amontillado Sherry, lemongrass syrup.  Your choice of: Brockman's Gin or Pelotón de la Muerte Mezcal. $13
Bulla Gastrobar was founded by Carlos Centurion and his team, inspired by the gastrobars of Spain where Bulla was born.
Here are our Favorite Dishes from the New Seasonal Summer Menu at Bulla Gastrobar:
1. GRILLED STEAK

4 oz. bistro steak, truffled potato & mushroom foam, salsa criolla, arugula salad.  This was a light steak dish with a lot of great flavors. $14
2. BRAISED BRISKET CALDOSO
Valencia-style rice, red sofrito, piquillo confit, crispy chickpeas.  Every bite was an explosion of the finest and freshest flavors. $20
3. ENSALADILLA RUSA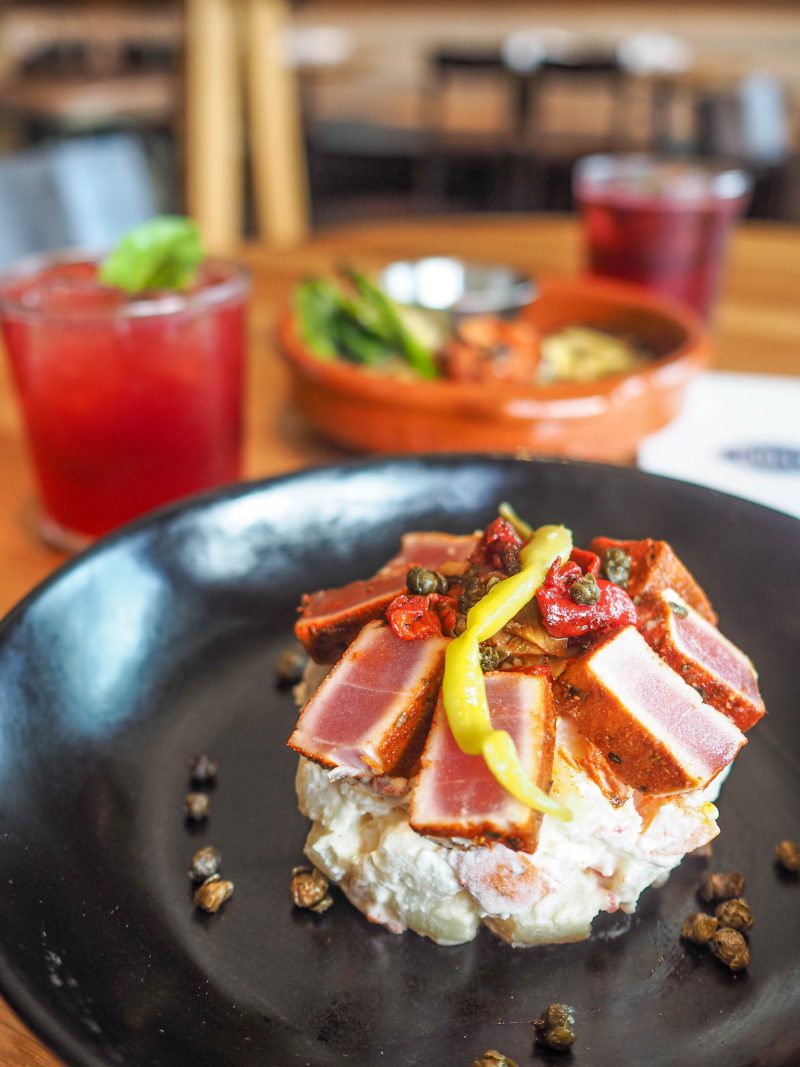 Paprika rubbed seared ahi tuna, potatoes, carrots, green peas, piquillo confit, crispy capers.  This dish is Bulla's take on a potato salad.  The seared ahi tuna was the perfect accompaniment. $10 
4. GRILLED VEGETABLES
Eggplant, zucchini, squash, tomato, scallions, asparagus, romesco sauce.  Healthy and delicious grilled vegetables.  $12
5. SHRIMP FRITTERS
Fish and shrimp fritters, Spanish paprika, tartar sauce. $12 
6. PUDDING 'PAN DA CALATRAVA'
Caramelized brioche, sherry raisins, whipped cream. $8
Thank you Executive Chef Mariano Vegel for the delicious dinner!
Bulla Gastrobar
110 S Orlando Ave. Unit 7 Winter Park, FL 32789
(321) 214-6120
bullagastrobar.com