We were invited to check out the newly expanded Don Julio Mexican Kitchen & Tequila Bar, located in the Publix plaza on Chickasaw Trail & Lake Underhill Road.
They have expanded their dining area and added a ceviche bar, more tables, booths, and paintings on the wall.  The painting of the beautiful women on the right is a tribute to the owner Larry's late mother.
The new ceviche bar made its debut three day ago and is spearheaded by Food Network Chef, Chef Roberto Treviño.
What is ceviche?  Ceviche originated in Peru is made with fresh raw seafood marinated in vinegar or citrus juice from lemon or lime.  The citric acid effectively "cooks" the seafood even though there is no heat involved.
Here are our favorite dishes from their new ceviche bar:
1. Huachinango Mango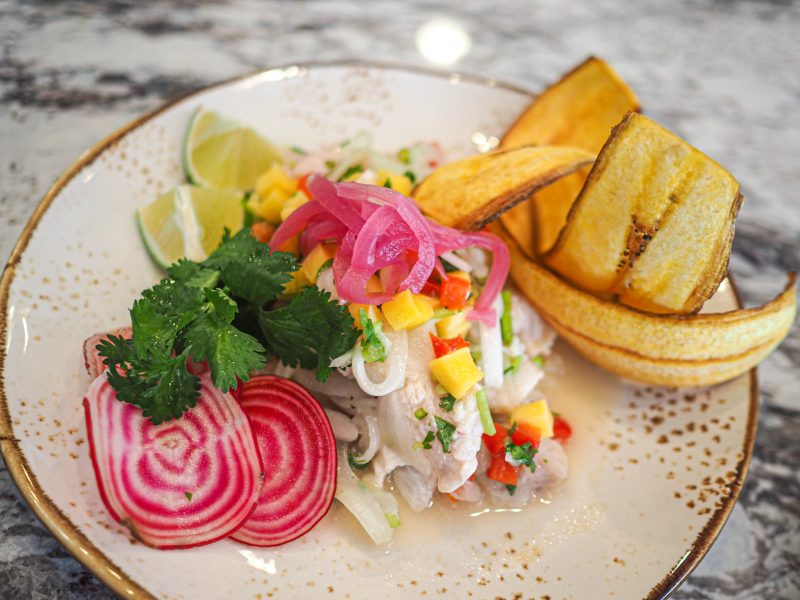 Fresh raw snapper, marinated in lime juice, onions, jicama, pepita seeds & mango in chamoy chile
2. Fresh Ahi Tuna
Raw tuna cubes with lime, marinated vegetables, fresh avocado, chopped peanuts & served with chicharrones
3. Classic Shrimp Agua Chile
Raw shrimp, marinated in red onions, lime, cucumber, agua de serrano, cilantro & chile
4. Conch De Choncha
Tender conch served in an lemon onion, escabeche with red pepper & cilantro
They have another location in Lake Mary and plan on opening up three more restaurants within the next few months in Waterford, Lake Nona, and Orlando International Airport.
Specials:
Marg Monday – $3 margaritas all day
Taco & Tequila Tuesday – $2 tacos, $2 tequilas
Imported Beer Draft Wednesday – $2 all day
Live Mariachi Band Thursday – 7:00 – 10:00pm
Live DJ Friday – 7:00 – 11:00pm
Live DJ & Band Saturday – 7:00 – 11:00pm
Huge thank you to Larry for having us!
Don Julio Mexican Kitchen & Tequila Bar
551 S Chickasaw Trl Orlando, FL 32825
407-930-3735
donjuliobarandgrill.com