American Kitchen Bar & Grill is a full service, family-friendly restaurant known for its farm-to-table concept sourcing local and sustainable product whenever possible. Just like America, their menu is a melting pot of multiple influences and techniques.  They take an artisan approach to numerous items on their menu which give them the opportunity to share a unique spin on New American Fusion Cuisine.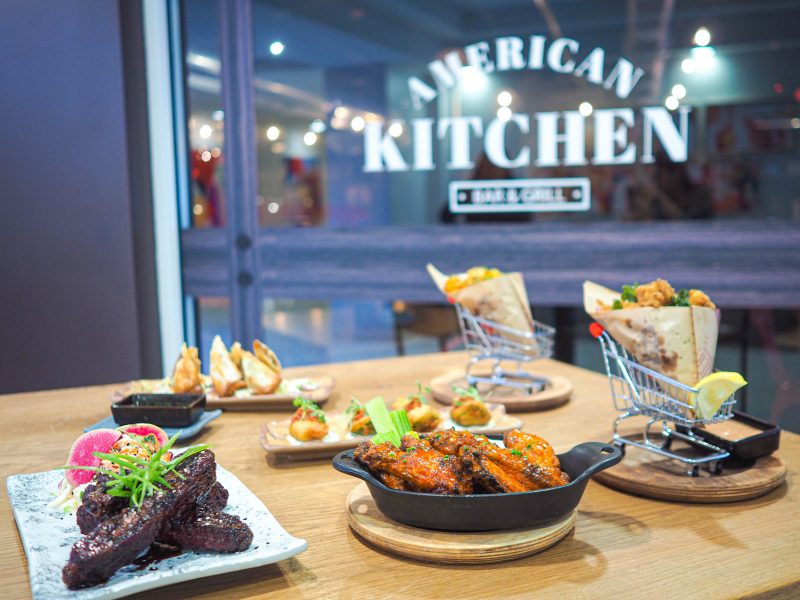 We were invited to check out their new daily Happy Hour menu prepared by Executive Chef Venoy Rogers III (pictured in the middle), winner of Food Network's Chef Wanted with Anne Burrell.
Happy hour is available every day from 5:00 – 7:00pm.
Drinks:
1/2 off domestic/draft beers
1/2 off house wines
1/2 off house liquors
Food:
1/2 off everything from the menu below, including their Small Bites Tour:

For my Small Bites Tour, I choose my top 3 favorites: Tempura Avocado, Korean Glazed Pork Ribs, and Fried Chicken "Oysters".  The presentation and flavors in each of these appetizers were on point.
Here Are The New Happy Hour Dishes at American Kitchen Bar & Grill:
1. Tempura Avocado

Tomato-chipotle jam and cilantro-lime crème fraiche.  The avocado was creamy and had a great crunch.
2. Korean Glazed Pork Ribs

Chinese carrot cabbage slaw, sweet soy glaze, radish and sesame.  The ribs were sticky, sweet and succulent.
3. Fried Chicken "Oysters"

Tender chicken morsel, house aioli, crispy kale, lemon, buttermilk.  The fried chicken was crispy and seasoned well.
4. Grilled Chicken Wings

Bourbon bbq, signature buffalo, or honey jerk glazed.  These wings were solid.
5. Firecracker Cape Canaveral Rock Shrimp

Pepperoncini, chili garlic aioli, gochujang, toasted sesame.  The rock shrimp bursted with flavor in every bite.
6. Carne Con Queso Eggrolls

Slow braised certified Angus beef, pepper jack cheese, au jus.  The eggrolls were crispy and satisfying.
American Kitchen Bar & Grill is located inside B Resort & Spa, just a mile away from Disney Springs.  Parking is free when dining at the restaurant.
American Kitchen Bar & Grill
1905 Hotel Plaza Blvd, Lake Buena Vista, FL 32830
(407) 827-3080
americankitchenbarandgrill.com