Are you plant-curious? That's what local food entrepreneurs Joey Conicella and Alex Marin hope when it comes to introducing their new restaurant concept, Hungry Pants.
What is Plant-curious? It's 100% plant-based 80% of the time. Think: eating more whole and balanced foods like vegetables, but not giving up your favorite comfort foods.
You might know Joey and Alex from their days of creating the once popular Yum Yum Cupcake Truck that was one of Orlando's original gourmet food trucks. Known for their creative flavor combos and bow-tie clad cupcake attendants, these guys have traded in their mixing bowls for more well-rounded menu choices. Leading with an inclusive, something-for-everyone point of view, the menu offers globally inspired sides, sandwiches, salads, and bowls.
"It really has been so long. 4.5 years since we sold Yum Yum. 8 years since we STARTED Yum Yum. It all seems like yesterday," said Joey Conicella, managing partner of Hungry Pants.
"After we sold Yum Yum we reentered the workforce, which took us to Philly and then to Dallas. I was the publisher of a magazine called D Home in Dallas and Alex was the GM of a hotel. We moved back to Orlando in March of 2018. From the moment we left Orlando, we missed it here. It just took a couple of years to navigate back."
"We sold Yum Yum for several reasons, but the main reason was we had done everything we could do with it. We truly loved what we created, and loved our customers, but if we were going to do something with food for the rest of our lives, we wanted to have more flexibility. After we sold, we gave ourselves the space and time to think about what we would do if we ever had our own business again. That's how Hungry Pants came to be. "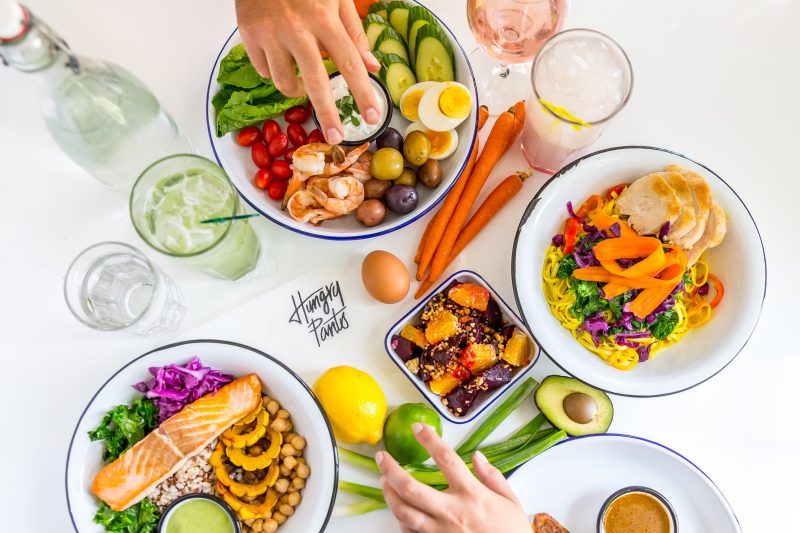 Opening this fall at 3421 S Orange Ave in the heart of SoDo; Hungry Pants promises to serve a plant-curious menu in a fast-fine setting. And unlike most choices in life; at Hungry Pants you really can have it both ways.
Hungry Pants will occupy the space that was formerly long-time SoDo staple, Carol's Place. Although Carol's owners decided to close the business, they will remain on as the landlord for the property. In an area that is traditionally chain heavy, Hungry Pants hopes to offer a local and fresh option that better reflects the population of the surrounding neighborhoods.
With this new venture, Joey and Alex hope to, once again, contribute to the changing ways Orlandoans eat.
Heck, happy food happens to hungry people.
Brand:
The logo is a modern interpretation of the scribbled signature logos of mid-century department stores. Customers can expect to find similarly bright, retro elements woven into the DNA of the space.
The 'swamp gata' and 'trash panda' were chosen as official mascots of Hungry Pants because they are notoriously indiscriminate eaters who have reformed their ways and are now eating healthier whole foods (at least 80% of the time).


Menu:
The menu will be divided into four different categories based on the level of Hunger:
Nibble (shareable plates)
Nosh (sides)
Hungry (salads, bowls)
Famished (burgers, sandwiches)
With dishes that are designed to share or to devour on your own – Hungry Pants will set a place at the table for just about any appetite.
Customers can expect to see scratch-made menu items like:
Tumeric Tahini Noodle Bowl
Black Bean and Sweet Potato Wontons
Curry Lime Tempeh Sandwich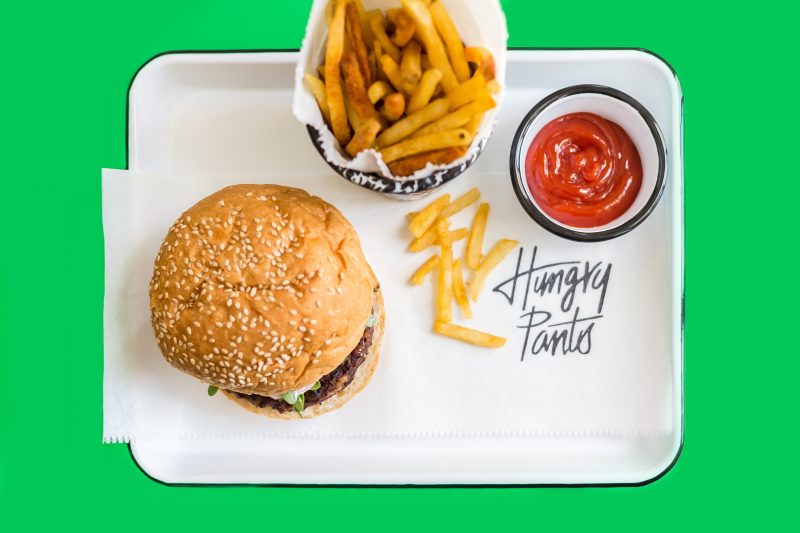 Grass-Fed Cheese Burger
Hungry Pants will offer online and mobile ordering, takeout and third-party delivery. It will open for lunch and dinner, and eventually launch breakfast and brunch service. Craft Beer, wine and house made desserts will round out the dining experiences.
"It was important for us to keep each dish whole and balanced, but also embrace the diversity in flavor and culture that Orlando loves so much in it's food."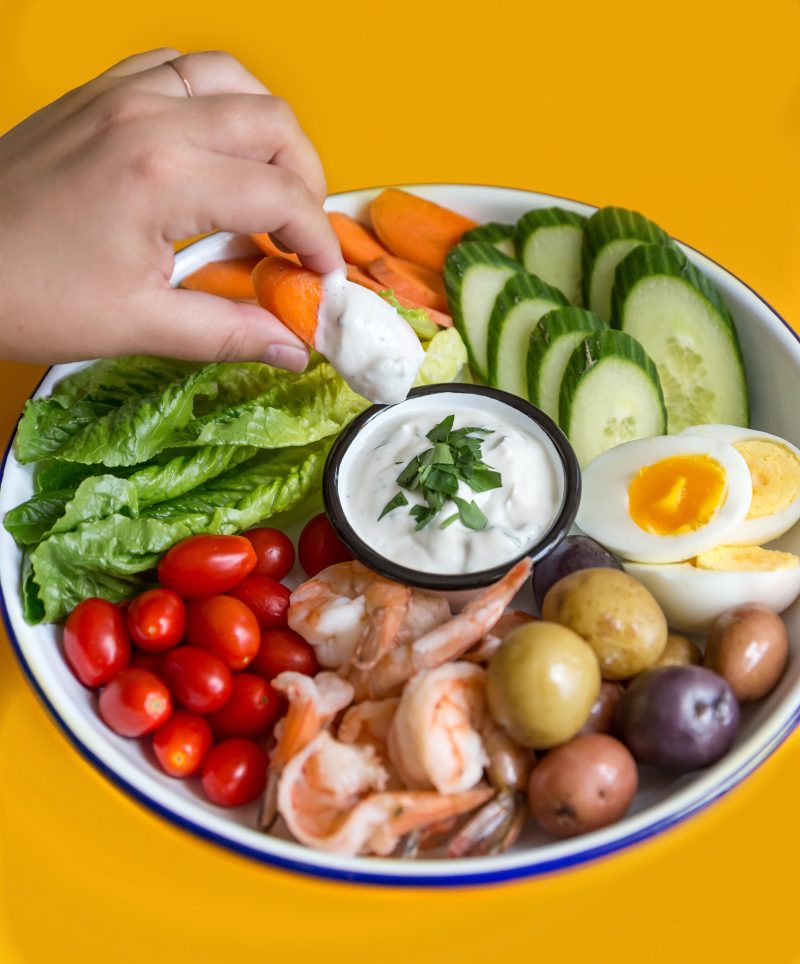 "Since Hungry Pants is going to be a bright and cheery place, we wanted to keep the dishes that way too, so we worked incorporated as much color as possible into each dish."
When a dish isn't inherently plant-based and there are ingredients like dairy or animal protein, those ingredients will be sourced in a healthy and responsible way to help balance some of their potentially negative effects.
The menu was built with a point of view (read: not build your own), but still be expedited quickly. In the tradition of Yum Yum, this will be a scratch kitchen.
Joey's Personal Favorites from each section include:
Nibble
Le Grande Aioli: hard-boiled egg, chilled shrimp, potato, carrot, cucumber, cherry tomato, seasonal greens with cilantro aioli
BBSP Wontons – black bean, sweet potato, garlic, ginger, lemongrass, with sweet chili sauce
Nosh
Mac n' Cheese n' Squash – traditional mac n' cheese with butternut squash
MDP (Most Delicious Potatoes) – roasted sweet potato with greek yogurt and hazelnut gremolata
Hungry (you can add protein to these items)
Turmeric Tahini Noodz – udon noodles, kale, sweet peppers, purple cabbage, carrots with turmeric tahini sauce
Hurry Curry Bowl – forbidden coconut rice, broccoli, carrots, seasonal squash, cherry tomatoes with yellow curry sauce
Famished (you can items from Nosh to these)
Veggie Burger – black bean grain patty, pickled red onion, cilantro aioli and arugula on a sesame seed bun
Salmon Wrap – chilled seared salmon, collard leaf, quinoa, avocado, with cilantro aioli in a tortilla
They will also have a selection of wine, beer, teas and house made natural sodas, as well as dessert.
Contact:
Website: www.eathungrypants.com
Instagram: @eathungrypants
Facebook: /eathungrypants
Email: hello@eathungrypants.com
*Hungry Pants collaborated with local creators Secret Society, Arlene LaBoy Photography and Rebranded Media on their brand design, photography, and website.