Chicken Fire is a new vendor coming to Orlando, FL bringing soulful Nashville hot chicken. Nashville hot is a different type of hot with a load of cayenne. The chicken is covered in crispy batter, cayenne and other spices before it is deep fried.
Kwame is the proud owner of Chicken Fire. From helping to make his chicken to greeting guests, he makes sure everyone is enjoying their time and his chicken.
I asked Kwame for his favorite and he brought us a Hot Box with a hot spice level. The Hot Box has 2 jumbo chicken tenders served with bread, pickles, crinkle-cut fries, coleslaw, and their Signature Fire Sauce.
The Signature Fire Sauce isn't hot like the name implies. Instead, it actually helps in cooling the fire in your mouth created by the hot spice level! Although you may be accustomed to hot spices, I am warning you that this is an entirely new level and will burn if you accidentally get it on your face like I did.
Enjoying it with some toast helps in cooling down your mouth. However, you may still want to bring a glass of milk with you.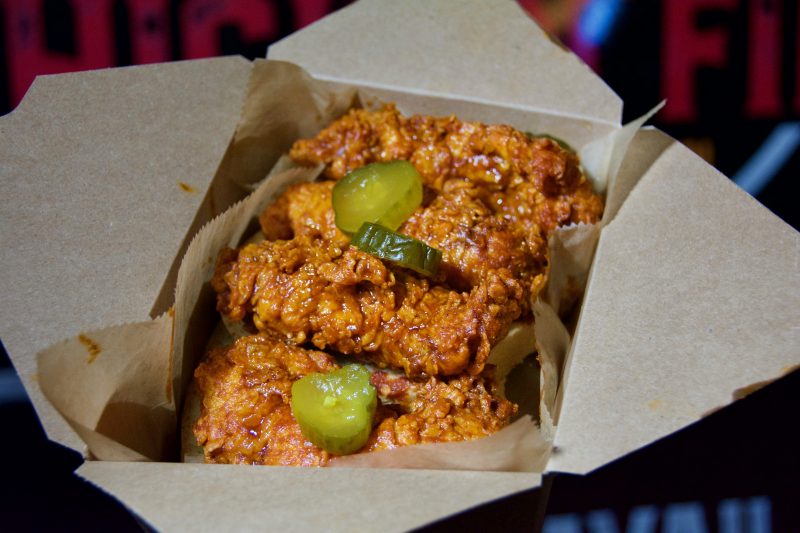 Another option you could order is the Big Box, which I ordered with medium hot sauce. Again, my lips were on fire. However, it was worth it because it was so amazing. The crispy coating is flavorful and the chicken on the inside is absolutely tender and moist.
If you're not into spicy, but still want to try Kwame's chicken, check out the soulful heat level. The soulful heat level is not spicy whatsoever. Instead, it has sweet honey notes to it. This level definitely helps in mellowing out the fire the other heat levels create.
Soon, Chicken Fire will have their own location for you to stop by whenever you want instead of looking for pop ups. Until then, follow them on Instagram or follow them on Facebook. I can't wait to check out another pop up so I can try the mild heat level – the only level I haven't tried yet.