Founded by husband and wife Robert and Teresa Ly, Sus Hi Eatstation have now officially opened six restaurants across Central Florida. From their first location across from UCF back in 2011, to Altamonte Springs, Millenia, Lake Nona, East Colonial and now Chickasaw in the Rio Pinar Plaza (near Publix and Planet Fitness), the young, hard-working restauranteurs do not plan on stopping anytime soon.  They are currently working on opening their next stores in Tampa and Gainesville.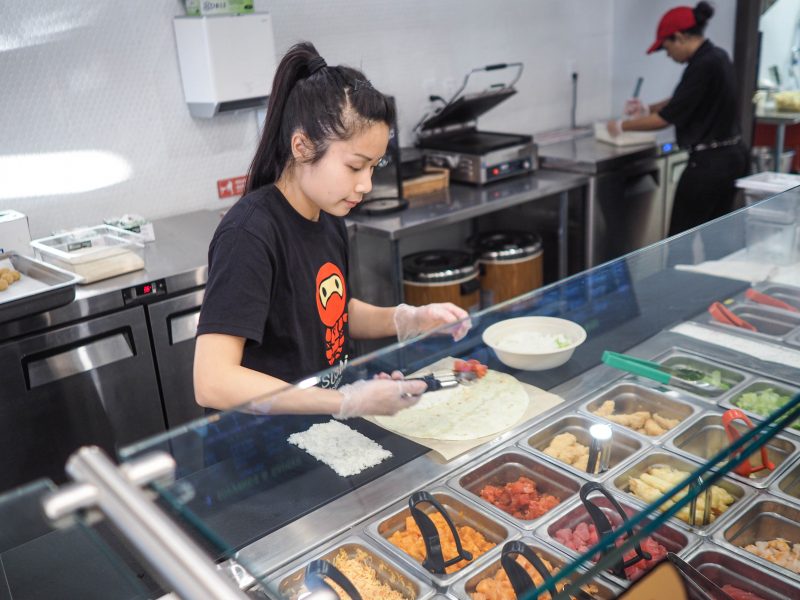 Sus Hi Eatstation offers customizable sushi rolls, bowls, and burritos using high-quality ingredients and classic cooking techniques.  Proteins include everything from salmon to tuna to steak and tempura shrimp and tofu.  Some more colorful ingredients include bacon and cheese, as well as edamame and tempura flakes.  Since it is a "build-your-own" concept, the possibilities are endless!
What makes them stand out from the rest is their distinctive Ninja theme.  They set out to "build a fun ninja community for creativity and passion to thrive through food, love, and family."
Pro-tip: Download the Sus Hi phone app and order from the app and get $5 off $20 or more.  Use code: "5off20".
Here Are My Favorite Menu Items at Sus Hi Eatstation:
1. Deep Fried Burrito

I have a weakness for sushi + fried food so these deep fried burritos satisfied every single taste bud of mine.
2. Bowl

Their bowls are my go-to order when I want something delicious and fulfilling.  I love to eat them after my morning CrossFit workout, for lunch, before work, after work, dinner – I love to eat them at any time of the day, really!

3. Roll

Customizable sushi rolls.  Need I say more?
4. Spicy Cauliflower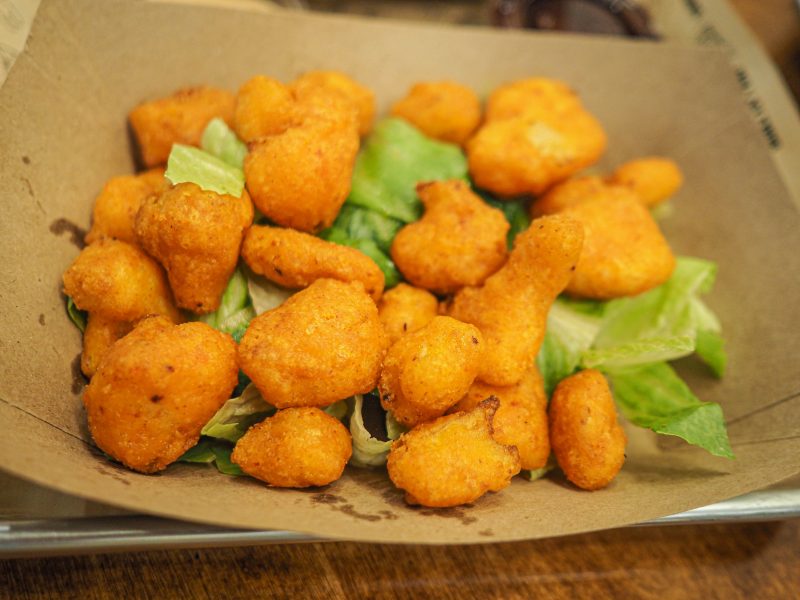 Cauliflower is getting all the love nowadays and these flavorful spicy cauliflower bites that are battered and then deep fried are definitely deserving of it.
5. Loaded Rice Fries
My first thought every time I eat this is "what is this??"  Rice wrapped in nori, coated in batter and panko, then deep fried until golden brown.  For $1.50 extra, you can top it off with cheese (I prefer mine melted – FIYAH!), bacon, scallions, & jalapeños.  Served with Triple X sauce or your choice of sauce.
6. Vegan Edamame Dumplings
Edamame, tofu, cabbage, & potato filling.  100% vegan.
7. Krab Ragoons
Seasoned krab & cream cheese wrapped in a wonton wrapper then deep fried until golden brown.  YES.
8. Cheesecake Bites
Sus Hi Eatstation hosted a "Food Wars" competition between their employees and these Cheesecake Bites made by Ninja Element from their Lake Nona dojo won the food competition.  They are available at all locations for a limited time only.
Here Are More Photos Of The New Sus Hi Eatstation On Chickasaw:
Be sure to check out the new Sushi Hi Eatstation the next time you are in the Chickasaw area for build-your-own rolls, bowls, and burritos!
Sus Hi Eatstation
417 S. Chickasaw Trail
Orlando, FL 32825
sushieatstation.com