Reunion Resort is a location in Kissimmee, FL that is a lifestyle in itself. This Thanksgiving, and that of every year, they host a Thanksgiving Feast for you and your loved ones. Not to mention, they have Thanksgiving Dinner To-Go Bundle for those who want to stay in and still serve 6-8 people.
We were blessed to be invited to have an experience of this lifestyle at Reunion Resort dining at Forte. It was a Friendsgiving for the books and the ambiance was greatly set by Reunion Resort and their hospitable staff.
We were able to sample a number of dishes that will be served at the Thanksgiving Feast as well as the Thanksgiving Dinner To-Go Bundle.
The bundle itself consists of items from the Thanksgiving Feast itself.
The first items we sampled while mingling with one another and waiting for us all to arrive included Cured Meats, Winter Park Artisan Cheeses, Breads & Savory Condiments, and a selection of Pate and Terrines with Accoutrements. It all tasted as wonderfully as it was displayed. I cannot pick a favorite from any of these items because they're all my favorites. Besides the breads, I prefer the meats, cheeses and pickled items.
Wild Baby Greens with dressings and assorted garnishes were fresh and delicious. Our salads included slices of apples and grapes too, which added a wonderful texture and notes of sweetness to each bite.
The Yukon Four Cheese Herb Mashed Potatoes is so creamy and delightful.
Look at that cheese pull from the Yukon Four Cheese Herb Mashed Potatoes dish. The cheese stretch is as strong as my bond with my friends after a night like this at Reunion Resort.
Not going to lie, this was the first time I've had Traditional bread-based Stuffing and it didn't disappoint. It was like a Hallmark movie in each bite. It'll be served at a Carving Station of Herb Roasted Turkey along with Pan Gravy and Chipotle Cranberry Sauce.
Speaking of the Herb Roasted Turkey, wait until you are in the presence of this dish. Seeing the photo brings back how amazing it smelt and how amazing it tasted. The carving station has both white meat and dark meat for you to choose from if you had a preference.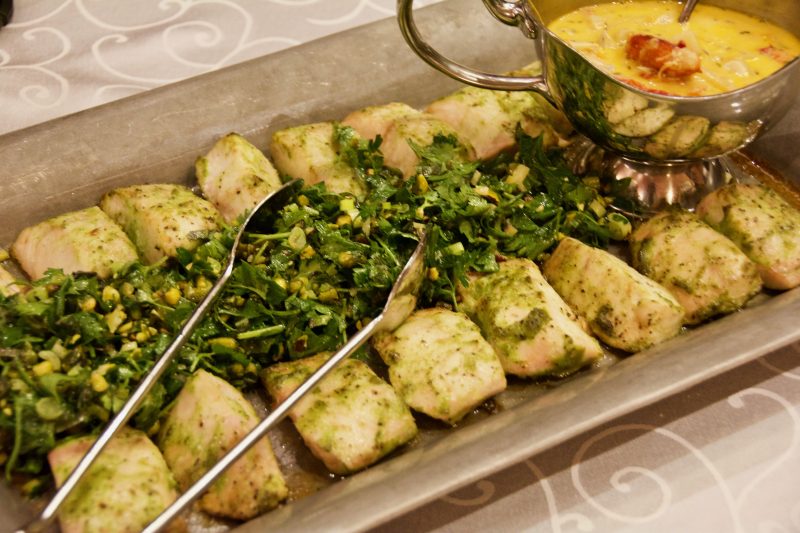 However, if you're not in the mood for turkey, then there are still plenty of dishes for you to enjoy like this Oven Roasted Fish served with a Lobster Barigoule with a Pistachio Gremolata. This fish was so juicy and tender even without the lobster barigoule and pistachio gremolata. The lobster barigoule is abundant in lobster bites. Both the lobster barigoule and pistachio gremolata add different textures to this dish. Please don't shy from this dish because it's truly an amazing add to a Thanksgiving Dinner.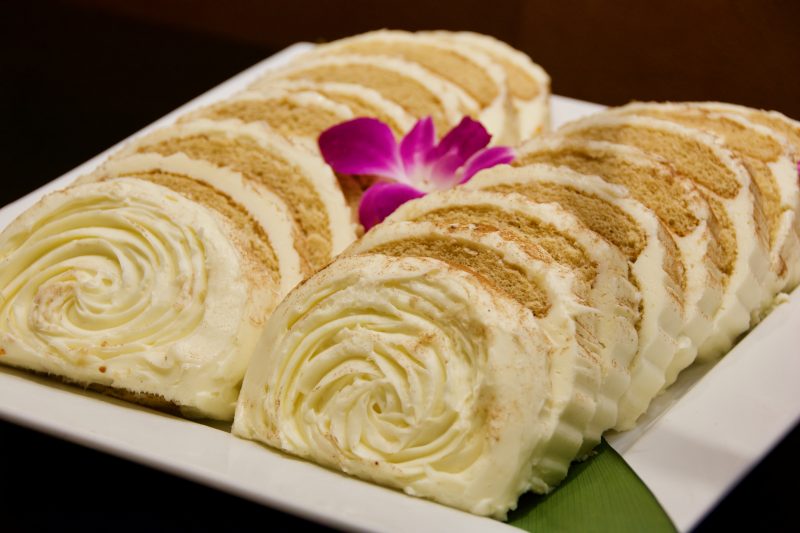 Reunion Resort won't shy away from enticing your sweet tooth. This Spiced Pumpkin Roulade is creamy, yet fluffy. For the right cake to cream ratio, take a center cut because it's the best.
From appetizers to desserts, all of the items Reunion Resort serves up are very unique as they add a touch to each dish that makes you feel how special it is to experience life at Reunion. For instance, check out this Orange Chocolate Cheesecake! Its like my childhood dreams came to life. It was like a creamy chocolate orange dreamsicle in each bite.
And of course, don't forget about the variations of pies they'll have like this gorgeous pecan pie. It brought me back to the days I spent with my God Grandmother and she'd make her pecan pies from scratch.
For more information, check out life at Reunion Resort on their website for more information about their Grande Thanksgiving Feast as well as any stays you'd like to make here in general.
Little secret, they have a rooftop bar where you can enjoy a drink and watch the Disney fireworks any night you're here. You'll love your experience at Reunion Resort as much as we did because they truly made us feel at home and made us individually feel special. If only we could stay forever.