Bulla Gastrobar is a Spanish Tapas inspired restaurant located in Winter Park. Tapas are a great and popular way to share dishes amongst friends and be able to try a variety of dishes.
Bulla is currently offering a Seasonal menu selection (while keeping their regular menu options the same) of six different items which we got to try a few of.
We started with drinks and tried my personal favorite, the seasonal Spiced Old Fashioned. Buffalo Trace bourbon is mixed with winter-spiced syrup, Angostura bitters, and orange bitters to create a twist on the classic Old Fashioned. The cinnamon sticks added a nice touch to the drink to give it that extra spice.
If you're more into fruit based drinks, you should order the Sangria 43: Red wine, brandy, Licor 43, triple sec, Sprite, pear, red apples, and chopped orange.
The first food dish we tried was the Bombas, braised oxtail fried with oxtail truffle reduction and mustard aioli. I love anything oxtail so this was a great way to start a meal.
Next were the Piquillos Rellenos. Piquillo peppers are stuffed with braised pork and pimento cheese. These bite sized, mild peppers were a great mix of flavors!
For all you pasta lovers, don't pass on the Carrilleras con Fideos! It's an elbow pasta dish with soffit dojo and the most tender braised beef cheeks.
Now for one of my favorites, the Butifarra Sliders. House made butiffara was served with mustard aioli and pepper relish on steamed buns with Idiazabal foam on the side. The foam sauce was to die for! It isn't a very heavy sauce so it didn't overpower the sliders at all.
My other favorite off the seasonal menu was the Oxtail Flatbread. Braised oxtail, grilled scallions, shredded Mahon, and caramelized onions are baked on a perfectly crispy flatbread. My advice is to keep the flatbread to yourself (like I would do) for a lighter meal instead of sharing this tapa dish!
If you're wanting something heartier and/or with seafood, you can't go wrong with Bulla's Seafood Paella. I loved the type of rice they used and it was packed full of calamari, prawns, clams, and shrimp. This would be a must order for me when I go back!
Now for the arguably the best course: dessert. We tried the regular menu item Volcan de Chocolate and the seasonal special Tarta de Santiago. The Volan de Chocolate is a lava cake  with Nutella, vanilla ice cream, and raspberries. With that combination, you can't go wrong!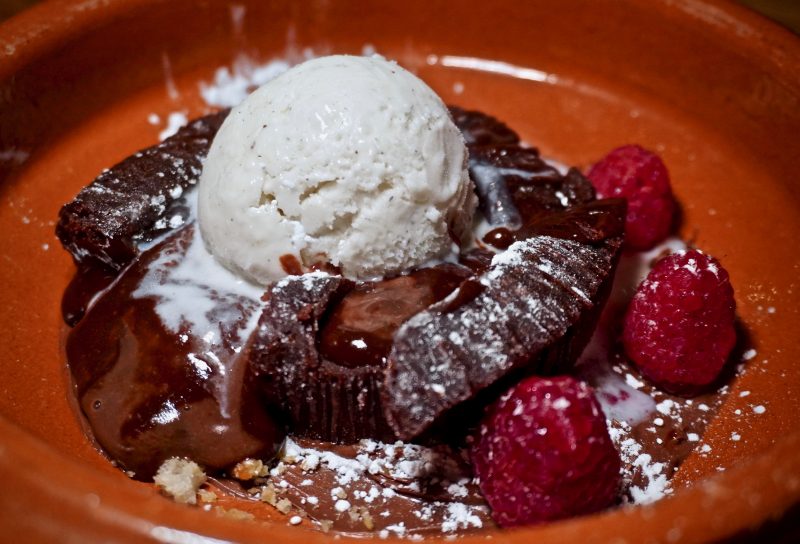 However, the Tarta de Santiago was what really impressed me. It's a traditional Spanish cake (gluten fee), toasted almonds, powdered sugar, and vanilla ice cream. The cake was very simple but it was very moist and delicious! Even though I'm a chocolate lover, this dessert was the winner for me!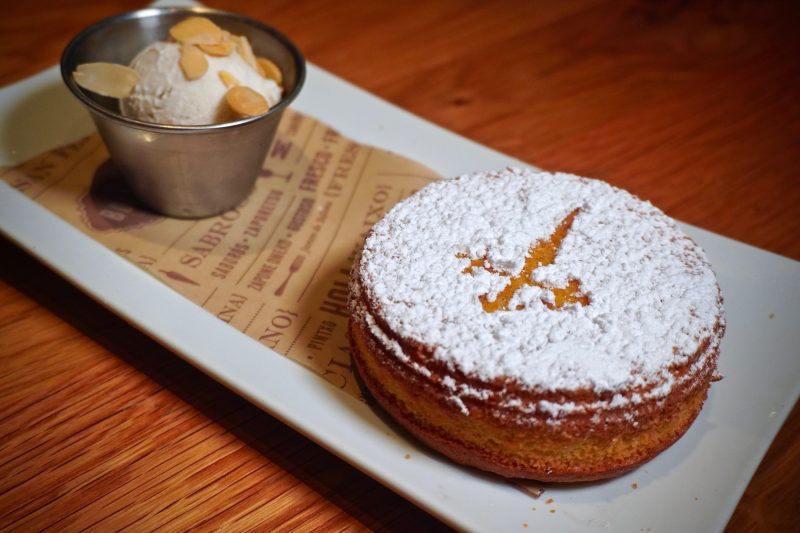 Bulla Gastrobar is located 110 Orlando Ave Suite 7, Winter Park, FL 32789. Check out their website at https://bullagastrobar.com.