Nick Moon, his wife Naomi, and old friend teamed up to create a place where friends and family can experience a seafood boil at an affordable rate. With years of experience sourcing and selling seafood, Nick identified an opportunity to offer quality ingredients at a lower price point, in a fast-casual environment focused on getting the food out in a timely manner.
From the east coast in Melbourne, it is brought to Hunters Creek in Orlando, FL.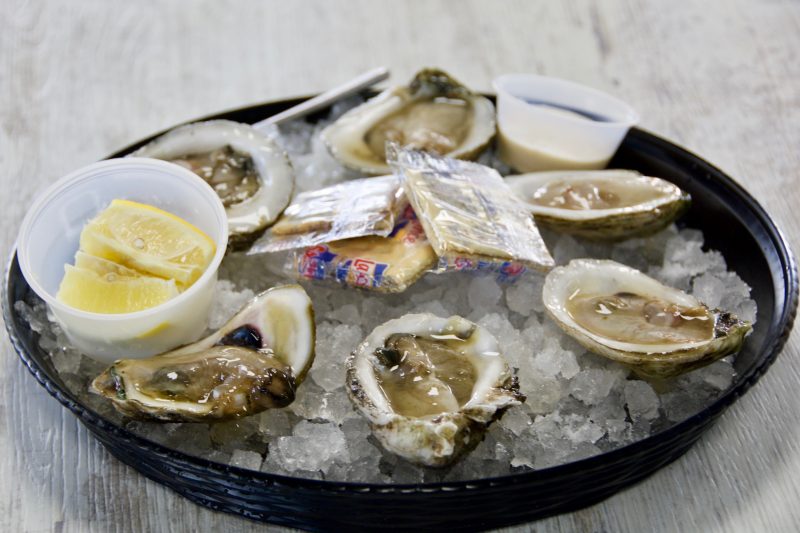 There are signature boil baskets, build a bowl and family feast options to choose from before picking a mild or spicy seasoning. Nevertheless, you can start with some oysters on the half shell as a starter on their own or with one of the Lover for 2 baskets. You can taste the ocean in each bite.
This basket is No. 7 – Lobster Tail & Shrimp, which is served with chicken sausage, corn, potatoes, garlic toast, & garlic sauce. Here, it was served with the spicy seasoning, but it didn't seem spicy at all unless my tastebuds are already trained. You tell me.
Basket No. 9 – King Crab & Shrimp, which is also served with the same items as No. 7 above. However, if you rather have the shrimps peeled for you or substituted for by rock shrimp, it's an extra cost. It's probably worth the charge if it makes you comfortable or if you feel like splurging a tad.
When sharing, you can order the Seafood Lover for 2 or Lobster Lover for 2 as mentioned above. Here, you see the Lobster Lover for 2 and it looks FABULOUS! It includes 4 lobster tails, 14 shrimps, 6 scallops (they ran out so I substituted it with some mussels), 6 oysters, double order of corn, chicken sausage, potato, and garlic toast. You can also substitute the shrimp as you please with rock shrimp or peeled shrimp.
On the other hand, you can be a shark and make your own bowl if you don't want so much seafood. The first step is choosing a base: garlic rice, linguini, grits, or broccoli. Step two is choosing the seafood/protein. Last, you can decide on if you'd like it mild or spicy. Don't worry, bowls are also served with corn, garlic toast, and garlic sauce so you won't miss out on those.
Here, you'll find garlic rice topped with 2 lobster tails and mild seasoning.
While you're there, enjoy the amazing art and play with it a little. It's definitely different from when your parents told you to not play with you food when you were younger.
For more information, visit the Melbourne Seafood Station online or in person to see how it is yourself.