We all know Metro Diner as a classic restaurant serving the best comfort food for breakfast and lunch. But, Metro Diner is putting a spin on things with their new Dinner menu featured during Metro Nights.
Their revamped menu for Metro Nights still feature the dishes you crave but with new flavors (and a few new menu items!).
They start out with bring fresh baked "mini" biscuits served with maple butter. These are a great way to start a meal, and they're not too large to where you'd fill up on bread before your meal.
We couldn't go to Metro Diner without getting at least one breakfast dish, so we decided on the Cinnamon Roll Pancakes. Two large pancakes with cinnamon and sugar swirls are served with cream cheese icing, candied pecans, and cinnamon butter. Yes, it's as delicious as it sounds and I would definitely order these again.
After satisfying our sweet tooth, we chose to try some of their dishes that are available only for dinner. If you want a lighter meal, then the Lemon Dill Salmon is for you. The salmon is seared and seasoned with lemon and dill and served with tomato basil quinoa and green beans.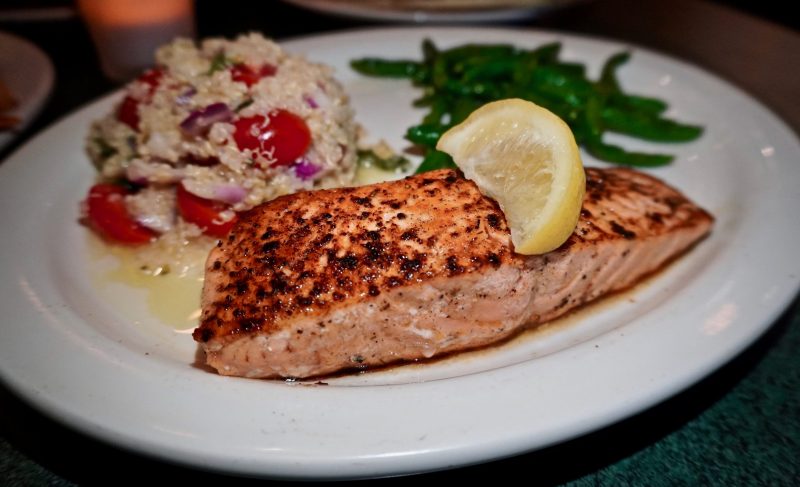 If you don't like fish, then try one of Metro Diner's new dishes: the Metro Sirloin Special (9 oz center cut steak, mashed potatoes, steamed veggies) or Dijon Chicken (sautéed chicken, dijon-lemon glaze, roasted veggie wild rice, green beans).
My personal favorite dinner dish was the Pulled Pork Mac Stack. BBQ pulled pork is piled on macaroni and cheese and cheddar cornbread waffles with maple butter. The best part about this dish was definitely the cornbread waffle. Who knew it would go so well with BBQ Mac n Cheese?
The Bold City Burger is a half-pound Angus burger topped with Provel cheese, bacon, sausage patty, caramelized onions, fried jalapeños, lettuce, tomato, and garlic aioli on a Briochie bun. All I can say, is that this is one stacked burger! You can also choose from a wide selection of sides to go with your burger.
I would also recommend getting a plate of thick cut, panic breaded Onion Rings to share for the table.
Don't forget to check out their expanded beer, wine, and sangria menu as well for some great selections!
Metro Diner: 985 N. State Road 434, Altamonte Springs, FL 32714. https://metrodiner.com/