We were invited to a media event at Reel Fish Coastal Kitchen & Bar in Winter Park to celebrate their 3 year anniversary and we had the most epic time indulging in a seafood feast!
Owner Fred Thimm (pictured below) welcomed us to a seafood galore that included fresh raw bar oysters, chef specialties and fish camp classics.
Reel Fish opened in 2017 with the goal of serving sustainable fish and seafood from local waters and you can certainly tell by the quality and taste in all their authentic dishes they serve only the freshest seafood that you can get in the area.
Fish Camp Classic, wild-caught Mayport shrimp, Gulf oysters, and Red Grouper from Madeira Beach, golden fried and served with Hush Puppies and Coastal Slaw – added French Fries.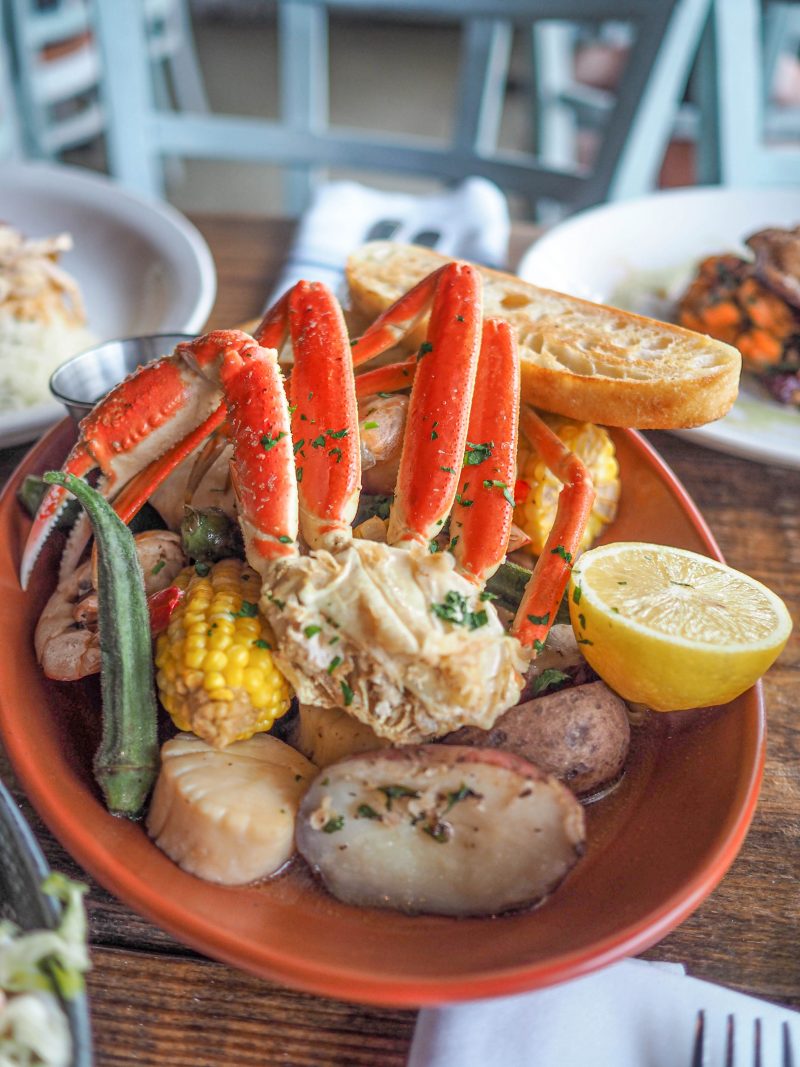 Low Country Boil, wild-caught Mayport shrimp, scallops, snow crab, PEI mussels, Andouille, red potatoes, corn on the cob, charred okra served with drawn butter and garlic ciabatta bread.
Local purveyor Colin Slemkewicz of Sublime Oyster Supply provides Reel Fish with some of the best fish and seafood in town.
Colin's Florida oysters were spectacular and we were pleased to find out that they were caught just the day before!  They had the fresh "day at the beach" flavor to them which we all enjoyed and delighted in.
Grilled Spanish Octopus, with Chimichurri sauce and chopped tomato, onion & cucumber salad.
Shrimp & Avocado Toast, smashed avocado, cool poached shrimp, warm poached egg, chopped herbs, shaved radishes, on multigrain toast.
Chef Catch: Golden Tile from Cape Canaveral, on warm sweet potato salad with leek cream sauce.
North Beach Salad, grilled Mayport shrimp atop of arugula and romaine with goat cheese, red onion, cucumber, Campari tomato, fennel, artichoke, green apple, dried cherries, with blood orange vinaigrette.
Fried Chicken & Waffles, all-natural half-chicken, on toasted waffle, with fresh watermelon and Reel maple syrup.
Chef Catch: Pompano from Cortez, grilled with sautéed red peppers & mushrooms, with cilantro lime rice & Old Bay cream sauce.
Oysters of The Day
Oyster Rockefeller, baked with spinach, artichoke, cream and parmesan bread crumbs.
Roasted Oysters, with garlic butter, horseradish and parmesan bread crumbs.
Oysters on the Half Shell, with house made cocktail sauce, cucumber mignonettes.
Smothered Tomatoes and Okra,  chopped tomatoes and okra, stewed in chicken broth, red wine vinegar, tabasco.
Green Beans, rendered low & slow in Newske's bacon, onions, Tabasco, butter.
Collard Greens, cooked low & slow in rendered ham hock, onions, cider vinegar, tabasco.
Congratulations Fred Thimm, Colin Slemkewicz, and the crew at Reel Fish on 3 years of award winning food & hospitality!
Anniversary weekend specials:

1.5lb Maine Lobster served with baked potato, coleslaw & draw butter for only $33 in celebration of 3 years. (Market Price: $48) from Friday, February 7th – Sunday, February 9th.
Complimentary glass of bubbly with the purchase of an entrée on Sunday, February 9th.
Upcoming specials:
Enjoy 50% off bottles of Ruffino Prosecco with the purchase of 1 dozen oyster on Valentine's Day, Friday, February 14th.
For more information, please visit: www.reelfishcoastal.com
Reel Fish Coastal Kitchen & Bar
1234 N. Orange Ave, Winter Park, FL
(407) 543-FISH (3474)