UPDATED: Friday March 20, 2020
– Governor Ron DeSantis issued Executive Order 20-71, directing all restaurants and food establishments within the State of Florida to suspend on-premises food and alcohol consumption for customers. The listed establishments may, however, operate their kitchens for the purpose of providing delivery or take-out services.
– This Executive Order lifts the restriction that prohibits a specially licensed food service establishment from selling package sales of alcohol for delivery, take-out or consumption off-premises for restaurants complying with Executive Order 20-68, through the expiration of the state of emergency declared in Executive Order 20-52. Alcohol sales to go with food that is pick-up or delivered will be permitted and I.D. will be required for orders including alcohol.
– Additionally, the Executive Order requires the closures of gymnasiums and fitness centers within the State of Florida. The Department of Business and Professional Regulation (DBPR) shall utilize its authorities under Florida law to further implement and enforce the provisions of this Executive Order and shall take additional measures as necessary to protect the public health, safety and welfare.
Read the Executive Order here:
https://www.flgov.com/wp-content/uploads/orders/2020/EO_20-71.pdf?fbclid=IwAR3HPNULeJnO-CMst2yDOja5dXsToMynzFM4dZKveZvhCc9lA19sh7MyUi4
Things have been getting real in Central Florida these past few weeks. The Coronavirus / COVID-19 pandemic has been rapidly spreading across the world including here in Florida. This documentary showcases what life was like in Wuhan, China during the lockdown – and currently the Italian healthcare system is crippled under the strain of so many patients that they are deciding who lives and who dies because there are not enough ventilators – it is serious.
According to the New York Times, a dire scientific report gave warning that, without action by the government and individuals to slow the spread of coronavirus and suppress new cases, 2.2 million people in the United States could die.
As flights are canceled, conventions are canceled, reservations are canceled, schools are closed, etc. in order to flatten the curve on this very real health crisis, there is a concurrent economic crisis unfolding as restaurants and their workers see less hours and money coming into the region.
The situation is fluid, with new updates from the CDC and the Florida state government each day – as of March 16, 2020 the CDC recommends people congregate in groups of no bigger than 10, use social distancing of 6 feet of more, and washing hands.
Ways to Help the Central Florida / Orlando Restaurant Industry
Order to Go / Curbside Pick Up / or Delivery

Tip more than usual if you can 

Buy Gift Cards to help increase current cash flow to local businesses and use them later

4. Call your local elected officials to support suspending rent, debt, utilities payments and other relief measures
To be honest, this is uncharted territory for many as this can possibly last not just weeks but months.
Below are a few resources as well as updates from local Central Florida / Orlando restaurants – including providing curb side pick up and more delivery options:
Central Florida / Orlando Restaurants Providing Curbside Pick Up / Delivery / Updates – Call Ahead
Pom Pom's Teahouse and Sandwicheria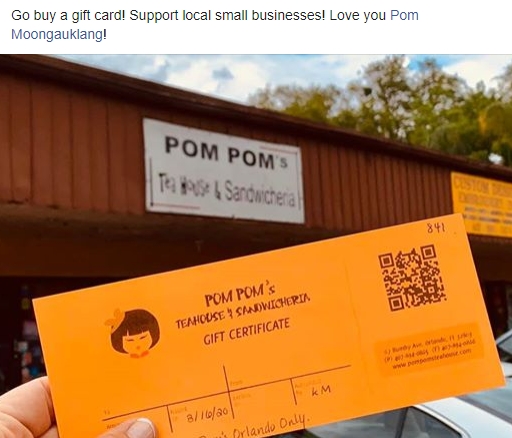 Proper and Wild / The Sanctum Cafe – Realdamngoodfood.com
Hook and Reel Cajun Seafood and Bar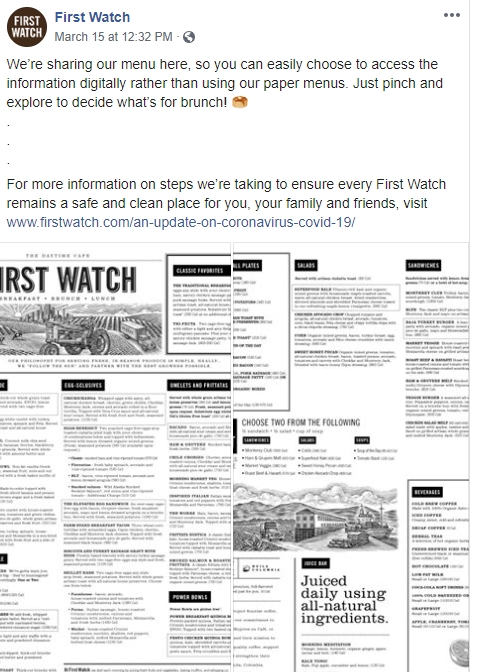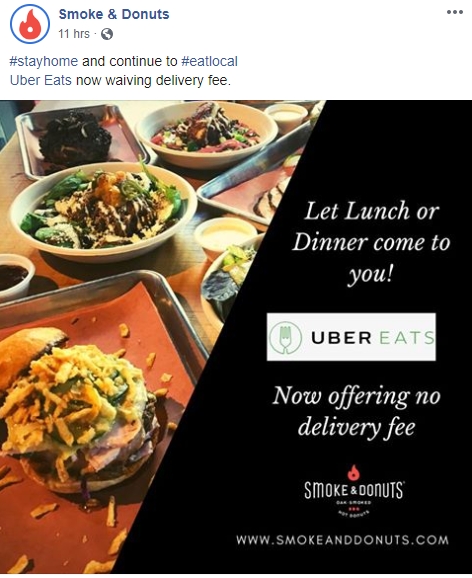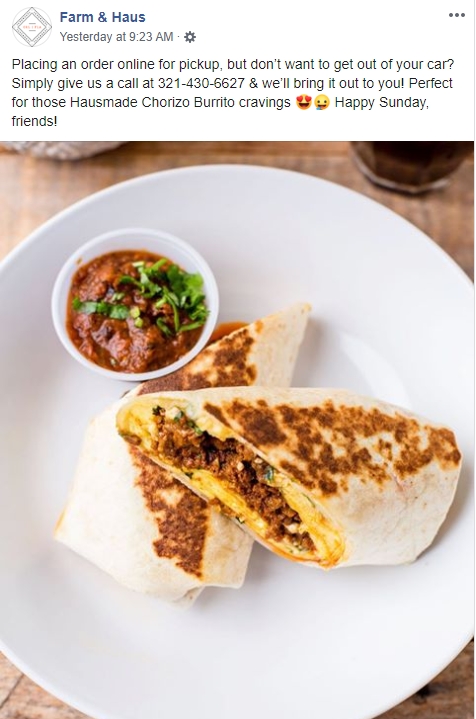 Bites and Bubbles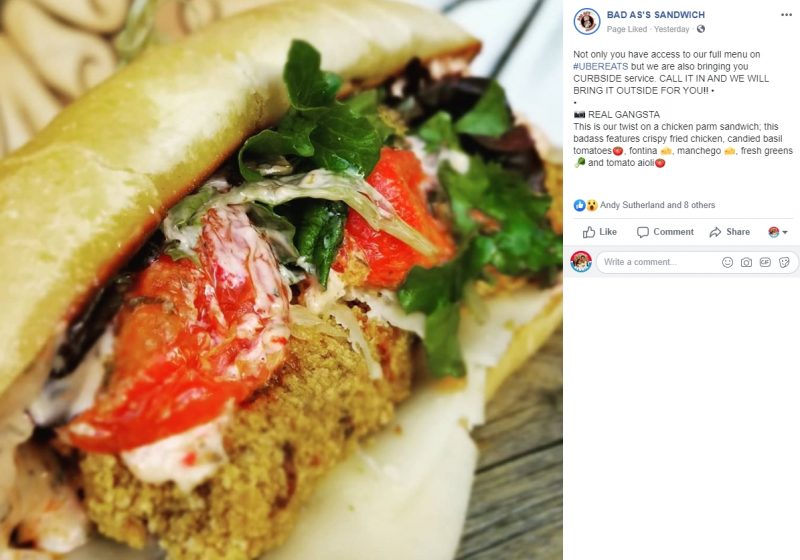 Vines and Forks by the Wine Barn
Talk of the Town Restaurants – Charlie's Steakhouse, Moonfish, Johnnie's Hideaway, Vito's Chophouse
Orlando Restaurants with Free Meals for Students/Kids Out of School
GIVING AND RECEIVING ASSISTANCE
Heart of Florida United Way 211 Information and Referral Crisis Line is connecting with residents to share information about available resources in the community including locations of nearest food pantries, crisis mental health services, and more. The service is provided 24/7, 365 days a year. Translation services are available around the clock. Residents can connect by dialing 2-1-1 from a phone, texting their zip code to 898211 or by chatting online at HFUW.org/Chat
Second Harvest Food Bank
The best way to connect those in need to locations in their local community that are distributing food is through the Second Harvest Food Bank's online food finder tool on their website. Find it here: feedhopenow.org/findfood
People who want to help and donate food can do this online by starting a virtual food drive. Information can be found here: virtualfooddrive.org. Physical food drives are discouraged at this time to protect the safety of the food chain.
One Blood
Over the past week, because of fear about the coronavirus, blood centers throughout the country and here in Central Florida, are experiencing a significant drop in donations which is limiting the ability for the nation's blood supply to be adequately replenished. The coronavirus does not pose any known risk to blood donors during the donation process or from attending blood drives. Blood centers are regulated by the FDA and must follow specific guidelines to ensure safe blood is available for patients at all times. The FDA has also confirmed that there have been no reported or suspected cases of transfusion-transmitted coronavirus and the virus poses no known risk to patients receiving blood transfusions. To donate blood today, visit oneblood.org/covid19/.
Florida Department of Economic Opportunity (DEO)
Governor Ron DeSantis announced the activation of the Business Damage Assessment survey to assess the impact of COVID-19 on Florida's local business operations. The survey, managed by the Florida Department of Economic Opportunity (DEO), will evaluate businesses affected by COVID-19 and the impacts the virus has had on the local economy so actions to implement appropriate relief programs can begin. The Business Damage Assessment Survey can be taken online at https://floridadisaster.biz/. Results from this survey will be shared with state agencies and local partners. Surveys submitted by small businesses can be used to access the Small Business Administration's Economic Injury Disaster Loan, made available for COVID-19 through the Coronavirus Preparedness and Response Supplemental Appropriations Act. For inquiries or assistance with the survey, businesses can contact the State of Florida Emergency Operations Center business liaisons at ESF18@em.myflorida.com
Florida activates website for free student meals during school closure
On Sunday, Agriculture Commissioner Nicole "Nikki" Fried and the Florida Department of Agriculture and Consumer Services (FDACS) activated their Summer BreakSpot website, where families can find free meals for children under 18 during the current coronavirus school closures. The meal locations may be found at SummerBreakSpot.FreshFromFlorida.com.
As of March 15, there are 934 active BreakSpot sites statewide in the following counties: Alachua, Baker, Brevard, Broward, Charlotte, Clay, Collier, Miami-Dade, Duval, Franklin, Gilchrist, Hamilton, Hardee, Hillsborough, Lake, Lee, Leon, Levy, Liberty, Manatee, Marion, Osceola, Palm Beach, Pasco, Pinellas, Polk, St. Johns, St. Lucie, Santa Rosa, and Seminole.
Florida Small Business Emergency Bridge Loan Program
is currently available to small business owners located in all Florida counties statewide that experienced economic damage as a result of COVID-19. These short-term, interest-free working capital loans are intended to "bridge the gap" between the time a major catastrophe hits and when a business has secured longer term recovery resources, such as sufficient profits from a revived business, receipt of payments on insurance claims or federal disaster assistance. The Florida Small Business Emergency Bridge Loan Program is not designed to be the primary source of assistance to affected small businesses, which is why eligibility is linked pursuit to other financial sources.  Note: Loans made under this program are short-term debt loans made by the state of Florida using public funds – they are not grants. Florida Small Business Emergency Bridge Loans require repayment by the approved applicant from longer term financial resources. https://floridadisasterloan.org/
BARTENDER EMERGENCY ASSISTANCE PROGRAM from USBG 
https://www.usbgfoundation.org/beap
If you feel sick
The Florida Department of Health has opened a COVID-19 Call Center at 1-866-779-6121. Agents will answer questions Monday through Friday, 8 a.m. to 5 p.m. Questions may also be emailed to covid-19@flhealth.gov. Email responses will be sent during call center hours.