We were invited to Omni Orlando Resort at Championsgate for a collaborative dinner between three of the hotel's restaurants: Zen, David's Club and Trevi's, and we were blown away with our experience.  It was the most perfect meal of 2020.
The progressive dinner presentation was spearheaded by Resort Executive Chef Ramesh Kaduru.
And hosted by Director of Food And Beverage Michael Hitabidel (far left) and the amazing hospitality team at Omni Orlando Resort.
I was the first to arrive to the media dinner and the ambiance was so serene and beautiful.  The calm before the storm.  However, once all media personnels got seated and situated, we were in for a surprise.  It was unlike any dinner I had experience before and I was captivated the entire time, full of curiosity of what they would bring out next.
Zen
O Toro Sushi Platters
Nigri, Sashimi, Maki, Nitro Soy
It was really great, high quality sushi.  I could have spent the whole evening eating just the sushi and went home happy.
Szechuan Duck Bao
Duck Confit, Cucumber, Sriracha Bok Choy, Pickled Mushrooms, Hoisin.
An Asian fusion of traditional French duck seasoned with Asian five spice then wrapped in an Asian bao and topped in pickled vegetables.
Trevi's
Heirloom Tomato & Burrata
Prosciutto di Parma, Heirloom Tomatoes, Burrata, Balsamic, Basil.
A light and refreshing antipasto dish. It was excellent.
Lobster & Truffle Agnolotti
Maine Lobster, Truffle Farce, Yellowfoot Mushrooms, Tarragon.
The sous-vide lobster paired nicely with Trevi's house-made pasta.  It was so delicious!
David's
Prime Tomahawk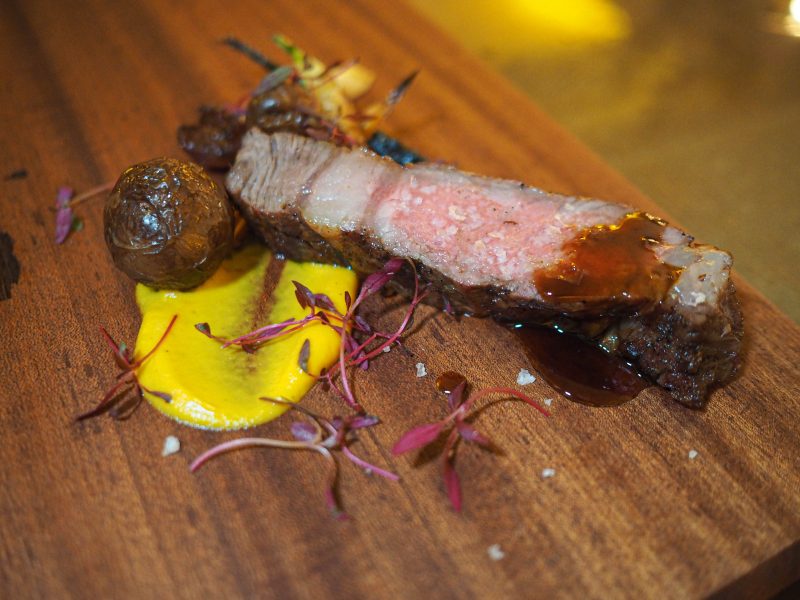 Root Vegetables, Marble Potatoes, Demi.
A tasty, hearty bite!
Mascarpone Mousse with Lemon Pastry Cream.
An exciting panna cotta with a twist of fun flavors.
Cocktails
Lychee Martini with Smoked Bubble
Strawberry Peppercorn Gin & Tonic
Bramble On
Omni Hotels & Resorts' Flavor Origins book is a helpful guide that will recommend specific cocktails for you depending on your preference.
Guest state their cocktail preference then locate its number with the corresponding cocktail in the book.
Kudos to the team at Omni Orlando Resort for an amazing dinner!
Omni Orlando Resort at ChampionsGate
1500 Masters Blvd, Championsgate, FL 33896
(407) 390-6664