A kati (or kathi) roll is a popular street-food dish originating from Kolkata, West Bengal, originally consisting of a skewer-roasted kebab wrapped in a paratha bread. Today, mostly any wrap containing a filling enfolded in an Indian flatbread (roti) is called a kati roll.
The Kathi Roll's origins can actually be traced back to a single restaurant, known as Nizam's. At the time of the kati roll's conception, Kolkata was the capital of the British Empire. The story goes that British patrons did not want to eat kebabs with their hands, so someone at Nizam's decided to roll the meat up in a paratha–a crispy, buttery unleavened flatbread–and then serve it in a paper wrapper.
Owner and Chef Shantanu Sen started as an apprentice cook in Chennai, India, going on to specialize in ice, sugar and fruit carvings and food presentation. After India, he worked for Royal Caribbean and was in charge of Gala buffets.
He then moved to Bermuda to be the executive chef in an Italian restaurant before moving to the US. Once he got here, he worked as an executive chef for multiple corporate accounts such as universities and hospitals and used his skill to create healthy and flavorful meals in DC before making his way to Orlando.
While looking for a kitchen, he and his team happened upon the current location of Kathi Rolls on Curry Ford Road. He then shifted his focus and came up with an Indian Street Food menu for the location.
Q and A with Chef Sen of Kathi Rolls
Tasty Chomps: How did you become interested in cooking?
Chef Sen: From a very young age, I was very interested in cooking and was always in the kitchen with my mother. At 6, I could make a souffle omelet. Some of my first memories around food revolved around my mother, who inspired me to not just help in the kitchen but also learn while I was doing it. At 10, I had the opportunity to make dinner for a visiting celebrity and eventually made my passion my profession.
What do you wish people knew about Indian food?
Most people are confused about what Indian food is all about. The misconception is the concept of curry. Some love it and some don't. It is anything in a sauce or gravy and curry powder is not used much in Indian cuisine. Spice blends are based on the dishes and each corner of India is unique and has their own flavor.
What is the secret to great Indian cuisine?
Love, passion and authenticity of recipes.
What are the most popular dishes right now at Kathi?
The Kathi Rolls of course and the naan pizzas. The samosas are very popular which are hand made and served with sauces that are made in house. The lychee lassi is the most popular drink on the menu along with our spiced chai.
What are some upcoming plans for the menu at Kathi Rolls?
We have plans for our catering menu and have weekly specials that the chef comes up with to showcase the flavors from the different regions of India. We are in the process of planning a Chai Service as well so stay tuned.
Kathi Roll's Menu 
Kathi Rolls
$6.99 – $9.99
A spicy mixture of meats and vegetables marinated in a proprietary blend of hand-ground spices, delicately wrapped in tender and layered parathas, the kathi roll is among the heartiest and most satisfying of Kolkata street foods.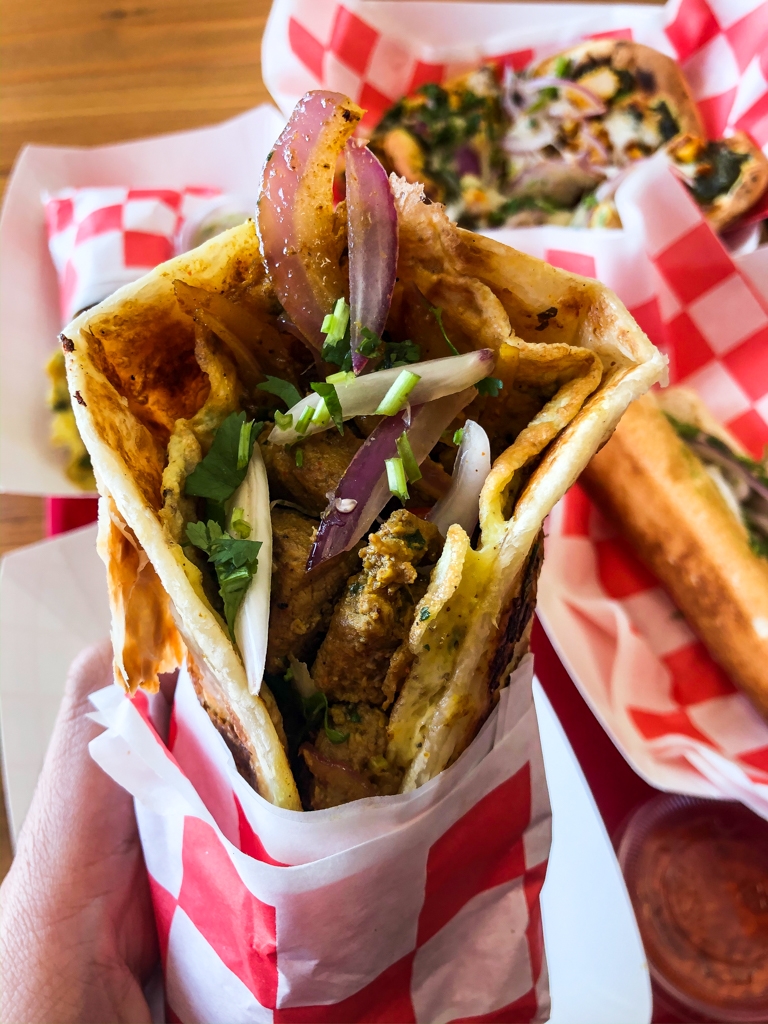 Naan Pizza
$7.99 – $9.99
Crispy naan bread topped with fresh ingredients like vegetables, meats and cheese and baked to perfection. Try this Indian twist on a classic.
Basmati Bowls
$7.99 – $9.99
Customize your bowl by starting with either white or brown rice. Then choose your protein from options like chicken, lamb, paneer (cheese) or vegetables! Finally, top it all off with one of our signature sauces based on your preferred spice level and flavor profile.
Desi Burgers
$5.99 – $7.99
Our burgers are ground in house with species and fresh herbs and made to order. They are placed in between two warm buns and topped with house made tandoori mayo and onion relish. Try our lamb or chicken burger today! We also have veggie burgers made with fresh vegetables and this can also be a Vegan based on the toppings selected.
Lassi
$3.99 – $5.99
A creamy and refreshing yogurt(Dahi)-based drink, blended with water and various fruits. Stop by and try our popular Mango Lassi today!
Samosa
$3.99
A very popular street food item! Samosas are a buttery and flaky fried turnover filled with savoury meats or vegetables and spices.
Kathi Rolls
4205 Curry Ford Rd, Orlando, FL 32806
https://kathirollsorlando.com/