For those seeking to get away this Fourth of July Weekend, head out and stay socially distant at Grande Lakes Orlando Resort with outdoor activities.
Equal parts luxury resort and recreational oasis, Grande Lakes Orlando is the unmatched upscale retreat of Central Florida. Comprised of two world-class hotels, The Ritz-Carlton and JW Marriott, the sprawling 500-acre Grande Lakes campus is the ultimate destination for relaxation, recreation, and reconnection. Built on the principles of community, conservation, and sustainable hospitality, Grande Lakes Orlando has become the most coveted luxury resort in the region.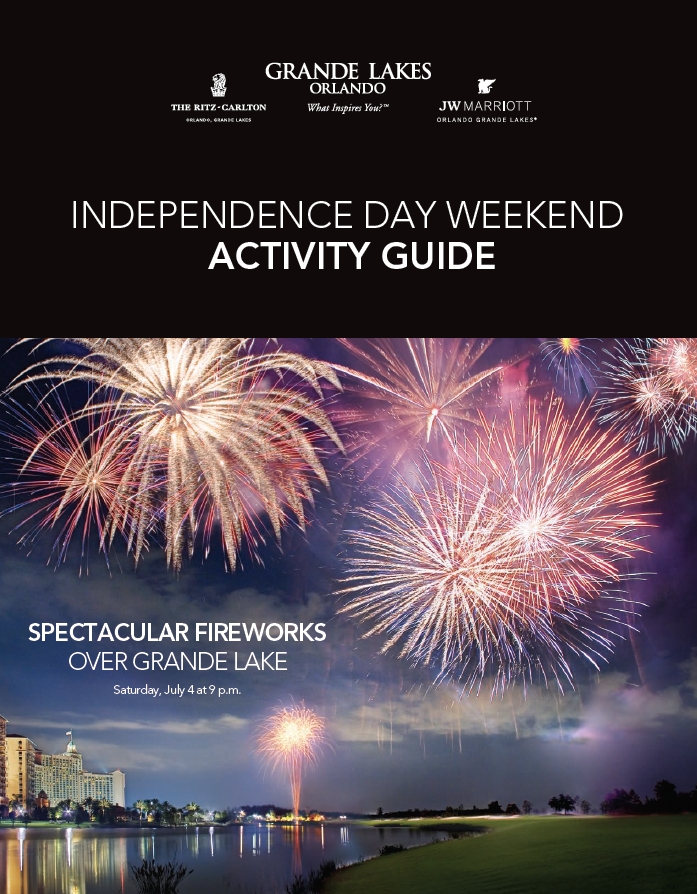 With more than 500 tropical acres to explore, including a golf club that's been designated a Certified Audubon Cooperative Sanctuary Natural Habitat, the Grande Lakes resort grounds are a haven for sports and recreation.
Whether you're looking for a serene fishing or boating outing on Shingle Lake, a falconry adventure, or to learn about the ecological history while encountering wildlife on a tour, you'll find plenty of outdoor activities, sports, and recreation without leaving the resort.
Reservations required 24 hours in advance for all Grande Lakes Sports experiences. 866-435-7627
Here are 7 Outdoor Activities to Stay Socially Distant at Grande Lakes Orlando Resort
1. Tennis
With three lighted courts and a comprehensive tennis instruction program, getting in the game is a breeze at Grande Lakes. Play a friendly match or take a lesson, no matter your skill or age. Break a sweat by enrolling in a tennis cardio clinic, where you'll learn the basics of the game while receiving a full cardio workout.
2. Eco Tours
Explore the incredible ecological surroundings of Grande Lakes with a guided two-hour tour of Shingle Creek. Paddle through Old Florida's Shingle Creek on your own canoe, led by a Florida Master Naturalist, to learn about the history of the creek and its inhabitants.
3. Fishing
Take to one of eleven private lakes and ponds on the Grande Lakes Orlando grounds, including the 48-acre Shingle Lake, for fishing excursions or angling expedition by boat or from the shore. Not sure how to cast a line? Fly fishing instruction is available to teach you all the fundamentals and have you hooking bass in no time.
4. Mountain Biking
Traverse the two-mile trail by Hidden Lake on the resort grounds by mountain bike to encounter wildlife and the animal residents of Grande Lakes along the way. Embark on your own adventure or go on a ride guided by the Grande Lakes resident "Trail Boss."
5. Falconry Experiences
Get up close to birds of prey and experience one of the world's oldest traditions. Take a falconry class to learn about the history and rules of hunting with birds of prey and to hold one yourself. Guests can also "walk with a hawk," and learn how to call down and interact with falcons in the field.
6. Sunrise Safari
Take a ride on the wild side with an early-morning two-hour tour of the resort's 500-acre campus. Hop aboard an all-terrain golf cart led by a certified Florida Master Naturalist to observe and encounter the wildlife of Grande Lakes, including whitetail deer, bobcats, alligators, and owls.
8. Kayak and Pedal Boating
Explore the serene and scenic waters of the Grande Lake on your own kayak, canoe or pedal boat
BONUS: Even More Luxuries Await At Grande Lakes Orlando
The Ritz-Carlton Golf Club, a championship-level 18-hole golf course designed by Greg Norman
The Ritz-Carlton Spa, a luxury wellness center with 40 treatment rooms, private lap pool, and fitness center with exclusive programming and classes
Three sprawling swimming pools, a lazy river, and designated kid's and adults-only pool areas
Twelve dining destinations, ranging from casual to-go markets to refined restaurants and lounges
500 acres of pristine natural beauty, including a 43-acre lake with fishing access, hiking trails, environmentally protected areas, and natural wildlife habitats
Over 100,000 square feet of event space, including outdoor and mixed-use venues for any occasion
Whisper Creek Farm, a 7,000-square-foot harvest house with a garden, chicken coop, and apiaries whose produce is used throughout the property