MOOYAH Burgers, Fries & Shakes is a fast-casual, "better burger" concept that just opened in Orlando's SoDo District (3155 South Orange Avenue) in March, right before the coronavirus pandemic lockdown came into effect in Florida.
The Plano, Texas-based company specializes in mouthwatering made-to-order 100% Certified Angus Beef burgers, French fries hand cut from Idaho potatoes, and real ice cream shakes. They also have all natural Jennie-O® turkey burgers and Dr. Praeger's black bean vegan burgers.
MOOYAH's non-GMO potato and multigrain buns are baked in-house daily, and guests can choose from five real cheeses, bacon, avocado and 20 free sauces and toppings made from garden-fresh veggies. MOOYAH Guests can choose from seven flavors of 100% real ice cream shakes, including vanilla, Hershey's chocolate, Reese's, Oreo and more.
New franchisees Angel and Sebnem Flores were frequent Guests at the Walnut Creek, California MOOYAH, where they fell in love with the restaurant's overall experience and strong marketing efforts.
"We lived in Walnut Creek and that's where we first discovered the brand," Angel Flores said. "We knew from our very first visit; our first bite of the burger, first sip of the shake; and first reach into family size fries that this is a special place. Our first experience convinced us it would not be our last."
After several visits to Walnut Creek's MOOYAH Burgers, Fries & Shakes, Angel and Sebnem decided to download the MOOYAH mobile app and began looking at franchise opportunities. After researching the franchise and meeting with the corporate team, they signed on to bring four locations to Florida in Orlando.
The Flores' previous career in military aircraft parts distribution had allowed them to travel the world, but they were ready to leave California and establish roots in Florida near extended family who had moved there decades earlier from Wisconsin. Their location is in the south downtown area of Orlando across from the Orange Avenue Shopping Center in a highly commercial area.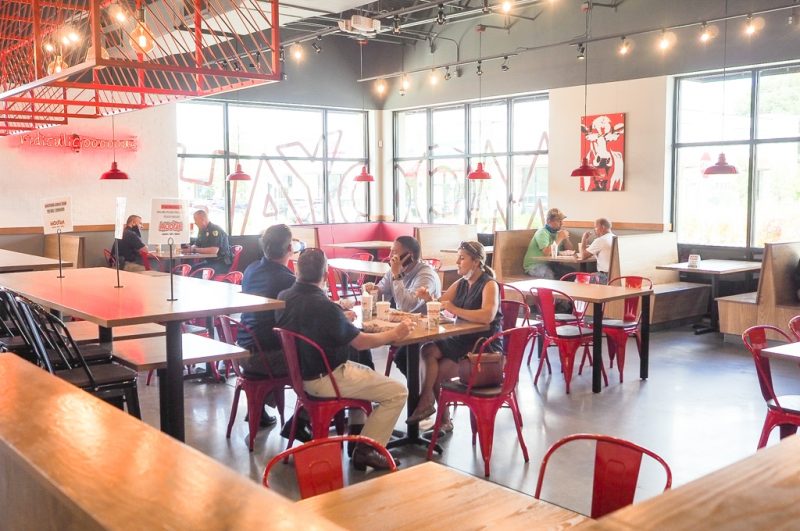 This restaurant is one of 14 MOOYAH Burgers, Fries & Shakes locations opening this year featuring the new design. The location includes dining room seating zones created to accommodate community dining, dedicated third-party delivery and pickup shelving, closed kitchens, digital menu boards and an overall more modern vibe. The redesign, which includes a refreshed logo, was created in collaboration with Madrid-based design company Livit—a team of architects, designers and developers who describe themselves as "global experts in Guest experience and design."
At MOOYAH, Guests have the advantage of choosing from a variety of bun options, such as baked-in-house artisan potato or multigrain wheat non-GMO buns and hand-crafted lettuce buns called Iceburgers to accompany the never-frozen, 100% Certified Angus Beef® burgers, all natural Jennie-O® turkey burgers and Dr. Praeger's black bean vegan burgers. Each gourmet burger can be customized with five real cheeses, bacon, avocado and 20 free sauces and toppings made from garden-fresh veggies.
MOOYAH's hand-cut fries come together in a six-step process that takes a total of 24 hours to completely prepare. Guests also have the choice of savory sweet potato fries.
Never one to forget dessert, MOOYAH offers 100% real ice cream shakes, allowing Guests to choose from seven flavors of 100% real ice cream shakes, including vanilla, Hershey's chocolate, Reese's, Oreo and more.
Interview with Mooyah SoDo Owners Sebnem and Angel Flores
Tell us about your background.
Sheb: I'm originally from Turkey and moved to Greendale, WI, a suburb of Milwaukee, to which my mom was an exchange student 20 years prior, when I was ten years old. I didn't speak a lick of English but by the end of our first summer, I'd learned enough from television, our friends and neighbors to start off the school year and never looked back. I met Angel at the University of Wisconsin, we were great friends and our friendship grew when we began to work together at our first aerospace job and this year, we celebrated our twenty-second wedding anniversary.
We've always felt like the world was our oyster and consider ourselves lucky to have friends all over the world. We both traveled a lot for our jobs but now with school age children, we want to be more homebound and our move to Florida brought our immediate family much closer to our extended family while beginning a new venture with MOOYAH.
Angel: I was born and raised on the south side of Milwaukee. After high school, I took some time off and worked in retail and restaurants. I met Sebnem when I went back to college at the University of Wisconsin. Upon graduation, I landed a job with AT&T in Minneapolis. I wasn't totally happy with my job there and when I ran into a college friend whose brothers had started a company in Milwaukee, I came back to Milwaukee and started my career in aerospace sales. The company was an aviation and aerospace distribution company that provided quality Original Equipment Manufactured aircraft parts to militaries worldwide. It was a small company, but it was fast paced and demanding, and I loved it!
About six months after my joining the company, Sebnem graduated and joined the company as well. That's when we reconnected and grew our friendship into something very special. We worked there for about 15 years and during that time, we helped grow the company to $250 million/year with about 400 employees. The company was sold to Sikorsky Aircraft in 2002.
After the sale of the company, we stayed on until 2004 when we were recruited by a similar aerospace company in California. They were a small competitor with sales in approximately 10 countries and were looking to expand into different regions. We made the cross country move to beautiful California and started our family. We helped grow this company from $40 million/year to $170 million/year with sales into more than 60 countries and assisted in the sale of the company twice to two different private equity companies.
We were not happy being away from family and the company was going through changes so we decided now would be the best time to try something for ourselves and that is when we were fortunate enough to discover MOOYAH.
What was it like opening in the middle of the pandemic?
Opening our first location in our new city, new industry with a new team was nerve racking to begin with; opening our first location while hearing all the news around the world and around the country about a pandemic was terrifying. We opened on Monday, 9 March 2020 to a very solid and productive day followed by three more consecutively stronger days. However by Friday, 13 March 2020, businesses in the area began to shut down and it was clear our business was about to decline quickly.
What lessons did you learn and how did you adapt?
We knew the importance of having and keeping a strong team so very quickly, we focused on keeping the business running with a reduced, core staff while keeping high standards in food production and food service. Food service had to be adjusted to increased 3rd Party deliveries, On Line Ordering and Curbside rather than dine-in.
What makes Mooyah burgers special and so delicious?
We offer highest quality, fresh products (daily fresh baked bread, never frozen 100% Certified Angus Beef ®, the freshest produce for our toppings, 100% milk and 10% butter milk in our shakes and a lot of love and fun ) when preparing our ridiculicioooous burgers.
Tell us about your first time eating at Mooyah?
We were living in the San Francisco Bay area at the time. One night after work and after the kids' swim practice, we took advantage of a coupon from the local school and walked into our local MOOYAH and immediately recognized families from the neighborhood. Like so many at that age, our kids are picky eaters but each found something they liked on the menu while my husband and I ordered different burgers to try and at first bite, I remember looking up at my husband, smiling and saying "this is delicious!" We knew we'd found our family's burger joint; little did we know we'd be owning our own franchise across the country in couple of years from then.
What are some of your favorite memories growing up around food?
Family meals ( I am Puerto Rican and my wife is Turkish so we both grew up around the table enjoying some of the world tastiest meals with friends and family. We've always said to truly get to know anyone you must break bread with them. We were both very fortunate to travel around the world in our previous careers. It certainly allowed us to experience many different cultures and cuisines.
What are your upcoming plans for Mooyah?
We signed a lease on 10 March 2020 in the new, upcoming O Town West development. We have a commitment to open a total of four restaurants in an exclusive Orlando area territory and look forward to going beyond the four throughout Central Florida…
Tell us about the limited run burgers!
The Campfire Burger and other "Hall of Dang" Burgers and Hotdogs are some of the most creative and flavorful burgers you'll ever put in your mouth. We have fun making them!
Since opening, what are some of the most popular orders at Mooyah?
By far the crown jewel is the MDC "MOOYAH Double Cheeseburger"; two ¼ pound patties, two slices of American Cheese, lettuce, tomato, MOOYAH Sauce in our fresh baked Potato Bun. It's a favorite for returning guests and it's what we recommend to first time guests which never disappoints. Or we make whatever our guests dream up to their liking; our build-your-own board allows people to create their favorite burger.
Have you noticed more orders for take out, delivery, dine – indoors, dine – outdoors?
Due to the pandemic we are seeing a lot of take out/delivery but many people want a destination and prefer to dine in when the food is hot and freshest. It's by far the best experience when eating MOOYAH Burgers, Fries and Shakes.
What do you want people to know about your restaurant?
We want to make sure every customer is WOW'ed by the flavor and have an amazing dining experience; getting to know our new and returning customers (even though it's a little tougher to identify folks with masks on these days) is what Sebnem and I and the rest of our team members enjoy the most and we appreciate the support from our neighborhood greatly.
Mooyah Sodo, SoDo District, 3155 South Orange Avenue, Orlando, FL – For more information on MOOYAH, its menu or franchising opportunities, please visit www.MOOYAH.com. Connect with MOOYAH on Facebook.com/MOOYAH, follow MOOYAH on LinkedIn, Twitter @MOOYAHburgers and Instagram @MOOYAHburgers.