SeaWorld Orlando generously invited us out to experience their Craft Beer Festival. The festival is currently running on Fridays, Saturdays and Sundays now until Sept. 30. The festival runs from 3 p.m. to 10 p.m. on Fridays, and from 11:30 a.m. to 10 p.m. on Saturdays and Sundays. Over 100 locally crafted brews are available at SeaWorld Orlando's Craft Beer Festival, along with over 20 food items to pair with your brew of choice.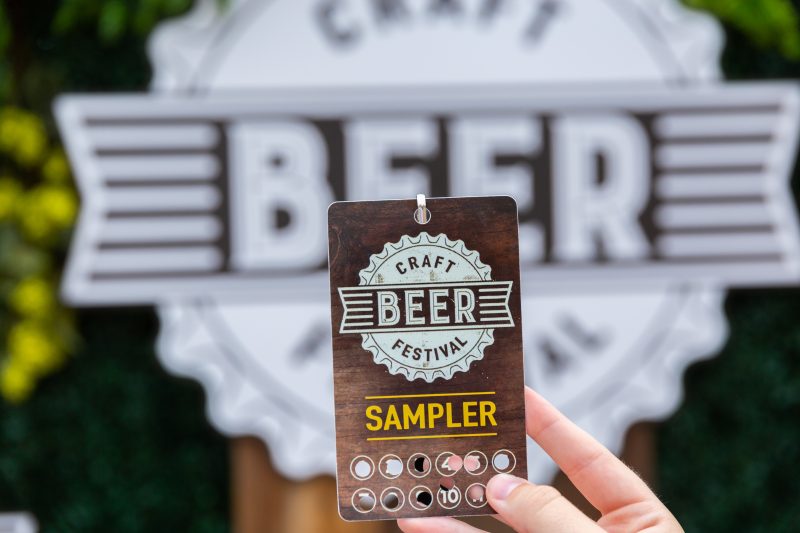 While the extensive list of craft beers is impressive, we at Tasty Chomps were focused on the food. We received a Craft Beer Festival Sampling Lanyard, which allows guests to sample 8 or 12 food or craft beer samples for $45 and $60 respectively. Sampling Lanyards can save guests over 40% throughout the festival, and can be purchased either online or at SeaWorld Orlando. With our lanyard, we tried 12 of the best food dishes the festival has to offer, and we were not disappointed. Here are 12 Must-Try Dishes at SeaWorld Orlando's Craft Beer Festival 2020.
12 Must-Try Dishes at SeaWorld Orlando's Craft Beer Festival 2020
1. Buffalo Chicken Empanada
Starting off strong, the Buffalo Chicken Empanada was the first food item we tried at the festival, and probably our favorite. The outer later is crispy, and it is filled with a delicious shredded buffalo chicken mix. The buffalo flavor is not too overwhelming, and the actual chicken was cooked perfectly. It's topped with a buttermilk celery dressing that blew us away.
2. Pepper Smoked Brisket Slider
The Pepper Smoked Brisket Slider was next on our list, and it did not disappoint. It's served with a Sam Adams® infused bbq sauce, tobacco onions and a large pickle. This slider was smokey, hearty and surprisingly filling.
3. Banana S'mores Bites
There's nothing bite-size about these Banana S'mores Bites. Graham crackers, caramelized bananas, roasted marshmallows and fudge are skillfully layered to create this incredibly tasty dessert dish. It was beautiful to look at, and even better to eat.
4. Cinnamon Sugar Nuggets
These Cinnamon Sugar Nuggets from Mama's Pretzel Kitchen were shockingly good. The fried dough was warm and fluffy, and the outer later of cinnamon sugar was mouthwatering. Most cinnamon pretzel bites pretty much taste the same, but there was something special about these, and we highly recommend trying them out.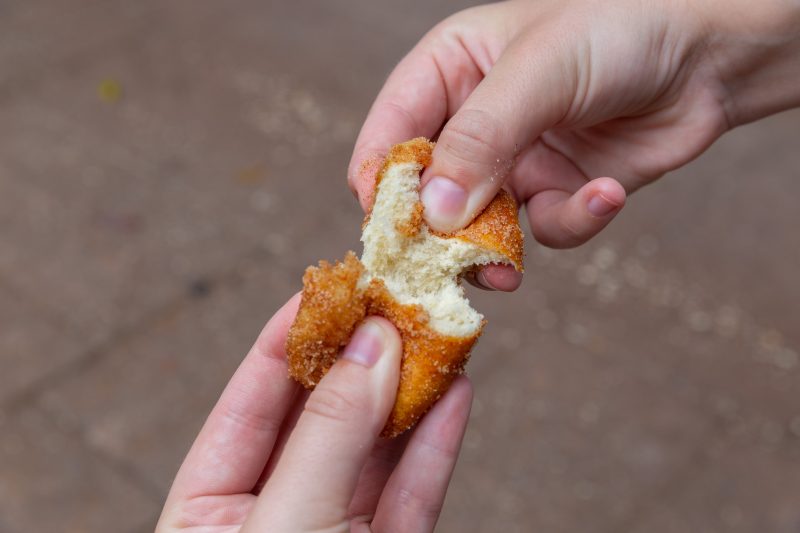 5. Yuengling® Golden Pilsner Cured Chicken Wings
If you've never tried Yuengling® Golden Pilsner, it's a golden colored brew with hints of sweet grain. We were curious how this would pair with chicken wings, and were pleasantly surprised at the outcome. The wings were cooked well, and the flavor was similar to orange chicken. If you are not a fan of sweet flavors on your chicken, this may not be your favorite dish. But, as big orange chicken fans, we loved them.
6. Yuengling® Traditional Lager Battered Crispy Onion Rings
These onions rings were surprisingly crispy, and more seasoned than you'd expect, likely due to the Yuengling® Traditional Lager batter. The Ale and Cheese Sauce added great flavor. Ultimately, this dish made for a great theme park snack.
7. Rainbow Cheesecake Cone
If you're looking for a sweet treat during your visit, the Rainbow Cheesecake Cone is a wonderful choice. The waffle cone is filled with a generous serving of creamy rainbow cheesecake, topped with whipped cream and rainbow sprinkles. Sometimes cheesecake can taste a bit too rich, and that wasn't the case here. This treat was light enough to snack on in the Florida heat, and we definitely enjoyed doing so.
8. Impossible Burger™ Slider
The Impossible Burger™ never ceases to amaze us. This burger was indistinguishable from the real thing. It was served on a lightly salted pretzel bun, topped with a generous amount of lemon hummus and a root relish blend. This dish will impress both vegans and meat-lovers alike.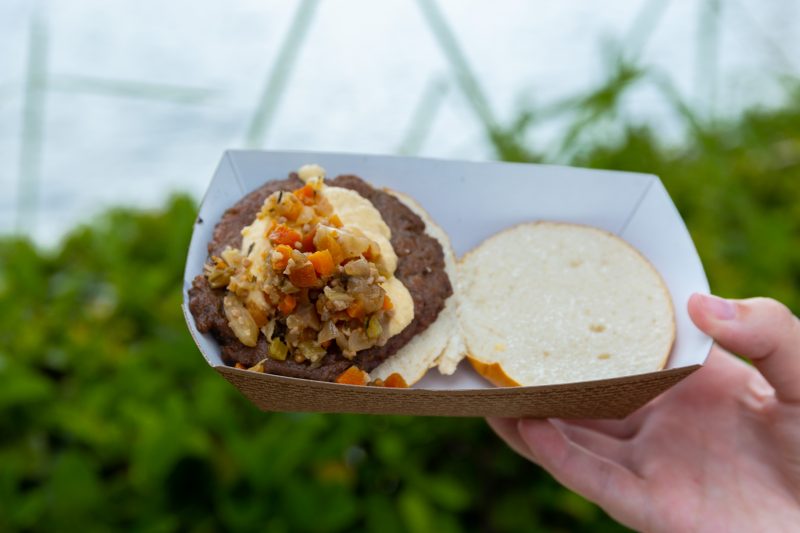 9. Sam Adams® New England IPA Drunken Shrimp Tacos
These shrimp tacos had an unexpected kick, and were great for a lighter bite during the day. Serrano and coriander salsa verde topped the taco. The shrimp was cooked to perfection, and the Sam Adams® New England IPA added a ton of flavor. Overall, these drunken shrimp tacos are a wonderful option for those who don't want anything too heavy or hearty.
10. Hot Chicken Slider
As tasty as this Hot Chicken Slider looked, we weren't expecting this dish to have such an appetizing kick. The chicken was extra crispy (just how we like it) and topped with habanero jam and a diced pickle relish. The spice wasn't overwhelming in the Orlando humidity. The combination of flavors was particularly impressive for a theme park bite.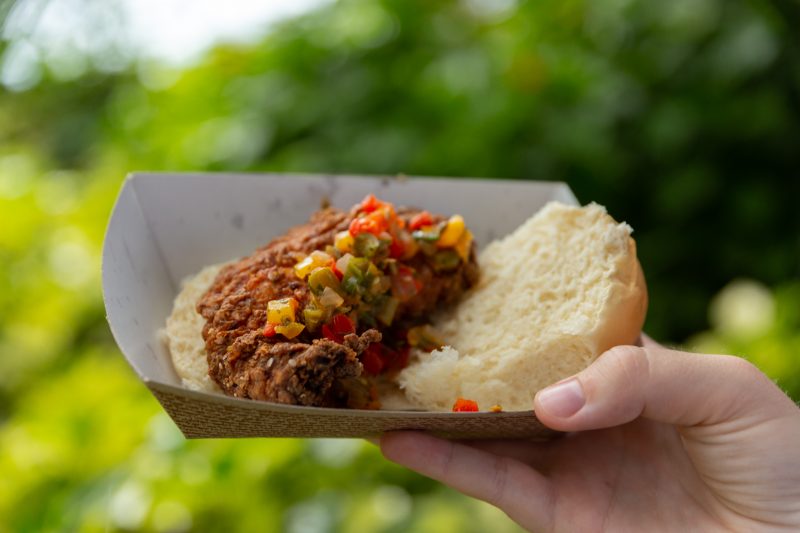 11. Brussels Sprouts
We decided to try something on the lighter side, and settled on the Brussels sprouts. They were cooked with bacon bits, smoked salt and lemon mint yogurt. As a result, this veggie dish is not vegan or vegetarian friendly, but it is worth a try for any bacon lovers out there. We found that the bacon flavor overwhelmed the dish, which can definitely be a pro if you're a fan of the flavor. If not, this may not be the best choice for you.
12. Mojo Roasted Heritage Pork Waffle Potato Nachos
This hispanic take on nachos features deliciously seasoned waffle fries topped with mojo roasted heritage pork, avocado crema, cotija cheese, red onion and cilantro. Again, the amount of flavor was outstanding. The avocado crema was heavenly, and it paired perfectly with the Cuban-style pork. The waffle fries managed to remain crispy, and despite being full from the other 11 food items, we had no choice but to eat every last crumb of this dish.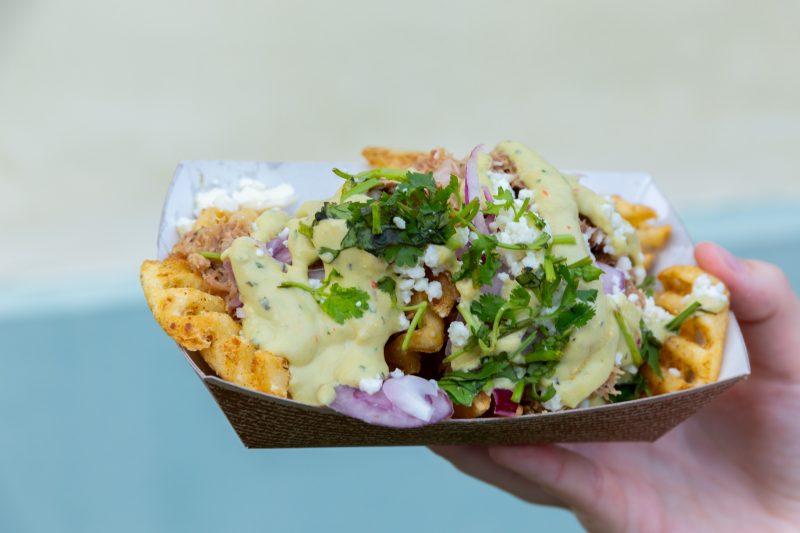 For more information about SeaWorld Orlando's Craft Beer Festival 2020, visit SeaWorldOrlando.com or follow @SeaWorldOrlando on Instagram and Facebook.