Loading…Gastrobrunch restaurant is a hidden gem located in historic downtown St. Cloud, just a short drive away from Orlando, south of Lake Nona and east of Kissimmee.
I didn't even know there was a historic downtown St Cloud – but it does appear that downtown St. Cloud is experiencing a bit of a renaissance lately with new hotels and other developments in the works – understandable since there have been quite a few new residential developments in the area recently.
Owned by friends James Brady, Matt Rody and Jahnae Allen, Loading…Gastrobrunch restaurant also serves as the in-house dining option for the recently renovated adjacent Hunter Arms hotel.
The owners of Loading… are all veterans of the local restaurant industry including Disney World and Universal Orlando with a focus on service and ambiance. They opened in 2020 during the pandemic so word is just getting out now about the place.
The menu, led by chef Vaughn Collins features "Spaniflora" (Spanish and Florida style) influenced dishes, breakfast and brunch items, and a newly expanded dinner menu. Chef Vaughn Collins hails from the storied kitchens of Charleston, South Carolina, so you know their shrimp and grits and other Southern influenced dishes will be top notch. The stone ground corn grits are sourced all from local St. Cloud area Mick Farms.
I had the shrimp n' grits here on a recent visit and it was one of the best renditions I have had, creamy corn grits with a savory pork a la minute sauce and full of fresh and plump local shrimp.
The brunch items like the cinnibun French Toast and the Spaniflora chicken chorizo waffle tacos are also quite the delight.
Cinni-bun French Toast – $12
Thick semolina smeared w/ brown sugar & spices, icing & cream cheese butter.
Spaniflora Chicken Waffle Tacos – $15
Waffle cone taco shells with waffle cone encrusted chicken, chorizo, peppers, onions, corn, heirloom tomatoes, cotija cheese and sriracha cream
Shrimp N' Grits – $24
Mick Farms stone ground grits, shrimp, peppers, onions & pork a la minute sauce.
We recently spoke with Chef Vaughn Collins – who fell in love with the restaurant industry's fast pace, sh– talking, knuckle burning atmosphere – about his background as well as upcoming plans at Loading…
Interview with Loading…Gastrobrunch's Chef Vaughn Collins
Tasty Chomps: As the chef of Loading Gastrobrunch, what are some upcoming plans that you have for the menu and restaurant? What are some changes that guests might see?
Chef Vaughn Collins: Over the next few weeks we will be launching an ever rotating specials menu. It will be very small plate forward and have diverse selection. This is something St. Cloud hasn't seen before so it will be interesting to see people shake from the chain restaurant vibe and experience something different. Coming soon will also be a more refined brunch menu, composed dishes rather than an over abundance of prepared menu items that beg for every dollar.
– What are some goals you have for Loading Gastrobrunch in 2021?
I can say with confidence that our bar produces dinner cocktails that would compete with Charleston's craft bars and speakeasies. Jahnae Allen is our Bar Manager/Partner, and does a fabulous job at being the curator and mind behind our bar drinks. Best part about it is she has little to no bar experience and can still surprise. I would like the bar to get more love from our customers, skip the bud light and go for the hand selected craft beers at minimum. So to answer the question, for 2021 I would like to attract more people towards cocktails, Jahnae puts a ton of work into them.
– What are some of your favorite dishes on the menu right now and why?
Spaniflora waffle tacos , hands down. I'm a sucker for gimmicky food. It's our least ordered taco as well.
– What are the most popular dishes right now at Loading?
Without going into number land I will say our chicken and waffle is a big seller, along with our tacos. Our biggest seller is our Meat, Eggs and Flip on our brunch menu.
– What are some lessons you have learned during 2020 – especially opening in the middle of a pandemic?
Honestly, having a hopeful outlook. I wouldn't say we had any lessons that were learned besides praying we would make it. We were on the verge a few times – The partners had sleepless nights. It was terrible to turn staff away knowing they couldn't pay their bills. Being grateful for the business you have is something we learned.
– Tell us about the dinner menu and what are some highlights there that people should really try?
Pretty much the whole dinner menu are simplified versions of finer dining entrees I brought with me from Charleston.
People need to try our shrimp and grits for sure. We have local stone ground grits. I will put my grit recipe against any other.
The beef short rib is a big underdog. It is braised to perfection, comes with a butter mounded bordelaise, broccolini ( which is the stalks that grow of the sides of broccoli) with succotash. Problem is people focused on the meat, starch, veg dinners of the 90's that it gets pushed to the side.
– What are some childhood memories around food that sticks with you to this day?
My grandmother making red rice, red rice is a very southern dish. I have memories standing at her leg watching her mix all the ingredients. I also remember the short in the oven that buzzed all the time. When I heard that buzzer randomly going off I knew she was making something, half the time it was red rice.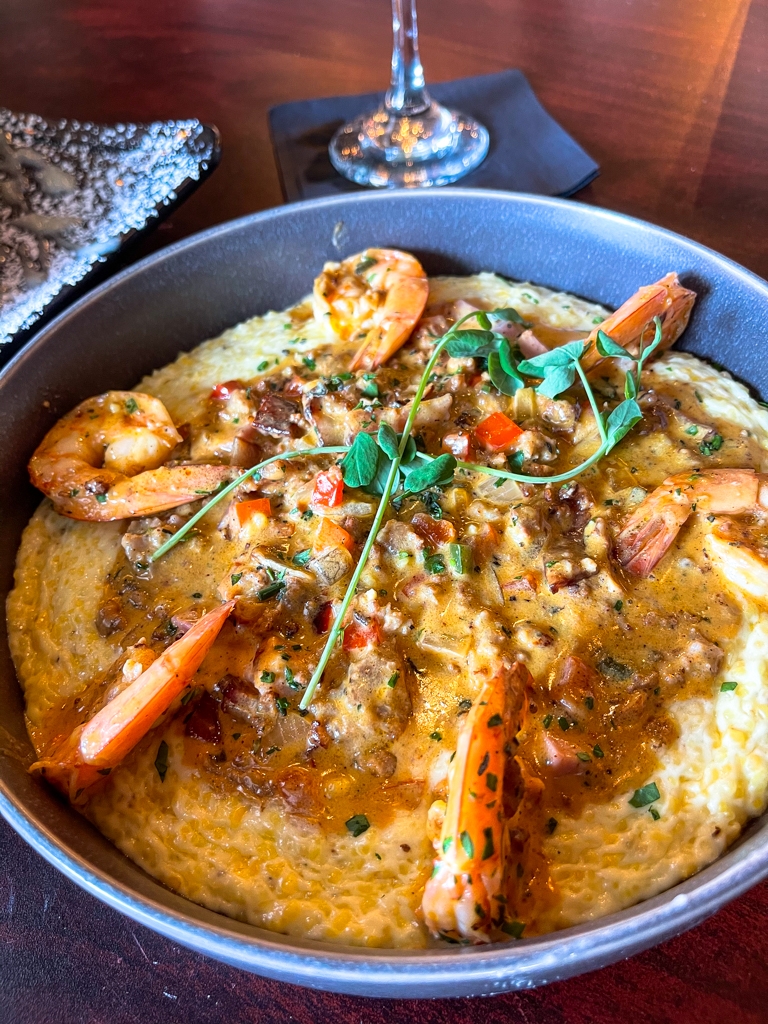 – What are some lessons you have learned along the way as a chef?
I have learned things from inexperienced restaurant owners all the way to narrow minded industry tycoons. Knife time is something I would like to highlight, a small young kid from Guatemala taught me the resting knife trick, he explained the more you have to pick up and put down your knife, you waste time. Top and bottoming an onion, then peeling it, after that you cut it in half and julienne the onion and repeat. However top and bottoming all the onions first without putting your knife down to peel saves time.
Learning to open an oyster with just about anything…… seriously everything from a hair pin to a flat head screw driver.
– Tell us about your time in Charleston, South Carolina – tell us about the food scene there and what makes it unique / special.
Charleston is a booming city while still keeping its history. Its food scene is certainly different, having chefs that run smaller restaurants sometimes with only 15 seats, to huge establishments that need 8-10 chef in a kitchen to manage to line and prep.
A lot of it is southern cuisine, which is mainly from Africa, bringing a cultural and historic blast from the past. Although with African cooking came terrible and hard times with slavery and bondage, we have learned so much from African culture. Full of fat and salt, braising and smoking, Charleston IS southern cooking.
– What are some personal resolutions you have for 2021?
Spend more time with my family! I was kinda of absent as I pursued my career while keeping food on the table. God bless Bonnie (wife) for sticking by my side and taking care of the home front. It has surely paid off in more ways then one. We are an unstoppable family unit and they deserve my time.
– Favorite local St Cloud eats?
Touch of Basil. I have had pizza from all over the country, Touch of Basil isn't the absolute best however using St. Cloud water to activate yeast and Florida weather to allow proper rise I have the upmost respect for them.
Loading Gastrobrunch Restaurant
Located in: The Hunter Arms Hotel
Address: 1023 New York Ave, St Cloud, FL 34769
Hours:
Monday – Saturday 9AM–10PM
Sunday 9AM–3PM
Phone: (407) 593-0233
loadinggastrobrunch.com