The St. Augustine Food + Wine Festival is an annual celebration of all things culinary. The 4-day fest features a variety of unique events showcasing celebrity chefs, award-winning winemakers, local artisans and so much more.
Guests are welcome to pick and choose events to attend individually, and are not required to attend every event during the festival. This year the festival took place from May 6 to May 9, 2021, highlighting chefs and vendors from all over the coastal southeast region. Everything took place in the historic city of St. Augustine, Florida at the World Golf Hall of Fame and the World Golf Village Renaissance Resort. Next year, the festival will run from May 5 to May 8, 2022.
We were invited to attend the St. Augustine Food + Wine Festival 2021 by Florida's Historic Coast, representing St. Augustine, Ponte Vedra Beach and The Beaches. Here's an inside look at some the events you can attend, from master epicurean classes to a jazz brunch and much more.
Foodie's Guide to St. Augustine Food + Wine Festival 2021
Day 1
Check into Hotel: Homewood Suites by Hilton, St. Augustine San Sebastian
If you're looking for a hotel in the area, the brand-new Homewood Suites by Hilton St. Augustine location is an excellent choice. It's within walking distance to the San Sebastian Winery, a St. Augustine must, and it's located right on the water. Complimentary breakfast is included with your stay, and the hotel also offers a pool area to cool off after a long day in the Florida heat.
The suites are spacious, complete with a king bed, couch seating area, kitchenette and water-front views.
The kitchenette includes a full-size refrigerator, sink, microwave, dishwasher, plenty of storage, dinnerware and silverware.
Our suite had a relaxing view overlooking the water.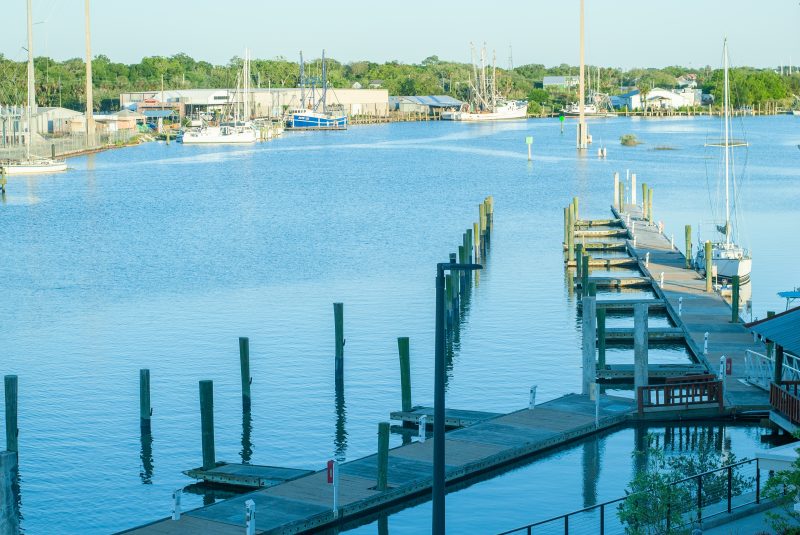 This Homewood Suites by Hilton is brand-new, having only been open now for a few months. The prime location paired with the amenities offered make it a great lodging choice for your next trip to St. Augustine.
World Golf Hall of Fame Winemaker's Dinner
Priced at $200 per person, St. Augustine Food + Wine weekend kicked off with the World Gold Hall of Fame Winemaker's Dinner. This semi-formal banquet featured a six-course dinner prepared fresh by award-winning chefs and winemakers. The event also included a live auction fundraiser for the World Golf Hall of Fame and Jan Stephenson's Crossroads Foundation.
Day 2
Epicurean Master Classes
The next events available to attend during Food + Wine weekend were the "off-site" Epicurean Master Classes. Multiple classes were offered, ranging in price from $50 to $75 per person. Some focused on the art of mixology while others covered traditional cooking from different regions of the world.
Smoke on the Walk
Smoke on the Walk was a BBQ extravaganza featuring some of the most celebrated grill masters and Pitmasters in the region. The event offered unlimited samples of wine, beer and spirits as well as tasty BBQ eats and live music from the band Remedy Tree. Smoke on the Walk was priced at $89 per person and located at the Walk of Champions, World Golf Hall of Fame.
Day 3
Rise & Shine Breakfast
Start your day off right with the Rise & Shine Breakfast, held at the St. Johns County Convention Center. This casual morning event offered light breakfast bites like egg sandwiches, muffins, fresh fruit, pastries, yogurt and more. It also included unlimited mimosas, with the options of orange and cranberry juice. Don't worry, coffee was also available if you needed some time to rise before you shine. This event took place from 8:30 a.m. to 11:30 a.m. and cost $45 per person.
In addition to mimosas and coffee, breakfast guests could enjoy a variety of fresh juices.
St. Augustine Food + Wine Festival Main Event
Easily the most popular event of the weekend, the St. Augustine Food + Wine Festival Main Event took place at the Walk of Champions, World Golf Hall of Fame from 1 p.m. to 4 p.m. Dozens of vendors from across the coastal southeast and beyond attended, offering a variety of food, wine, craft beer, entertainment and goodies from local small business. We recommend arriving right at the start of the event to give yourself enough time to experience as many vendors as possible.
Upon entering, guests were greeted with the sight of rows and rows of vendors and exhibitors positioned around the lake.

Woodchuck Hard Cider is a Vermont-based cider brand, offering innovative flavors from "Mimosa" to "Pearsecco" ciders. If you're a fan of ciders on the sweet side, Woodchuck is just the brand for you.


Our personal favorite was the "Dark & Dry 802" flavor, which featured tasty notes of caramel and apple.

Another vendor we stopped by was Veterans United Craft Brewery. This veteran-founded and veteran-run brand of craft beers got its start in Jacksonville, Florida. Ron Gamble, a former Naval Flight Officer and his wife Sheryl created the microbrewery together with the purpose of making a positive impact on the community, and bringing people together through brews.

Most of the company's staff and volunteers are also United States veterans.


Of those we tried, our two favorite flavors were the "Buzzin' Bee" (a honey rye wheat ale pictured below) and the "Raging Blonde" (a golden/blonde ale appropriately named).

Chef Matt Brown was also in attendance at the St. Augustine Food + Wine Festival Main Event, with Leña, An Asado Experience. Leña is a catering live-fire grill cooking experience, available for parties, venues and special events throughout Northeast Florida.

Carrera Wine Cellar, based in St. Augustine, was just one of many more local vendors offering drinks, food and merchandise throughout the festival.
Hall of Fame – VIP Lounge
At an additional cost, enjoy the Main Event from the comfort of the Hall of Fame VIP Lounge. $150 granted you exclusive access to the VIP area, where guests had the opportunity to sip on unlimited wine and cocktail samples, as well as food from multiple vendors. This lounge area also offered covered seating under a tent in addition to live music to set the tone.
Unlimited samples of Cabernet Sauvignon, Chardonnay and Prosecco were available in the VIP Lounge, all of which were served in an inscribed wine glass exclusive to VIP Lounge guests. Pro tip: this also provided the perk of more generous pours outside the VIP tent from participating vendors.
Hand-crafted cocktails were also available at no additional charge. We enjoyed a grapefruit and hibiscus Gin beverage that was both light and refreshing.
Some popular vendors had additional booths inside the VIP Lounge, allowing guests to bypass otherwise lengthy festival lines. The Pretzel Lady is a St. Augustine staple, serving up deliciously hand-rolled pretzels with the perfect balance of butter and salt.
GreenWise Market was a sponsor of the festival, and VIP guests went home with boxes of sweat treats and DIY charcuterie board made from fresh GreenWise ingredients.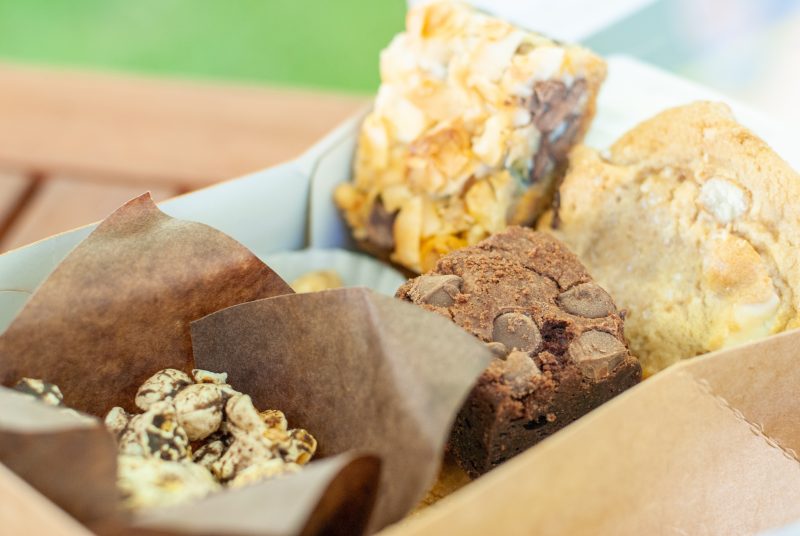 Day 4
The Jazz Brunch
The St. Augustine Food + Wine Festival ended with its final event: The Jazz Brunch. This classy brunch ran from 10 a.m. to 2 p.m., and it featured an omelette bar, meat carving station and champagne bar as well as tasty brunch dishes like french toast, breakfast potatoes, fresh fruit, shrimp cocktail, scrambled eggs, muffins, pastries, cheesecake desserts and much more.
During our trip, The Jazz Brunch also happened to take place on Mother's Day. In celebration of all the wonderful moms in attendance, all women at the event were greeted with a lovely red rose prior to entry.
The french toast was wonderfully sweet, with subtle hints of chocolate and orange.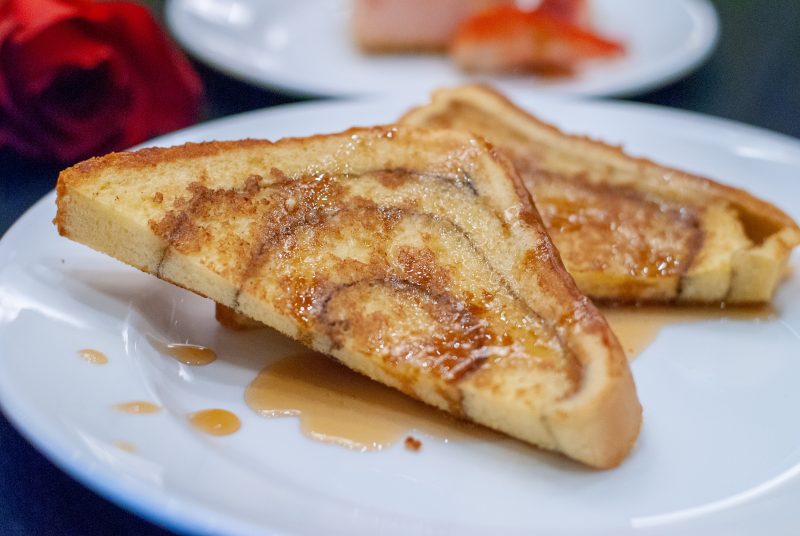 The omelette bar offered toppings such as cheese, ham, peppers, mushrooms, tomatoes, spinach, onions and more.
The strawberry cheesecake was fantastic. Topped with fresh strawberry slices, it was sweet, light and full of delightful flavor.
The meat carving station was a crowd favorite, rarely going without a line during the entirety of the brunch.
Local musician Sam Pacetti provided lovely tunes and vocals throughout the Sunday morning brunch.
In additional to roses, everybody went home with a souvenir stemless wine glass courtesy of GreenWise Market.
Whether you're a fan of food and wine, local artisans, master classes, small businesses, live entertainment or all of the above, the St. Augustine Food + Wine Festival has you covered. To learn more about the festival, visit StAugustineFoodandWineFestival.com. For more information about St. Augustine and its surrounding beaches, visit FloridasHistoricCoast.com.