Last week, Z Asian- Vietnamese Kitchen was awarded the coveted MICHELIN Guide Bib Gourmand in the first ever MICHELIN Guide for Florida, one of 7 restaurants in Orlando to be awarded this honor.
There's issues with the MICHELIN Guide, as with any system that judges restaurants based on criteria partially created over a century ago. But still, it is an honor, and hopefully with more nudging the guide will continue to reform.
I read the Michelin Inspector's review of the restaurant and something bothered me.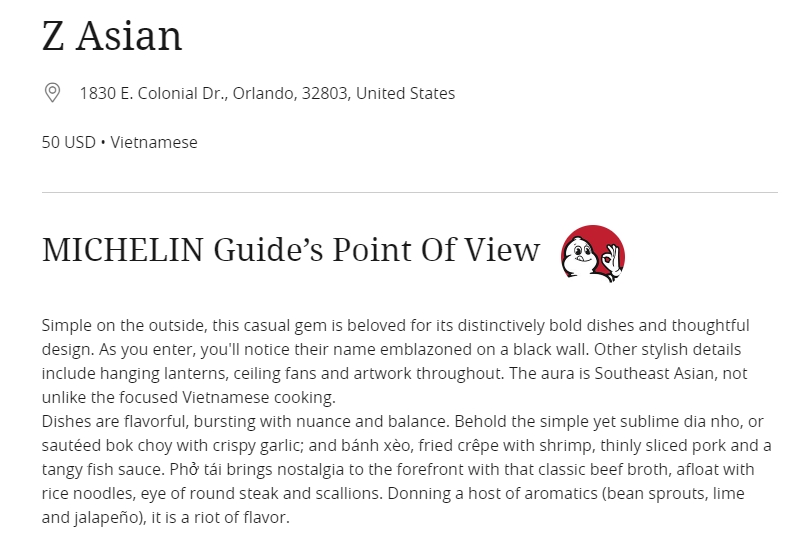 Dia nho…that is not a dish I have heard of before…a bok choy dish? Something must be wrong – dia nho means literally "small dish". Is this some joke by Z Asian or did the Michelin team incorrectly and carelessly call a bok choy dish by the wrong name?
I had to know – and it was a great excuse to catch up with the team – so I drove over to Z Asian and met up with husband and wife owners Hien Pham (who is also a Lockheed Engineer, and a lead member for a local long time Vietnamese band) and Huong Nguyen (lead chef owner).
On the night of the Michelin Guide awards, Hien was actually at home fixing his guitar in preparation for an upcoming charity benefit concert in Tampa – the two had no idea about the awards until a friend called them and asked them if they had heard the news – they had won a Bib Gourmand from the Michelin Guide.
I asked him – so what is this dia nho thing? – Huong responded, it's a category of dishes – small and large plate. Small plates is dia nho, which could also mean street food – but definitely does not mean bok choy. Maybe a simple mistake, hopefully they rectify. It doesn't make sense to me to even use a Vietnamese name for a traditionally Chinese dish but sure – yes.
If you go, definitely try out their appetizer menu – especially the grilled squid, served with a nice spicy green herb sauce, and the banh khot – like little bite sized bits ofcrunchy banh xeo rice crepe.
They have been quite slammed since the Michelin Award, with sometimes 2 hour long waits. With the difficulty in the labor market, supply shortages, etc. it has been a very exhausting time for the team – so please have some grace and mercy if you visit soon.
Tasty Chomps Interview with Hien Q Pham and Huong Nguyen of Z Asian – Vietnamese Kitchen
Tasty Chomps: How did you find out about winning the Michelin award for Bib Gourmand this week? How did you feel?
We found out through friends and customers congratulating us Thursday night. We felt excited, honor, and blessed to be chosen by Michelin. Our dedications during the last 3 years since the grand openings got us where we are today.
Tasty Chomps: What has the impact been so far with the announcement of Michelin Bib Gourmand at Z?
The impact has been extremely positive, busier than ever since the announcement. We're working through the logistics and staffing, to ensure the delivery of quality food and service to our supporting customers.
Tasty Chomps: What is your culinary background? How did you learn to cook and what experiences stick out to you?
Huong Nguyen is the main chef at Z Asian – her family has been in the Pho restaurant business for the last 30 years in Boston, MA.
She had years of training as a chef from being around the family's business. Prior to the development of Z Asian, Huong also had the opportunities to be trained by other chefs (Chinese, Japanese sushi, and Thai cuisines). The experience that impacted her the most though was the family business.
Huong also had experiences in Manhattan NYC in a previous career as a financial analyst.
What do you love about food?
The love for food is a must as owner and the main chef. The most rewarding experience of being in the business, is really providing quality food and exploring to come up with new food items.
What are your most popular items right now at Z?
Pho, Bun Bo Hue, and Mit Vit Tiem. We hope our customers will explore other amazing items such as Vietnamese street food and our plant-based vegan menu.
What are some of your future plans?
When we think of Vietnam, we think of fresh seafood and street food. We're looking to extend our current menu to bring fresh seafood and additional popular Vietnamese street food to local customers. Pho and much more will be our focus going into the next 2-3 months.
Future dishes- including snail and clams
What are your favorite street food items on the menu?? Why?
Hien: my favorites are the street food grilled squid, banh khot, chim chut (roast quail), ngheu hap Xa (clams steamed with lemongrass). Another favorite is the Bap xao bo –  Butter corn, with added fried small shrimps and scallions.
Huong will be bringing new street food dishes to the menu soon, which she loves to eat, which is lots of Vietnamese seafood – snail and clam dishes.
When we walk the streets of Vietnam like in the city of Saigon, there is so much seafood. We don't know why but in the US, most Vietnamese restaurants serve just Pho, bun bo hue, and carry the same items. We want to bring in street food and seafood to the area. Vietnamese cuisine is much more than the basic soups.
Our mission is getting the Z generation to explore Vietnamese food beyond the basics.

Z Asian – Vietnamese Kitchen
1830 East Colonial Dr. Ste B
Orlando, FL
Tuesday- Sunday: 11am – 9pm
Monday: Closed