When I moved to Florida, one of the first places I checked out and instantly fell in love with was Winter Park.  Park Avenue is pretty irresistible with the restaurants and shops, the park with flowers and towering trees providing some shade.  It's impossible not to feel like part of the community with the tables lining the streets, full of people chatting and enjoying a simple coffee or glass of wine or a multi course fine dining experience.
Even better, Winter Park is far more than Park Avenue; down Orlando, Orange, Fairbanks, and side streets in between, local and national chain restaurants, long standing local favorites, and hidden gems abound.  Each visit to the Winter Park area brings a new and exciting experience that is ever changing.
I invite you to check out Winter Park, with some of my favorite spots listed below.  I am also excited to tell you that I will be at the shiny new and stunning Winter Park Library for an Author Salon and Book Signing on November 5th at 2 pm.  My domestic thriller Cause of Death may have come out in May 2021, but this is the first official event for it and I couldn't be more excited!
I will be speaking about my writing journey at large as well as all about the book.  If you are a fan of reading, writing, and books like Gone Girl and Girl on the Train, I encourage you to come.  It will be a good time, and then you have the perfect excuse to check out one or more of these Winter Park gems!
Gelato-Go is the very first place I visited in Winter Park.  Back during the pandemic, they had a walk up window that was the best.  Now I love going inside and chatting with all the friendly faces there, especially Margiori the owner.  Be sure to try more than one of her irresistible flavors like sea salt caramel and amarena cherry.  They also have pastries and some of the best coffee around.
Farther down Park Avenue, Financier Bistro and Bar a Vin has something for everyone and every occasion.  From pastries and coffee to elegant salads and a glass of wine to burgers and steak frites, the food and drink never disappoint.  Whatever you do, be sure to try the smashed potatoes – they are the best potatoes I've ever had.
Over on Orlando Avenue, The Glass Knife is almost hidden among surrounding buildings.  Once you find it, you'll never forget about the coffee and pastries, especially the pillowy brioche doughnuts.  Be sure to check out their ever changing, seasonal cakes and maybe even balance out the sweetness with a savory sandwich on a housemade croissant.  One of everything, please!
Finally, on Orange Avenue The Courtesy Bar just opened their Winter Park location after leaving downtown Orlando.  Full of dark wood and big windows, it strikes a balance between moody and welcoming.  Different seating options allow space for parties big and small.  The drink menu features the bar's take on classic cocktails, and the food comes from the kitchen of nearby Swine and Sons, so it practically goes without saying, it's a big hit.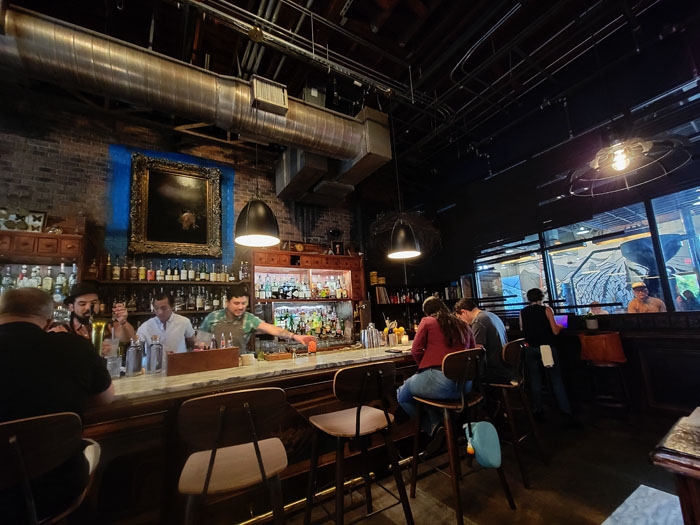 Take some time to check out Winter Park, and please join me at the Winter Park Library on November 5th at 2 pm!