Our favorite place to wine & dine in Disney Springs is at Wine Bar George by Master Sommelier George Miliotes.  Did you know there's only 172 master sommeliers in the country?
This summer, Wine Bar George launched a new summer menu this week including some new items such as Snapper Crudo, NY Strip Steak and the M.C.T sandwich and is participating in Flavors of Florida going on now.
"Guests can join us now through August 13 for Flavors of Florida at Disney Springs! We are offering our new Dicuru Burrata with tomatoes from The Villages Grown, Belle Glade corn and Olde Hearth sourdough bread. I recommend pairing with Luna Nuda Pinot Grigio or Louis Michel Premier Cru Chablis. Both of which we offer on our menu by the glass, bottle and ounce! This seasonal burrata will be available for a limited time this summer during lunch and dinner." — Master Sommelier George Miliotes, Owner of Wine Bar George at Disney Springs
They also recently opened a location inside Orlando International Airport MCO's new Terminal C where they offer 75 wines all available by the glass, the bottle and the ounce, as well as a food menu, led by Ron Rupert, Director of Culinary Development for Wine Bar George, including breakfast, small plates, cheese and charcuterie and entrees.
Read on to check out our latest visit to Wine Bar George and an interview with the founder himself, Mr. George Miliotes of Wine Bar George!
Here's an inside look of our recent visit to Wine Bar George at Disney Springs:
Buy a Corkcicle for $40, get a complimentary frozen drink! Their Corkcicle designs rotate frequently so be sure to check out @winebargeorge on instagram for current inventory.
As for the complimentary drink, we always order the Frozcato made with Dole Whip® Pineapple, Moscato, & Vodka.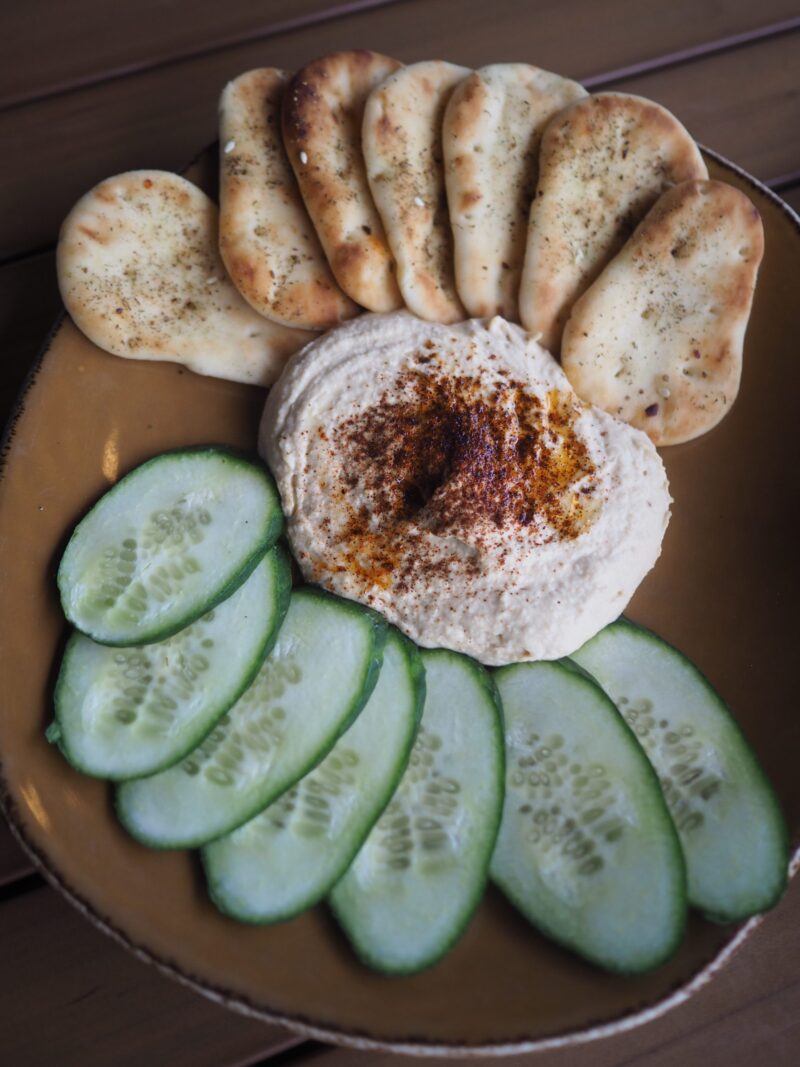 Housemade Hummus – cucumber, olive oil, naan bread, chipotle


Crispy Mac & Cheese Bites – tomato nage, pecorino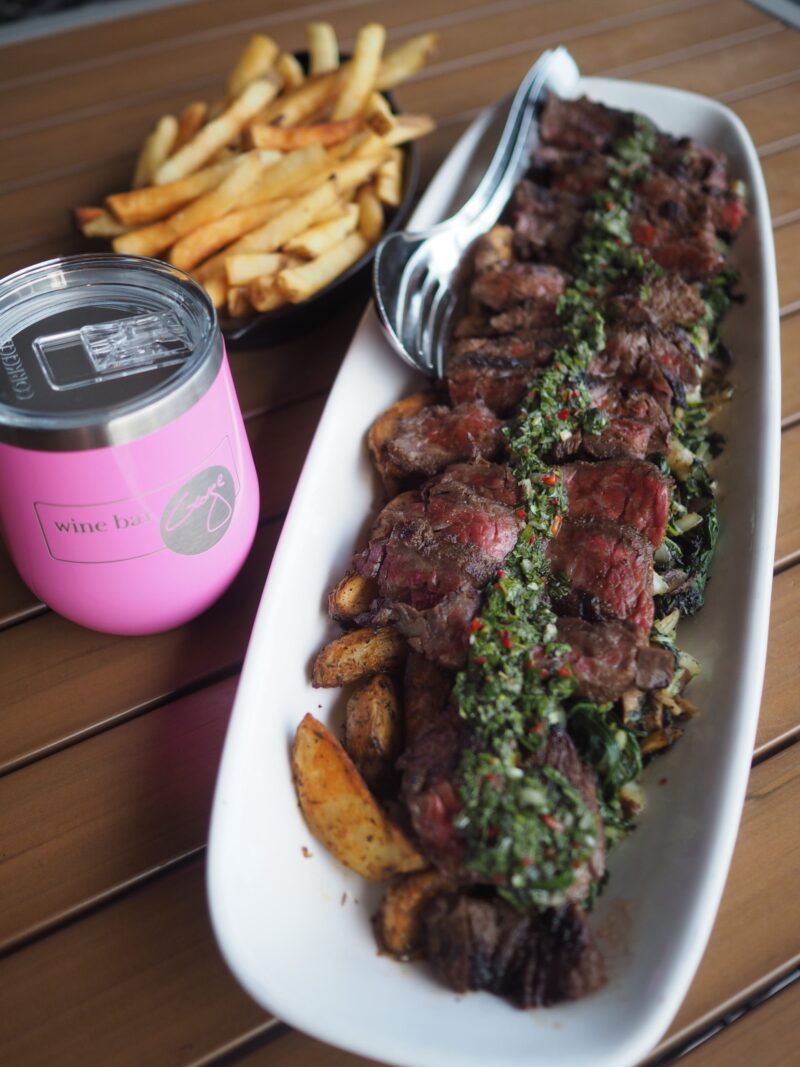 Skirt Steak – roasted potatoes, grilled bok choy, mushrooms, chimichurri
Freaujolais – Beaujolais, Vodka, Raspberry
Tasty Chomps Q&A with Master Sommelier George Miliotes
How did you develop your passion for wine, and what led you to become a specialist in this field?
I'm very lucky that my family's been in the restaurant business since I was 12-years-old. That allowed me to become interested in wine even when I could only look at the labels. As a teenager I definitely enjoyed deciphering them. As I got older, I was allowed to start tasting and selling the wine, and from there my appreciation of food and wine grew.
I've always been a little obsessed with food and I still look forward to what is for lunch or dinner every single day. Becoming a specialist in wine, and wine and food together was the logical way to feed this passion.
Could you tell us about your approach to curating and developing a wine list for your restaurant?
Over my 40+ years of work in a restaurant and wine business I have my stable of wine producers who are on all the list that I've built. I also enjoy searching out new producers and new wines. So when developing a list, I use my experience yet I am constantly looking for things that are new and interesting, and of course delicious.
How do you stay updated with the latest trends and developments in the world of wine?
Here at Wine Bar George, we have a stable of Sommeliers, servers and bartenders, who all drive each other and me every day. This way we stay current on what is going on in the industry. It's become almost like a game where we are testing each other as to what we know about new wine laws, new producers and new styles.
Can you share some tips for someone who is new to wine and wants to explore and learn more about it?
For those who desire to learn more about wine, I always recommend starting a relationship with a retailer and a restaurant who are as passionate about wine as they are. Asking questions, sampling as many different things and finding what you like is part of the joy of wine. Having knowledgeable people where you purchased your wine is always a good angle. I also recommend taking the introductory level class to the Court of Master Sommeliers. This class allows you to see the depth and breadth of the world of wine. We also teach you the basics of tasting wine.
In your opinion, what are the emerging wine regions or grape varieties that customers should keep an eye on?
There is so much cool and fun stuff going on in the wine world today that is hard to tag one varietal or one area about to explode. I will say that there are many areas of the United States that are not traditionally known for wine that are starting to make really interesting wine, whether it be Arizona, New Mexico, Idaho, upstate New York, North Carolina, or Maryland (to just make a few – the list is not exhaustive). And those who know me know that I am a fanatic about Riesling and Tempranillo, and the many facets those varietals take.
What inspired you to pursue a career in the restaurant industry, especially considering your family's long-standing involvement in the field?
I was blessed with parents that loved and nurtured my passion for the food and the wine business throughout my childhood and teens. My wife Leanne always supported me in my journey of becoming a Master Sommelier, and our journey through the wine and the restaurant business. I simply would not be where I am today without her.
How has growing up in a family immersed in the restaurant industry shaped your understanding and passion for the culinary world?
My wife and I are of Greek heritage. Anyone who knows anything about Greek families knows we are most certainly food obsessed. So striving to find the best, freshest ingredients and preparing them simply, which are the hallmarks of Greek cuisine, has always been in the forefront of what we strive to do.
What valuable lessons have you learned from working in the restaurant business?
Everyone should be required to work in a restaurant at some point in time. There is so much to learn about life and people. An overriding principle to me is to care for, invest and develop your people every single day. If you can't make running your restaurant fun, enjoyable and profitable you should probably be in another business. The idea of full hands in and full hands out translates directly over to running your household properly.
What are some of the most popular dishes and items right now at Wine Bar George?
Our family style skirt steak, crispy mac and cheese bites and the big board of cheese and charcuterie continue to be some of our most popular items from day one. We did just launch a new summer menu though and I expect that guests will come to equally enjoy our snapper crudo and NY strip steak with rosemary vinaigrette and guajillo butter.
What are your upcoming plans?
We have some exciting events in the works for this summer and fall, details will be released soon!
Wine Bar George
1610 E Buena Vista Dr, Lake Buena Vista, FL 32830
winebargeorge.com
(407) 490-1800