Did you know that Waldorf Astoria Orlando & Signia by Hilton Orlando Bonnet Creek are hosting special, intimate 14-seat progressive dinner tours this fall?
The Epicurious Progressive Dinner Tour, a curated progressive dining experience that tantalizes your curiosity and taste buds will be available on Fridays & Saturdays starting October 6 – November 11, 2023 from 6 p.m. to 10 p.m. just in time to coincide with the Epcot International Food and Wine Festival.
During this 4-hour intimate progressive dinner, guests will enjoy culinary specialties from the highly acclaimed restaurants of Waldorf Astoria Orlando & Signia by Hilton Orlando Bonnet Creek all in one magical evening.
We were recently invited to a media preview of the Epicurious Progressive Dinner Tour – read on for more!
From exceptional wine tastings, innovative food pairings, customized mixology session and decadent Bar du Chocolat sweet treats, Epicurious Progressive Dinner Tour is an indulgence for the senses and an adventure for the palette.
The 4-hour epicurean food tour is led by a knowledgeable culinary guide and includes five stops throughout the resort complex.
Tickets are $250 per person, plus tax and gratuity. Limited spots available.  Reservations required.
For tickets, visit: hiltonbonnetcreek.com/progressive-tour
Here is a first look of the 2023 Epicurious Progressive Dinner Tour at Waldorf Astoria + Signia Orlando Bonnet Creek

:
Sip, Swirl & Savor
Pine-Aperol Spritz
La Luce
La Luce, Signia by Hilton Orlando Bonnet Creek's signature restaurant was created by famed Napa Valley chef and restaurateur Donna Scala. This modern Italian country kitchen serves dinner nightly and features thin crust pizzas, homemade pasta, Mediterranean-inspired drinks and a Trattoria-style wine program. Executive Chef Alberto Navarrete Arias. and the team carry on the legacy of excellence at  La Luce.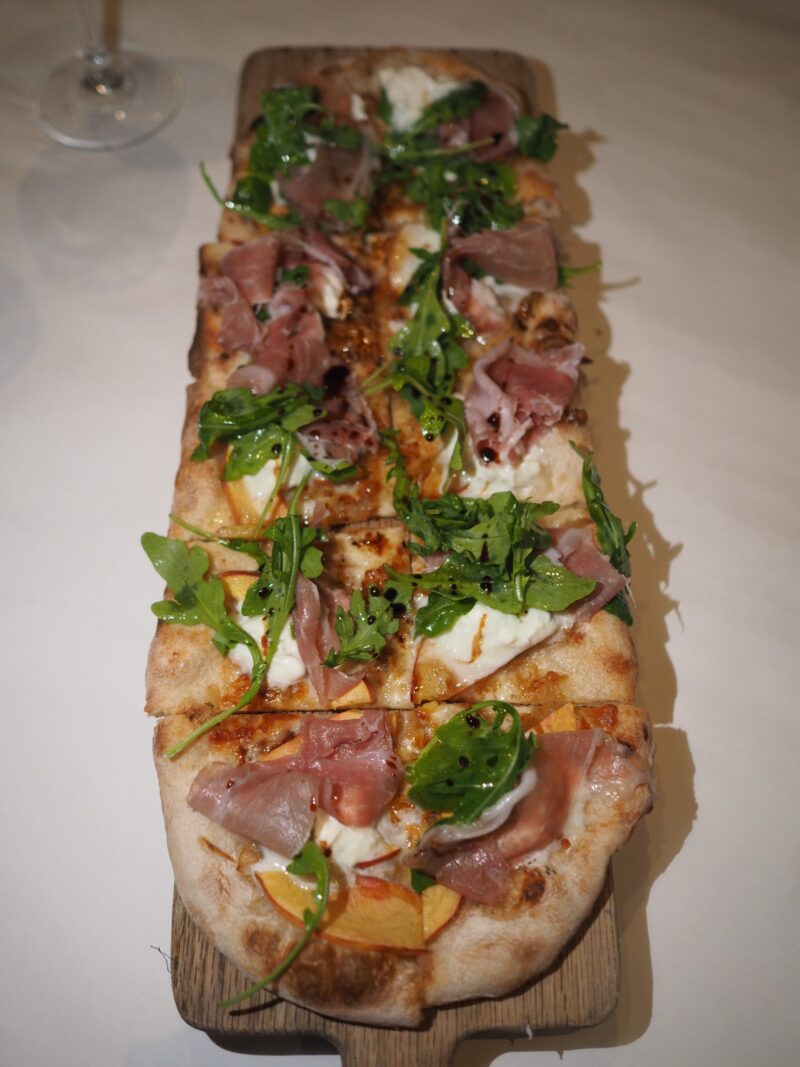 SEASONAL FRUIT, BURRATA AND PROSCIUTTO FLATBREAD
RISOTTO AL TARTUFO – Porcini Mushroom, Shaved Black Truffle
Nortico Alvarinho, Minho Portugal
Zeta Asia
Signia by Hilton Orlando Bonnet Creek's second signature restaurant, Zeta Asia serves pan-Asian cuisine in swanky surroundings. Drawing inspiration from Asian tradition and Western culinary techniques, Chef Jesus Pinto and the Zeta Asia team unlock hidden layers of flavor on every plate. Inspired mixology complements each dish with an extensive selection of award-winning sake, Japanese whiskeys, wines and beers from across the globe. Zeta Asia is more than a restaurant—it's a haven for food enthusiasts with diverse and discerning palates, tailored to your tastes by this talented culinary team.
HOTATE YUZUYAKI – Seared Scallops, Togarashi, Yuzu Parmesan Foam, Finger Lime, Kuro Goma
MAKIZUSHI DUO – Crab Salad, Cucumber, Avocado Topped Tuna, Red Tobiko, Aji Panca Aioli, Micro Cilantro and topped Yellowtail, Green Tobiko, Preserve Lemon Aioli, Micro Greens
BULGOGI BEEF – Edamame Puree, Roasted Eggplant Miso, Kimchee Chimichurri
Sigalas Santorini Assyrtiko, Santorini Greece Amabuki Himawari Junmai Ginjo Nama "Sunflower" Sake
Bull & Bear Smokehouse at Vibe Kitchen
Vibe Kitchen is Waldorf Astoria's signature food truck – last few years serving up Peruvian specialties for the Epicurious event – this year Bull & Bear is taking over with a "smokehouse" theme with Executive Sous Chef at Waldorf Astoria Orlando, Jeremy Gibb.
BULL & BEAR SMOKEHOUSE 2-MEAT PLATTER – House Smoked Pulled Pork, Smoked Brisket, Cole Slaw, Cheddar Biscuit, House Made Pickle and House BBQ Sauce
Burgaurd Morgon Cote de Py, Beaujolais France
Mixology at Peacock Alley
MONKEY BUSINESS – Hamilton Pot Still Black Rum, Banane du Brasil, Cocchi Americano, Demerara, Lime Clarified in Garam Masala Coconut Milk
Bull & Bear

Due to ongoing renovations, Bull & Bear will be temporarily relocated to Oscar's until Bull & Bear reopens on October 15, 2023.  Guests will still be able to enjoy the Bull & Bear offerings with the same world-class service in the meantime at Oscar's.
An alternative dining experience, Bull & Bear Brasserie led by Chef Juan Suarez fuses casual elegance with upscale sophistication for a refined resort dining experience. Located inside Oscar's Brasserie, Bull & Bear Brasserie is open daily for dinner, offering a legendary farm-to-table menu, impeccable service, personalized tableside preparation, al freso dining, and thoughtful wine and cocktail pairings in a relaxed setting.
Featuring Bull & Bear classics, including Wagyu New York Strip, the Tomahawk for Two, fried chicken, pan seared sea bass, and The Lemon, a famously delicious dessert prepared using a whole lemon, Bull & Bear Brasserie invites guests to sit back, indulge, and savor the taste of bold tradition.
BRAISED RABBIT – Chestnut Spaetzle, Seasonal Wild Mushroom, Local "Frog Song farm" Seasonal Winter Vegetables, Pomegranate
Pride Mountain Syrah, Napa Valley CA

CRISPY FROZEN PAVLOVA – Smoked Madagascar Vanilla Bean Ice Cream, Strawberry Sorbet and Red Berry Emulsion
Chateau Roumieu, Bordeaux France
Lasting Impression
BAR DU CHOCOLAT – A selection of chocolate confections hand-crafted by Waldorf Astoria Orlando's world-class pastry team.
Take the Elevator Home
Guests can turn their epicurean dining experience into a food & wine weekend getaway! And this is probably the most recommended course of action after the 4-hour tour of 7+ food and drink pairings.
Epicurious Progressive Dinner Tour participants can take the elevator home when they book an overnight staycation at Signia by Hilton Orlando Bonnet Creek or Waldorf Astoria Orlando for a special price.
The staycation package includes accommodation in a Standard guest room, waived resort fee and complimentary valet parking for the night of your dinner all for an exclusive rate of $195 per night, plus taxes at Signia by Hilton or $295 per night, plus taxes at Waldorf Astoria Orlando.
To book your reservation, email BonnetCreekEpicurious@hilton.com or call 407-597-3712.
In addition to the Epicurious Progressive Dinner Tour, there will also be a special Epicurious: Sip and Savor event coming this December. Read on / Save the Date below:
---
SAVE THE DATE
EPICURIOUS: SIP & SAVOR UPCOMING EVENT
The epitome of culinary decadence, Epicurious Sip & Savor is an immersive, gourmet event that invites you to explore the art of the palette. Showcasing over 35 tastings through interactive programming, intimate wine tastings, and hands-on culinary experiences, Epicurious Sip & Savor brings together an incredible roster of chefs, wine and spirit experts, and top culinary talent for a deliciously unforgettable evening. Enjoy inspired bites, lavish libations, and fresh flavors as you taste your way through eight culinary kiosks and nine pop-up bars.
Date: Saturday, December 9, 2023
Time: 6pm – 10pm
Location: Bonnet Creek Ballroom & Foyer Space (located at the adjacent Signia by Hilton)
Pricing: $210 per person (plus tax and gratuity)
Get a taste of our 2023 event offerings. View the Dining Menu Here
For booking and information, please email BonnetCreekEpicurious@hilton.com or Call (407) 597-3712. Tickets are non-refundable and non-exchangeable