The Food Truck craze has officially entered Orlando in full swing: (Check out this awesome article by Sandra Pendicini of the Orlando Sentinel on the Food Truck craze in Orlando here and theDailyCity.com's Food Truck Guide and Orlando Food Truck Bazaar event on March 29 here)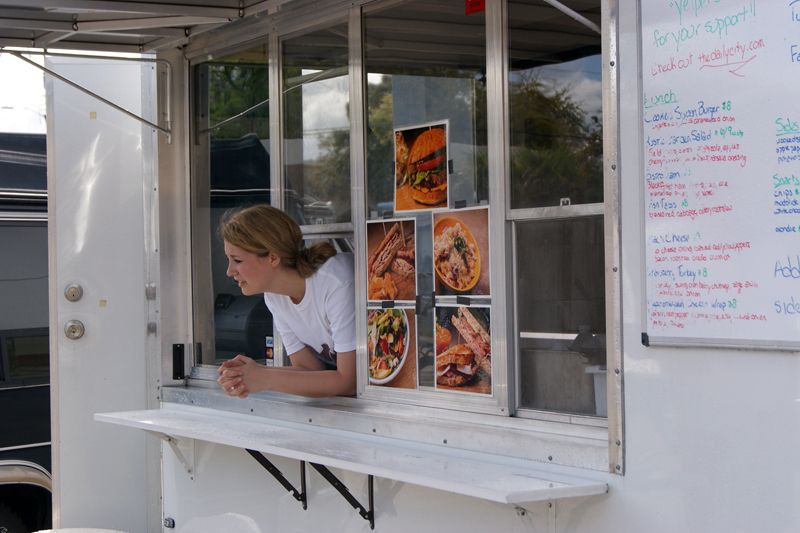 More and more gourmet type food trucks are hitting the streets and The Crooked Spoon has answered the call. They are currently located at the Chevron gas station on the corner of Fern Creek and Colonial Drive near Bumby Ave during lunch hours and relocate to the Dr Phillips area for late night festivities. The Crooked Spoon is headed by Chef Steve, who has worked at Tavern on the Green in New York City, K Restaurant and Wine Bar and Citrus in Orlando in the past along with Allie, the very sweet pastry /sous chef who also happens to bake the cookies for The Crooked Spoon.
Tools of the Trade at the Crooked Spoon
My friend and I ordered the Crooked Spoon Burger and the Mac N Cheese to share. We also got the potato salad and apple-papaya sauce for sides. The Crooked Spoon Burger ($8) is a meaty Angus beef burger with soft buns made locally from the Olde Hearth Bakery topped with a chipotle aioli sauce, sweet caramelized onions, swiss cheese, lettuce and tomato. It definitely ranks up high as one of the best burgers in Orlando at this point in time.
The Crooked Spoon Burger $8
Potato Salad!
My favorite however was the Mac N Cheese ($8) from The Crooked Spoon, made with a 6 cheese blend, roasted red and yellow peppers, bacon, and toasted bread crumbs. The decadent serving was enough to fill up two people and luckily I had my friend with me to share this heavenly, cheesy, mac-y delicious creation with, otherwise it would most definitely have ended up all in my tummy. Magnificent.
The Crooked Spoon's Mac N Cheese!
The Crooked Spoon's Mac N CHEESE!
The other items for lunch at The Crooked Spoon include Fish Tacos, Bistro Ham, Rustic Garden Salad, Mediterranean Chicken Salad, and Cranberry Turkey. They change their menus often so check back (sometimes they have a pork quesadilla on the menu!). Most of the items run around $8 and a combo with a drink and a side for $2 more. I will definitely be back to check out more items from the Crooked Spoon!
Some tips:
They accept both cash and credit. You might want to bring a chair or table with you as there is no seating (i used the trunk of my car to set everything for eating lol)
To find out about where they are throughout the day, like them on facebook at facebook.com/thecrookedspoon or follow them on twitter at twitter.com/thecrookedspn
The Crooked Spoon food truck…its awesome.
,
.
.