All the great Asian markets in Orlando are located either near downtown in the Mills Avenue / SR 50 area or on the west side at Pine Hills at the 1st Oriental Market. Although small Asian Markets have existed through out the east side of Orlando for a while now, the newly opened Eastside Asian Market is the largest one to open to date and is a welcomed addition for those living on the east side who need to buy their Asian goods without traveling far.
Eastside Asian Market sits just east of the 408 exit on Colonial Drive in a newly built plaza next to the BP gas station. They also operate under the name "Farm Fresh Produce" in the same building and are aptly named so as they have quite the selection of fresh vegetables and fruits both local and out of state. The market is sparkling clean and new, stocked with the essentials of Asian cooking from soy sauces, noodles, rice, dried mushrooms, and more. The even have a large selection of ramen for those of you who are on a tight budget or going to UCF. Though they are not as large as the ones downtown or on the west, their selection should be sufficient for most shopper's everyday needs.
Eastside Asian Market is owned by a local family here in Orlando who are devout Buddhists and vegetarians. You will notice that they have a large variety of vegetarian items at this Asian market including the veggies and fruits, they have tofu products and "faux" meat items that spice up the typical vegetarian diet.
They also quartered off a section of the market into a cafe with a developing menu specializing in Taiwanese dishes and, all of course, vegetarian. At their cafe, they currently serve boba milk tea, taro slush, flavored black tea (passionfruit, mango, strawberry, lychee), shaved ice, fruit slush, fruit smoothies, special buns, egg rolls, dumplings, egg pancakes, and are still adding items as time goes on.
On a recent Friday afternoon, I had the chance to try the famous vegetarian "special buns" (2 for $4.99). The recipe is a secret and has been made by the owner Ronald's father for over 20 years at home as a treat. The special buns were delicious, spicy flavored slices of tofu and mushroom in sweet "mantou" wheat buns. I also had the deep fried dumplings (6 for $3.95) and they were also vegetarian and pretty delicious, not unlike the korean mandoo dumplings that I have had served in New York. I washed everything down with a nice cool cup of flavored passionfruit black tea.
Overall, I think Eastside Asian Market is an awesome addition to the life on the east side of Orlando and hope they continue to bring fresh produce and food to Orlando.
Eastside Asian Market
12950 E Colonial Dr, Ste 106
Orlando, FL 32828
(407) 615-8881
www.eastsideasianmarket.com/
Florida Oranges!
Bittermelon!
Instant Ramen aisle!






The Eastside Asian Market's Cafe





Menu 1





Menu 2






"Special Buns"



Special Buns, they are delicious…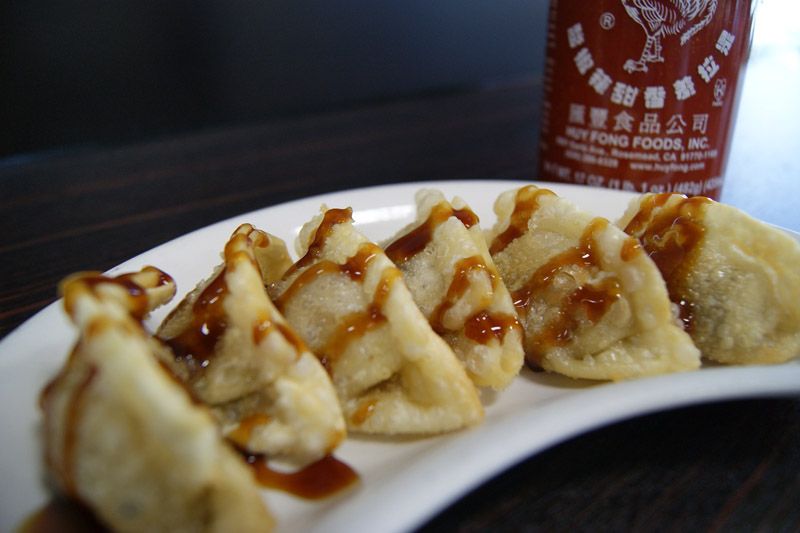 Fried dumplings (vegetarian)!
Passionfruit tea
"Special Buns" …#winning