Le Cordon Bleu is one of the most respected names in culinary education, originating in Paris in 1895. Synonymous with high quality, excellence in education, and fine ingredients Le Cordon Bleu teaches classic culinary techniques with modern innovations and the latest in global cuisine.
One of the 17 campuses of Le Cordon Bleu in America is right here in our backyard in Orlando just north of SR 528 on John Young Parkway. Despite being located in a drab office/commercial complex, the campus is very lively within the walls, full of the clattering of pots and pans and students perfecting their techniques in beautiful kitchen classrooms.
On a recent tour of Le Cordon Bleu with fellow bloggers @AggiesKitchen, @EclecticRecipes,  @MegaYummo , @Droolius and @TheLittleKitchn, I was introduce to the wonderful world behind the culinary creations guided by our gracious hosts President Joe Hardiman and Chef William Mather.
I was truly taken aback by how deep the food industry goes: from not only traditional settings like hotels and restaurants but there is also the need at prisons, life care facilities, manufacturing products, and countless other food service industry opportunities for culinarians.
At Le Cordon Bleu, students are lead by professional chef instructors and learn hands-on in an environment where they can develop their creativity and own sense of style to learn the way to a culinary career that's anything but ordinary.
Le Cordon Bleu keeps up to date with teaching contemporary cuisines as well as the traditional techniques and methods for cooking. Teacher and Chef William Mather told us that whats en vogue fads right now at the school includes: molecular gastronomy, gluten free, food for diabetics, sugar substitutes, modifying traditional recipes to work with new ingredients. The food truck scene in Orlando with Gastro truck and the Crooked Spoon and Big Wheel and more are all part of the growing overall food scene in America today. (Big Wheel's Chef Tony Adams is a former partner at the on-site student-run restaurant Technique)
During the tour, Le Cordon Bleu's president Joe Hardiman and Chef William Mather showcase all the various classrooms and kitchens that are available for students, with all of the curriculum available bilingual in spanish and english. The classrooms have all the latest kitchen equipment for both pastry and cuisine, and many are bustling this evening with students at their knives and pots cooking away the night. Chef Mather's favorite is baking room 116, where he might just be experimenting or baking his favorite dish a baked strudel apple with granny smiths.
The curriculum is offered in bilingual in both Spanish and English. The school recently won the honor of having the Guinness World Record for largest creme brulee, at 26 feet in diameter weighing in at 1599.96 lbs on February 12, 2005. With over 1400 students currently enrolled, they have over two dozen student clubs each with their own interests including cheese club, asian club, and beer club.
As part of six weeks at the Technique restaurant, the students are taught appreciation for not only the kitchen in the back of the house, but also appreciation for the front of the house where they spend 3 weeks working as servers and hosts before flipping to the kitchen side. It teaches the students humility and appreciation for the other side, says school president Joe Hardiman. I think that is a great way to teach as the restaurant experience is not only about the quality and taste of the food but also about the service and ambiance itself at restaurants these days, increasingly so.
The dining room at Technique is rather simple, much like any dining room that you can find in a hotel, with white table cloths and blue accents, and a nice view of the open kitchen from the dining room. The servers are of course students at the school and can at times be nervous or unsure, but are all very genuine and attentive, trying their hardest to please.
If you are to dine at Technique, know that walk-ins are okay, but just be on the safe side and call ahead to make sure they are open. The dinner has a 3-course meal option for $12 and 4-course meal for $15, which are a great deal at the price (http://www.techniquerestaurant.com/TECHNIQUE_menu.pdf). It's a shame not more people know about this place and its very unique dining experience.

French Onion Soup
Sour Dough Crouton with Melted Gruyere

Caprese Salad – served with fried mozzarella, heirloom tomatoes, roasted red peppers, basil, olive oil, balsamic vinegar reduction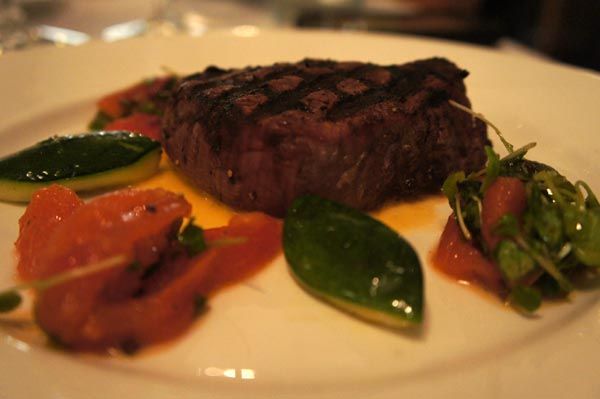 Filet Mignon, Tomato Hollandaise – served with housemade fries, roasted zucchini and tomato salad
Bananas Foster
founded in Brennan's Restaurant in New Orleans

Bananas Foster is a dessert made from bananas and vanilla ice cream, with the sauce made from butter, brown sugar, cinnamon, dark rum, and banana liqueur. The butter, sugar and bananas are cooked, and then the alcohol is added and ignited. The bananas and sauce are then served over the ice cream.



Le Cordon Bleu College of Culinary Arts
8511 Commodity Circle
Suite 100
Orlando, FL 32819
1-877-563-4222
www.chefs.edu/Orlando

Technique Restaurant – Le Cordon Bleu College of Culinary Arts
8511 Commodity Circle
Orlando, FL 32819
407-313-8792
www.techniquerestaurant.com

Hours of Operation
Lunch – Monday through Friday.
11:00 a.m. – 12:45 p.m.

Dinner – Tuesday through Friday.
6:00 p.m. – 7:30 p.m.

Reservations are recommended and can be made through OpenTable.
http://www.opentable.com/technique-at-le-cordon-bleu-orlando

We end with a famous saying:

Wine brings wisdom
Beer brings joy
And water has bacteria
So lets enjoy the wine