Food Blog Forum Orlando was a full-day seminar on Saturday, March 17, 2012, at Epcot Center, designed specifically for food bloggers. At the conference, they covered most relevant topics for food bloggers, including food styling and photography, photo editing, recipe writing and development, food blog design and social media. One of my favorite things about the conference was all the great social networking and friendships that were developed as well as learning more about bringing out "the story" in each of our blogs.
A huge thank you to Jaden and Scott Hair from Steamy Kitchen, the amazing organizational skills and passion of Julie The Little Kitchen and Dawn Viola. Also, the sponsors of the conference get a big hug and  thank you too for all the swag they gave out during the weekend (including a brand new refrigerator to one lucky blogger): KitchenAid, OXO, Whole Foods and Land O Lakes. Last but not least, a big big thank you to the great people of Walt Disney World, Pam Brandon and Karen McClintock at Food and Beverage for going above and beyond the call to making this conference that much more magical and special.
Opening Reception – Disney's Grand Floridian Resort & Spa sponsored by Walt Disney World
This event was truly amazing. The Grand Floridian Resort is fashioned after an old 1920s style Florida resort with everyone in period dress. The reception was held by the lake with hors d'oeuvres made by the wonderful people of Disney who cater for special events and weddings at the resorts. There were shrimp cocktails, macaroons, all sorts of bite sized bits of fun. It was great seeing old friends like Chris from EatLocalOrlando, Julius from Droolius, Marilyn from Forkful, Pearleen from Megayummo, Katie from KatiesCucina, Aggie from AggiesKitchen, Raishmi from PrimlaniKitchen, Kiran, and making new friends like John Rife of Winter Park Harvest Festival and (old friend) AJ from DisneyFoodBlog.
Food Blog Forum at Epcot during the Epcot International Flower & Garden Festival
Food Photography & Styling: Sharing your food story through your creative voice
Todd & Diane Porter of White on Rice Couple taught us many things about using photography to tell the story, and also to focus on the subject in the photos. One of the best things I learned was that "Your Eyes are Your Lens, Your Heart is Your Shutter". I also learned about photo styling with different lighting angles and techniques and to not be afraid of shadows in photos as they add depth and complexity. They shared so much of themselves during the workshop, it felt like watching family up there describe stories (Shout out to Vietnamese food bloggers haha). In addition to photography, we learned about the power of video and the importance of capturing those seemingly unimportant little moments.
Master of Ceremonies, Scott Hair, who has worked with inspirational and motivational speaker Anthony Robbins, gave us some tips to success. I am a true believer of this method and can attest to its power. If you believe, you can achieve.
"Get specific with goals and get specific with what you want."
Know what you want. Be specific. Very specific.
Make a list of the reasons why you want it.
For each reason you list, identify actions that can get you closer to your goal – and take them.
Be ready to make the adjustments necessary to get to the point number 1.
Continue and repeat.
Many of us are unable to get what we want because a lot of times we don't know what we want. And when we do have that feeling of what we want, we don't believe in ourselves enough to take the steps to get there. We only have one life and such limited time on earth, identify what's important and take that risk, take that jump to get there. And don't look back.
PRspectives: 
Jaden Hair of Steamy Kitchen, Rachel Barbarotta from KitchenAid, Arianna Bastianini from OXO, and Thomas Smith from Disney hosted this session on working with PR and your blog, using social media to reach out to brands, and being authentic.
How to Write Bigger, Better, More Badass Food Posts:
David Leite opened my eyes to the possibilities of blogging and how to bring about the story in writing blog posts.
– Be something enough and consistent enough, you develop a voice.
– Think fiction, write non-fiction.
– The more specific, the more universal.
From Hobby to Professional, taking your blog to next level:
Food writer, research chef, and much more, Dawn Viola, gave us useful tips on bringing our blog to the professional level:
– Find and develop your voice.
– Be okay with who you are
– Become an expert in something. What's your niche?
– Pitch what you love
Lunch – A (Healthful) Taste of Disney! Sponsored by Walt Disney World
 This was a pretty epic lunch with stations staffed by Disney's best from all over the resorts. I was surprised to find all of the cutting edge things that were going on especially for molecular gastronomy. I guess it's fitting in a place like EPCOT, the experimental prototype community of tomorrow 😉

Molecular Gastronomy at Disney: Soda Float with Rotovap Extracted CO2-infused Vanilla Lemonade with Nitro Whipped, No Sugar Pomegranate Ice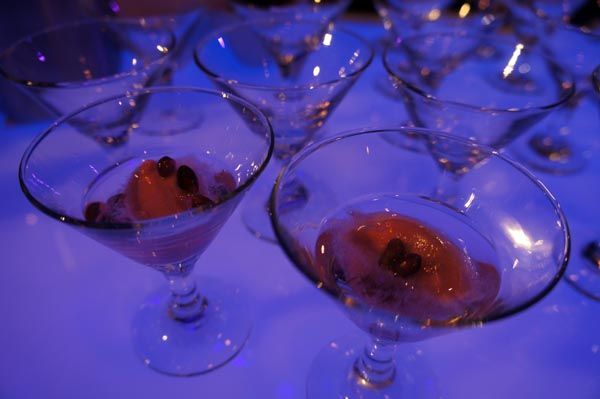 Disney's Animal Kingdom Lodge – Sanaa Vegetarian Sampler
Stewed Lentils, Spicy Cauliflower, Onions, Tomatoes, and Mint served with Basmati Rice, Pappadam, and an assortment of Sanaa Signature Dips and Spreads
Sanaa is one of my favorites, the way they handle the spices there is phenomenal!

Chocolate Ravioli with Cognac – This dessert explodes in your mouth with a shot of cognac. POP.
Private Dessert Reception at Disney's EPCOT ILLUMINATIONS
It was St. Patrick's Day so the dessert reception was themed with Irish style desserts and chocolates. I liked the Irish Car bomb parfait and little chocolates. The Guinness beer ice cream with bacon brittle was a bit strong with the beer but it was fun to have the bacon brittle on top.
Epcot Illuminations
Brunch at Whole Foods Market, Phillips Crossing Orlando
Whole Foods Market hosted this wonderful goodbye brunch for us. TEARS ALL AROUND.
 Deconstructed Banana Stuffed French Toast
Quiche
Tofu Scrambler
Thompson Farms Sausage w/ sweet potato
Spinach and Cheese Empanadas
Scott and Jaden Hair say their thank you's and goodbye's!