Tonight I had a wonderful time judging for the Taste of Winter Park 2012 to benefit the Winter Park Chamber of Commerce. Held at the Winter Park Farmer's Market area, it was a crazy, packed event full of people in the community and food lovers together with local restaurants and businesses. This was my first time I attended the event and it was an honor to judge along with esteemed local food critics and journalists such as Scott Joseph, Heather McPherson, Scott Richardson, Anjali Fluker, Pam Brandon/Katie Farmand, and Rona Gindin.
The winners of the event were:
· Best Entrée – The Ravenous Pig – Lobster Hot dog
· Best Appetizer/Side Dish – Mi Tomatina – Sherry Braised Oxtail marmalade
· Best Dessert – The Bohemian Baker – Delicate Lavender Tea Cake with Chambord Icing
· Best Healthy Dish – The Ancient Olive – Waterkist Farms heirloom tomato salad
· Best Booth Display – 4 Rivers Smokehouse – they brought in a statue of a bull!
The event overall was very fun, though they could use some more drink stations and garbage bins to allow for easier flow and sampling. Kudos to all the volunteers out there tonight for doing such a fantastic job for the community.
My favorite dessert for the evening was Luma on Park 's Pastry Chef Brian Cernell's Florida Peach dish. I also thought iCrave Catering's fried black bean cake and baked wonton skins were awesome as a side as well, creamy, slightly crunchy, savory and all around a delight . It was fun experiencing food from new places. Bravo to all the chefs, restaurants, markets, and businesses who made the event such a success!
Here are the photos!
The Meat House
Ruth's Chris Steakhouse
4 Rivers ' John Rivers
PF Chang's lettuce wraps
Fleming's steak and shrimp item
Orlando Ale House serving their zingers
Salmon Burgers from Winter Park Fish company
The Ravenous Pig's Sous Chef Rhys Gawlak
Dessert from The Ravenous Pig, also peach themed
Lobster hot dog and sausage from the Ravenous Pig, missing the buns
The Ravenous Pig released their first beer tonight and the keg is tapped out
Fiddler's Green 's mashed potato dish
Olive Garden is a popular place
Pastry Chef Brian Cernell of Luma on Park prepping the goods
Theresa Smith of Luma on Park representing
Pastry Chef Brian Cernell of Luma on Park's FloridaPeaches dish
Luma's mason jars
WMFE 90.7 FM's Melissa David and Nicole Creston representing the best station in Central Florida
Shula's of Disney's Swan and Dolphin serving up steaks with some horse radish sauce
Whole Foods representing
The menu at Shula's is on a football
BBQ Bacon Wrapped Shrimp from Shula's of Swan and Dolphin
Everyone should Eat More Produce!
 Jeremiah's, what's not to love?
Tibby's New Orleans Kitchen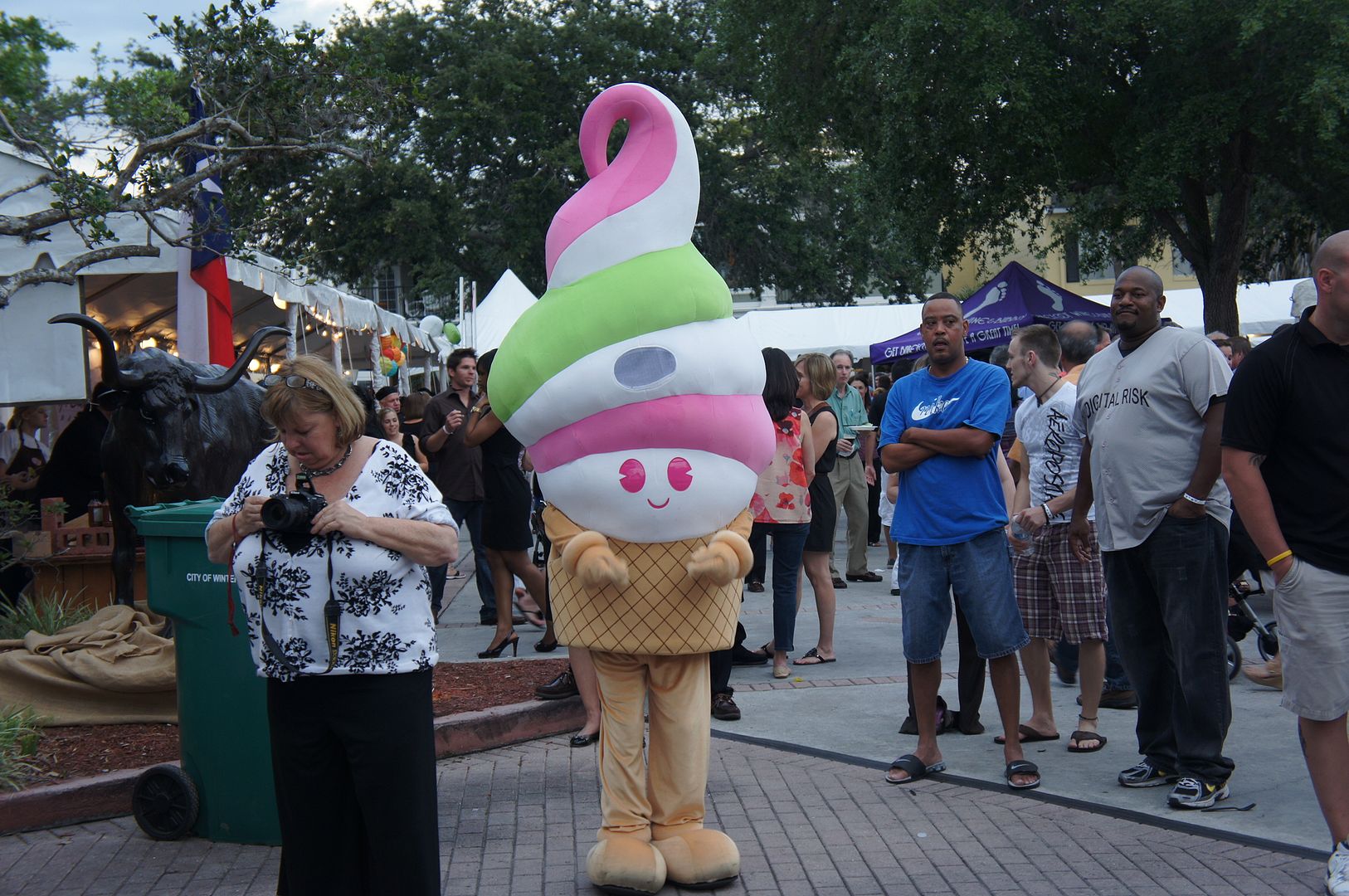 Menchie's mascot breaking it down with the drum roll
Kendra Lott of Edible Orlando breaking it down
John Rivers #winning
Best Booth – 4 Rivers!
Ron Raike, new Brewmaster for the Cask and Larder, happy to start working with The Ravenous Pig Family
Scott Joseph's Restaurant Guide 2012, now available on Amazon.com