I am often asked about my choice for favorite cuisine. I enjoy many types, and from time to time I like some types more than others depending on the mood of my palate. We enjoy life in phases, I guess.
Japanese cuisine ranks up high on my list, mostly due to the emphasis on simple, robust flavors and often quite literally, the freshest ingredients. Nigiri is simply some fresh, raw fish on top of vinegar-ed rice and maybe some spicy green wasabi hidden under between the two like a chef's little surprise joke.
I recently found Sushi Tomi, over multiple visits, to be one of my new favorite Japanese restaurants in Orlando for those very reasons. The place doesn't look like much: a hidden strip mall shop near Sand Lake Road and John Young Parkway with a few tables, minimal decor, some typical Japanese lanterns, etc. like it could be any other sushi place in town. But look a little closer and you can see along the walls…specials of the day like squid legs fried spicy and cooked sting ray.
The restaurant is owned by husband and wife Hidehiko and Aki Ochiai, with blonde haired Chef Hidehiko having served on the team of Rangetsu in the past. The clientele are mostly Japanese businessmen and local Japanese families who clearly enjoy a little taste of home at Sushi Tomi.
A look into Japan? No, just another night at Sushi Tomi
For appetizers, we chose the chicken karaage, made with juicy, succulent, and well seasoned pieces of fried chicken. Definitely a must try. The grilled squid appetizer, which appears to be an entire squid cut horizontally and grilled, was good but at times could be a bit chewy for my tastes. Maybe I should have went for the squid legs fried spicy instead.
Chicken karaage – made with juicy, succulent, and well seasoned pieces of fried chicken.
The sushi here is some of the best I've had in town for the sheer freshness and taste of the ingredients. The aji – "horse mackerel" – nigiri is one of my favorites, luscious and tender, topped with scallions and horse radish and a hint of that spicy wasabi.
My fiancee, who is a bit of a futomaki (literally "large roll") connoisseur, loved her futomaki roll here. Rolled expertly and compact, the sushi was filled with delicious morsels of tamago (egg), pickled cucumber, kampyo, and other veggies. Really good tamago takes time and just the right balance of sweet and saltiness to it, and the tamago here is exceptional. She declared it the best futomaki roll in Orlando, and I would have to agree.
Overall, I would definitely recommend Sushi Tomi if you enjoy really great Japanese food with simple, yet bold flavors – truly a taste of umami. Subarashii.
The saucy pork katsudon bowl – a hearty, flavorful bowl of fried pork cutlets and rice on egg.
Grilled squid appetizer
Assortment of sushi – left is the Aji / Horse mackerel, tamago, and salmon nigiri and on the right is the Futomaki roll
Sushi Tomi's Pork Tonkatsu Ramen Noodle soup bowl is heavenly…deep earthy flavors of pork soup and delicious slice of seaweed…
Spicy tuna roll and Dragon Roll at Sushi Tomi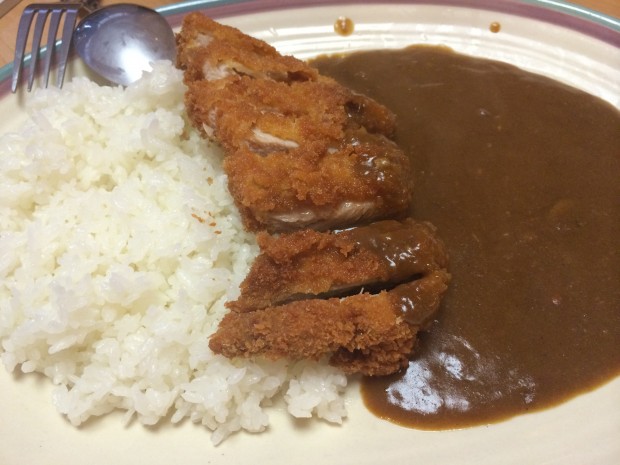 Thanks Ron for the menu!