Update: Our readers and friends ask us what are some good choices out of the quite extensive menu at Chuan Lu Garden. Here is a sample menu for a group of 5-8 friends to try from family-style around the lazy susan.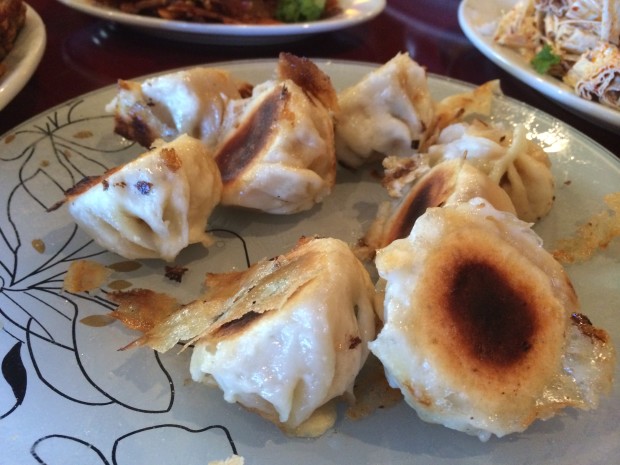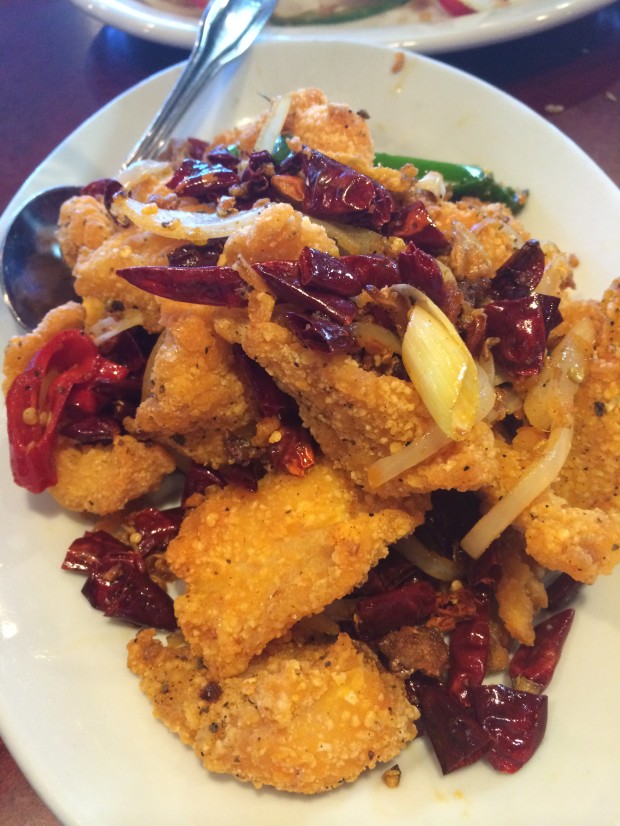 Authentic Chinese cuisine in Orlando (not counting all the "American Chinese" take out spots out there) has long been dominated by Cantonese style Chinese restaurants (most popular for their dim sum and seafood dishes). Recently, a few new places specializing in other regional Chinese cuisine have opened, including Taiwanese cuisine (Teriyaki House) and Shanghai cuisine (Magic Wok).
Chinese Sichuan (often spelled Szechuan in North America) cuisine has taken a foothold this year in Orlando with the arrival of Chuan Lu Garden.
Originating from Sichuan province in southwestern China (whose capital Chengdu was named a "city of gastronomy" by UNESCO in for its thousands of years of culinary innovation), Sichuan cuisine is known for its sophisticated use of spicy Sichuan peppercorns, chili peppers, garlic, ginger, and peanuts.
To be honest, I'm not the biggest fan of Sichuan peppercorns – maybe I am a little afraid of them. They're little prickly bombs of spice and numbing flavors.
It is definitely an experience for the adventurous though, and it may even grow on you after a while. The spice is a member of the citrus family and there is a little acidity that you can taste when crunching on the peppercorn.
At first, there is a fragrant, flowery taste, and then slowly a spicy, tingly, metallic numbness (a flavor called "ma-la" in Chinese) starts at the area of impact on your tongue. The Sichuan peppercorn is prominent in Sichuan cuisine, and can be found in several of the dishes served at the new Chuan Lu Garden restaurant in Mills 50.
Built adjacent to the Ginza Japanese steakhouse in the Mills 50 District, and connected by a hallway, Chuan Lu Garden serves up refreshingly authentic and tasty Sichuan style dishes not found any where else in Orlando.
The dining room is a bit small, and walking through the hallway made it feel like going into a secret speak easy kind of a place, but I was told you could order the same menu if you sat in the larger dining room area inside Ginza. I liked the tight feeling of the place though, like eating in some small nook in Manhattan's Chinatown, except we're in Orlando.
Sliced Roast Beef, Stomach, and Tendon with chili sauce
Our dinner party started with an appetizer: CA13 – Sliced Roast Beef, Stomach, and Tendon with chili sauce and topped with scallions, cilantro, and garlic. Served slightly chilled, the cuts of tendon and beef were fun to eat, with a nice simmering spice level not too hot to be overwhelming. There was almost an addicting flavor to it, with our dining companions continuing to pick at the dish despite their own spiciness tolerance levels.
The hand pulled Lanzhou style beef noodle soup (a very popular dish in New York City's Chinatown) was next. I had the chance to watch the master chef in the kitchen prepare the noodles by hand.
Called "Lamian" in Chinese, these noodles are made by stretching and folding the dough into strands of noodles. The chef here surprised me with hour fast and adept his handwork was in making the noodles, which are made and prepared to order. The Lanzhou style ordered is named after the city of Lanzhou in northwestern China where these noodles (as well as the chef here at Chuan Lu Garden) originated.
The Lanzhou noodles were exceedingly tender and delicious to eat, and the broth and slices of beef brisket were very good as well. I would come here just for the noodles alone if I had the chance.
Fei Teng Yu Xiang – Fish Fillets with bean sprouts and tofu in a special spicy sauce – a nice slow burn
The next dish ordered is said to be the most popular here at Chuan Lu Garden the CS16: Fei Teng Yu Xiang – Fish Fillets with bean sprouts and tofu in a special spicy sauce consisting of dried red chillies and Sichuan peppercorns. This dish was beautiful to look at with contrasting reds from the chilies, greens from scallions, and the white flesh of the fish fillets and tofu slices, and tasted very fresh and authentic with a nice level of spiciness to it. The sichuan peppercorn…like I said, kind of grows on you…especially when you accidentally eat some hidden ones folded in the layers of fish.
Gan Gou Liang Yiang, an authentic Sichuan beef and chicken dish stir-fried in a dry pot
Our waitress, who was very kind and accommodating despite language barriers, suggested to us the Gan Gou Liang Yiang, an authentic Sichuan beef and chicken dish stir-fried in a dry pot, made with veggies, dried chilies, garlic, and ginger. The beef and chicken were very tender and was good and slightly spicy, but not too spicy. It tasted like a dish that would be eaten with a family at home with bowls of rice and soup.
Lastly, we had the cumin lamb, a very tender lamb dish with onions and dried chillies, and also one of the favorites of the night.
Overall, the dishes tried were some of the best Chinese style dishes I've had in Orlando and would definitely warrant a return trip to try their other dishes, like the ChongQing La Zi spicy fried chicken.
You can find their menu on http://chuanlugarden.com/
Shout out to Feng E. for the great scoop on Yelp!
————————-
Update – Saturday April 20, 2013
I visited a few more times to Chuan Lu Garden to try out more items from their expansive menu, particularly the more unique items I have yet to find anywhere else in Orlando. What I found was that Chuan Lu Garden not only had really good authentic Sichuan style dishes, but also some of the best Chinese overall dishes I have had in Orlando.
The following are my top favorites at Chuan Lu Garden including must tries for those who are unsure of what to get:
1. Kou Shui Ji – literally Saliva Chicken or Mouthwatering chicken, it's similar to Hainan chicken steamed and served cold but topped with a special spicy sauce
2. Chong Qing La Zi Chicken (Spicy Fried Chicken with Sichuan Peppercorns) – if you are wanting to try the Sichuan peppercorns for the first time, or like spicy food, this spicy La Zi chicken is a signature dish and chock full of the peppers…just be ready to ask for more water.
3. Handmade pork and cabbage dumplings, steamed – the best dumplings I have had in Orlando, the meat is tender and you can tell they didn't just boil some from a bag because the dumplings are all uniquely shaped, a result of having been made by hand.
4. Ma La Niu Rou – Spicy Beef Hand Pulled Noodle Soup –  Topped with crunchy peanuts, cilantro, spicy chili, savory beef brisket slices, the tender, hand pulled noodles go well with all the toppings and the deep, earthy broth
5. Cumin lamb – a spicy, tender delightful dish
6. Salt and Pepper shrimp or calamari – both very crispy and deliciously fried.
7. Feng Bao La Zi Fish Fillet – Fried fish fillets done the ChongQing La Zi sichuan style, with plentiful Sichuan peppercorns all over, delicate and delicious.
8. Pan Fried Pork Buns
9. Sliced Roast Beef and Tendon in Spicy sauce

Handmade pork and cabbage dumplings, steamed – best dumplings in Orlando

Chuan Bei Liang Fen – Northern Sichuan style Bean Gel appetizer with spicy black bean sauce – jelly like noodles, interesting textures and a nice spice sauce, but overall not a favorite item for me.

Hong Yao Chou Shou – Szechuan Wontons

Gan Lao Niu Rou – Sour and Hot Beef hand pulled Noodles

Yu Xiang Rou Si – Shredded Pork with Garlic Sauce – maybe my least favorite dish as it was a bit too familiar, though good, it was boring after having a few bites of the dish.

Salt and Peppery Calamari – tenderly fried, and deliciously breaded

ChongQing Lazi Chicken – Spicy Fried Chicken with Sichuan Peppercorns and Dried Chillies
Watch out when eating this dish, as a few of my friends half-choked from the unexpected spiciness infused into the fried chicken.
Ma La Niu Rou – Spicy Beef Hand Pulled Noodle Soup topped with peanuts, cilantro, spicy chili, beef brisket…so good

Szechuan Double Cooked Pork Belly Slices with Hot Sauce

Salt and Peppery Shrimp – these shrimp are delicately fried and topped with fried garlic and jalapeno peppers, but make sure to ask for a side of chili oil (Thanks Chirag for the tip!) to add a nice hot flavor to the shrimp
Dan Dan Noodles – these noodles are prepared with "hand cut" noodles, a type of wide noodle resembling chow fun, and topped with ground pork and chilli pepper paste
Jumbo shrimp with Szechuan sauce – This is shrimp with tofu and veggies, topped with the familiar spicy flavor of Sichuan peppercorns
Sauteed Potatos with long hot pepper – This dish was not very memorable, just cuts of potato sauteed with pepper as the description says
Szechuan Double Cooked Pork Belly Slices with Hot Sauce – a popular item at our dinner table, and very fatty 🙂
Ma Po Tofu – this dish was good but otherwise very standard Chinese fare
Kou Shui Ji – literally Saliva Chicken or Mouthwatering chicken, it's similar to Hainan chicken steamed and served cold but topped with a special spicy sauce