Bento Group's new concept KASA Tapas and Raw Bar is taking over the space formerly occupied by Urban Flats at the downtown Plaza this June 2013.
The KASA Tapas menu is made by Executive Chef Josh Lyons (Food Network Star contestant #TeamGiada) and his partner Shawn.
After spending years in a rock band, Josh, 42, decided to go to culinary school to fuel his other passion: food. He worked at every level of the restaurant industry — from busser to bartender to line cook — and is now a sushi chef and restaurant consultant in Jupiter, Fla. Read more at: http://www.foodnetwork.com/josh-lyons/index.html?oc=linkback
A source at Bento Group told us that the Kapas Tapas Bar "is going to have a very exciting, innovative menu with a lot of Spanish and Asian influences as well as a raw bar with fresh seafood."
The restaurant will be Bento Group's first higher end; full dine-in restaurant.
The Bento Group, originates from Gainesville, FL and focuses on "Restaurants, Hospitality, and Nightlife", with a strong emphasis towards quick-service and casual dining eateries.
They operate Bento Cafe locally here in Orlando and Gainesville, as well as My Mochi Frozen Yogurt, Hiro Asian Sandwich Bistro, and SushiChao. On the entertainment side, they operate the local night club Vain.
KASA Tapas and Raw Bar
189 S. Orange Avenue, Suite 183, Orlando, FL.
(863) 287-0986
https://www.facebook.com/kasatapas

The Bento Group is also bringing Avenue Gastrobar to the location on Orange Avenue formerly occupied by Senso Supper Club.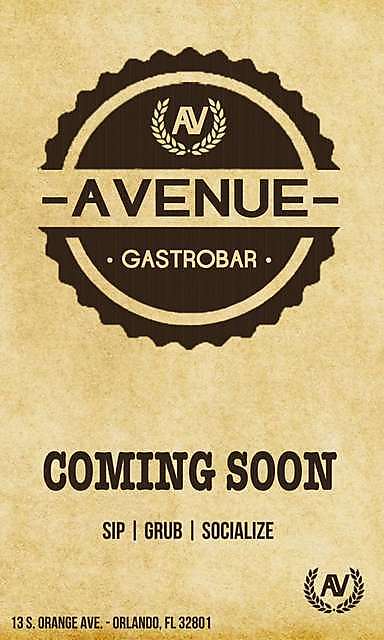 Avenue Gastrobar
13 South Orange Avenue
Orlando, FL 32801