by Chris Bhulai, Photographer at CBhulai.com
This past Saturday, local food critic Scott Joseph hosted his very special Pop-Up Dinner at the new East End Market in Audubon Park -Women chefs, restaurateurs, and winemakers were the highlight of the night.
List of Chefs:
Winemakers:
Bread Supplier
*Melissa Kelly of Primo was unable to attend due to a family emergency
The night started with an outdoor reception of drinks and light snacks in the market's courtyard. While the guests relaxed and mingled outside, the chefs were already hard at work. Food runners shuttled out of the bustling kitchen with Anova Tuna Tartare, Crawfish Beignets, Chicken Liver Mousse, and Smoked Grit Fritters.
Smoked Grit Fritters
When the dining room was ready, Scott made an appearance outside to greet everyone in attendance and thanked East End Market for hosting them. It was now time to fill the makeshift dining room, which was a long table that extended down the market's center aisle. Space was tight in the aisle's confines, but the lighting was beautiful, and the market's decor provided an excellent backdrop for the evening.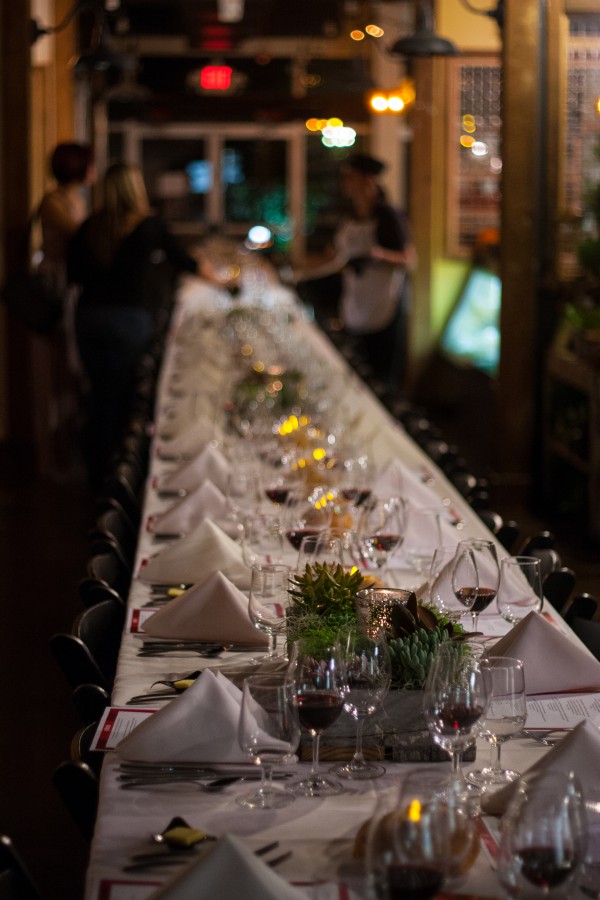 When everyone was seated, the first course of Chef Jephanie Foster's Caramelized Onion Gnocchi began to make its way out of the kitchen. The dish was served over a bleu cheese fondue and winter squash-sage-pancetta confit along with warm Pumpernickel from Old Hearth.
Chef Anette Grecchi Gray's Seared Florida Cobia
When the guests started to send their empty plates back into the kitchen, the chefs went to work on the second course. This time Chef Anette Grecchi Gray's Seared Florida Cobia was up. The hot and flaky pieces of fish were served over a cake of indian harvest jade rice mixed with pieces of spinach, and a north african curry broth. Old Hearth provided naan with the dish.
Chefs Kathleen Blake and Melissa Kelly's Whey-Braised Jamison Farm Lamb Shank
The third course was the star of the night, as guests were treated to Chefs Kathleen Blake and Melissa Kelly's Whey-Braised Jamison Farm Lamb Shank. The large, tender pieces of lamb were served over jeweled fall grain, local greens, and accompanied by Old Hearth's miche.
Chef Julie Petrakis' Cinderella Pumpkin Roulade
For dessert, Chef Julie Petrakis provided Cinderella Pumpkin Roulade served with a spoon stroke of spiced chocolate ganache and pierced with a pumpkin seed griddle.
The night began to come to a close when the chefs, kitchen helpers, and staff made an appearance at the head of the table for a round of applause and praise from the diners as well as a special thanks from Scott Joseph. They all worked very hard to keep everything running smoothly. Afterwards, everyone headed outside for cheese and wine. Sitting near the exit were gift bags filled with coupons and samples from East End Market's vendors, as well as Vibrant Rioja. Nestled on a table next to the gift bags were loaves of bread courtesy of Old Hearth Bakery.
It was a wonderful event to attend. I was awestruck as I watched the assembly line of food come together right in front of my eyes in the kitchen. Even though a single chef may have come up with the idea of a dish, the chefs worked together as a team to compile everything and get it into a runner's arms so that they may serve the awaiting guests. All proceeds of this event went towards the Women Chefs and Restaurateurs scholarship fund.
Behind the Scenes at the Scott Joseph Pop Up Dinner benefit for Women Chefs and Restauranteurs Scholarship Fund: