Photos and Words by Katherine Nguyen – Katherine Nguyen Photography
Ireland's celebrity Chef Kevin Dundon showcases his new cookbooks at Raglan Road Irish Pub & Restaurant at a "Modern Irish Food" lunch demo during St. Patrick's Festival.
In the midst of the Mighty St. Patrick's Festival March 7-17 at Raglan Road Irish Pub & Restaurant, Ireland's celebrity chef Kevin Dundon served up flavors of his homeland during two signature dining events.
Chef Dundon is known for his five-star Dunbrody House hotel and cookery school in Ireland, Dundon. He is also the master chef and creator of the pub menu at Raglan Road. His 5th book illustrates stories from Ireland featuring his restaurant partners, Paul Nolan and John Cooke, as well as himself. More than that, Chef Dundon has his own line of cookware and appliances! Don't worry, his pans are stainless steel! Host of the PBS series, "Kevin Dundon's Modern Irish Food," Dundon cooked in the Grand Dining Room at the Downtown Disney restaurant and demonstrated recipes from the cookbook upon which the show is based.

From left to right: John Cooke, Chef Kevin Dundon, Katherine Nguyen (Tasty Chomps Photographer), and Paul Nolan.

During the "Modern Irish Food" lunch event, Dundon demonstrated four lunch courses paired with wines.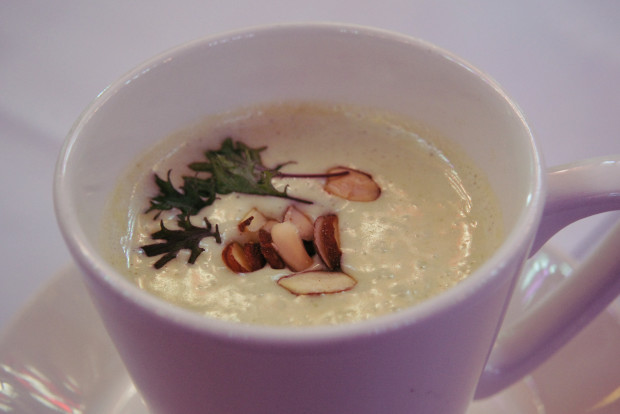 The first course was Espresso of Courgette and Almond Soup; it was very smooth, different, delightful, and had two consistencies: a froth on top and a more watery soup underneath.. Paired with Domaine Chandon, Brut, Napa, which was quite tasteful! It is one of my favorite drinks (not shown).

The second course was Homemade Potato Gnocchi with Seared Scallops and Crispy Pork Belly paired with Vosceret, Estate Bottled, Chablis, France. I quite fancy this dish as each item within it had its own specific texture and flavor. The scallops were made just right and were not overcooked. The crispy pork belly was delicious, but may get stuck in your teeth! The white wine that came along with the dish was smooth and did not overpower any of the flavors from the dish.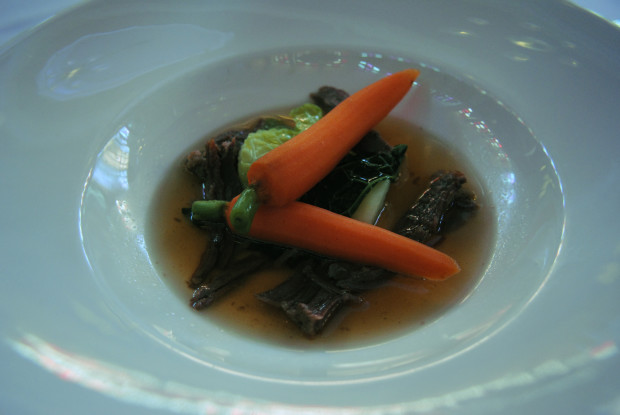 The third course was Pulled corned beef & cabbage infused with an Asian broth paired with Chalone Estate, Pinot noir, Chalone, California. I believe this dish to be very easily duplicated at home as my mom often makes a dish similar to this for us. However, the carrots in this dish here was a bit hard and I prefer it to be softer, cooked longer.
The red wine paired with this dish was my least favorite – I am not a fan of the strong reds.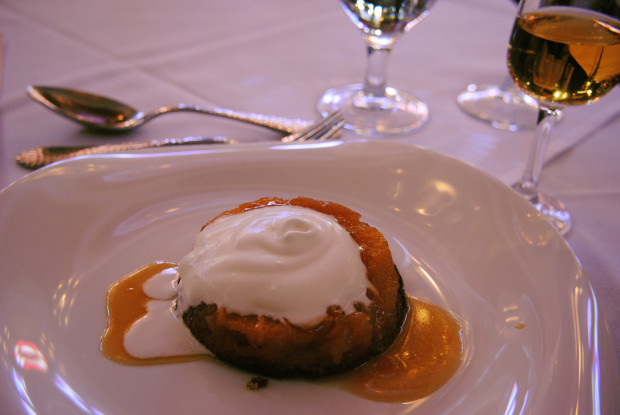 The fourth and last course of lunch was Upside-Down Steamed Orange Pudding with Caramelized Clotted Cream paired with Inniskillin, Ice Wine, Canada. Now, you may think that's a lot of cream on top, but it was very necessary to make the dessert not be so overbearingly sweet! Eating all of the ingredients with no substitutions or deletions, it was good enough to make anyone with or without a sweet tooth to come asking for seconds! Even Chef Dundon, who doesn't have a sweet tooth, could eat this dish ALL DAY LONG. On the other hand, the dessert wine was super sweet – too sweet for my taste! But don't let my opinion cloud your choice to try this the next time you're at Ragland Road!
All of the dishes served can be found in "Kevin Dundon's Modern Irish Food" the book or a DVD of Chef Dundon cooking a few dishes himself step by step!

Not only did we get to try food from Chef Dundon's book, but we were able to meet with him as well as Paul Nolan and John Cooke to hear about their lives, their new books, etc.
Chef Dundon shared an experience of when he was a wee lad. He would catch mackerel for his mother to cook for him very often back in Ireland. One day, he had an urge to cook mackerel himself to surprise his grandparents for breakfast! Little did he know, he didn't cook the mackerel very thoroughly – he was ahead of his time and discovered sashimi! (Just kidding). Chef Dundon ended up serving cold tea and a cold meal, including the mackerel, to his grandparents who loves him and his cooking no matter what!
What's more is that it was his grandmother and mother who inspired his passion for cooking!

To read more of Chef Dundon and more of Paul Nolan, John Cooke, and Ireland, make sure you pick up "I'd ate the Back Door Buttered, Ma!"

Here's a sneak peak… This is Bill Hazlett – the first man at the bar. He is featured in the book and also honored us by his presence in the back room.
Throughout the Mighty St. Patrick's Festival, Raglan Road and Downtown Disney will celebrate with a lineup of guest bands, Irish dancing, children's activities, face painting and "wearin' of the green." Visit raglanroad.com for more information.
Owned and operated by Irish partners Paul Nolan, John Cooke and celebrity chef Kevin Dundon – famous for his five-star hotel and cookery school in Ireland – Raglan Road features traditional Irish dishes and new creations with a Celtic twist. The restaurant's warm interior of aged walnut and mahogany woods from old Irish bars and churches was built in Ireland and shipped to Orlando. Guests can enjoy live Irish bands and performances by The Raglan Road Dancers nightly and during the Rollicking Raglan Sunday Brunch. Live music is also scheduled nightly on the pub patio. Lunch is served 11 a.m.-3 p.m.; Dinner 3-11 p.m.; Bar menu 11 p.m.-late; Sunday Brunch 11 a.m.-4 p.m. Raglan Road Irish Pub & Restaurant is located at Downtown Disney in the Walt Disney World Resort, 1640 E. Buena Vista Dr., Lake Buena Vista, Fla. Visit www.raglanroad.com or call 407/938-0300.
Katherine Nguyen is a student at the University of Central Florida majoring in Molecular Biology and Microbiology and minoring in Health Service Administration with a goal of going to dental school. She enjoys playing soccer and has been captain of an intramural team for 3 years now at UCF. Photography is her number one hobby in which she has dabbled in the field since 2008; she is very diverse in the field, but her favorite sub-fields include portraits on location, nature, food, and sports photography. In her free time, she also tutors any subject in high school and middle school as well as volunteers at Camp Boggy Creek in Eustis, FL. Link:  https://www.facebook.com/KatherineNPhotograp