Moroccan cuisine is one of the few cuisines that is generally not encountered at all here in Orlando. I think the only place right now would be at Epcot's Morocco Pavilion, bringing authentic Moroccan cuisine to us in the form of Marrakesh restaurant and now, the newly constructed Spice Road Table, located just on the Morocco pavilion's waterfront at the World Showcase.
When one thinks of Morocco, exotic images of sweeping desert sun sets and sultry spices at street market bazaars are conjured up, with a few images no doubt due to memories of the country portrayed in the Indiana Jones franchise.
Moroccan cuisine is extremely refined, known for being far more heavily spiced than Middle Eastern cuisine thanks to Morocco's interactions and exchanges with other cultures and nations over the centuries along the ancient "Spice Road."
This spice road stretched from the Spice Islands in Indonesia, and India, China, along the Arabian and Mediterranean coasts, and west towards Italy, Spain and finally, Morocco.
Hence the name Spice Road Table.
I recently visited for a media night event to preview the menu and check out the newly constructed restaurant. The concept is part of the new wave of "small plates" or "tapas" restaurants popping up through town, which works well here considering how many people come to Epcot with groups of friends ready for tasting delicious foods and drinks from around the world. The small plates make things easier to share and for more opportunities to taste different dishes in one sitting, while enjoying them all with a drink or two.
The new Spice Road Table restaurant has two seating areas: an extensive covered out door patio space  and a smaller in door area with long, sweeping windows providing a nice view of the Illuminations fireworks – make sure to get the middle table for the best view.
Common spices used in Moroccan cuisine include karfa (cinnamon), kamoun (cumin), kharkoum (turmeric), skinjbir (ginger), libzar (pepper), tahmira (paprika), anise seed, sesame seeds, qesbour (coriander), and zaafran beldi (saffron) and common herbs include mint and maadnous (parsley). Although spices have been imported to Morocco for thousands of years, many ingredients — like saffron from Tiliouine, mint and olives from Meknes, and oranges and lemons from Fez — are home-grown.
I must admit that it was a bit difficult to detect what I hoped would be an abundance of spices in Spice Road Table's dishes, but I am guessing they have to take it down a few notches to appease the masses. Here's a tip though to bring the spice level up a notch – ask for harissa sauce.
Harissa is a Tunisian hot Chili pepper paste made from roasted red peppers, serrano peppers and other hot chili peppers and spices and herbs such as garlic paste, coriander seed, or caraway. Harissa may be the next "Sriracha" if they can get it out to more restaurants and markets.
The fried calamari, a very respectable calamari dish with just the right amount of crunchiness and flavor, gave off sparks of savory, spicy delights when lightly dipped in the red harissa sauce.
A tagine is a historically Berber clay pot dish – kind of like a North African slow cooker – traditionally cooked over coals or a stove. The traditional tajine pot is formed entirely of a natural clay, which is sometimes painted or glazed. It consists of two parts: a base unit that is flat and circular with low sides and a large cone- or dome-shaped cover that sits on the base during cooking. It's used here for a few of the dishes, though none were served hot that I tried.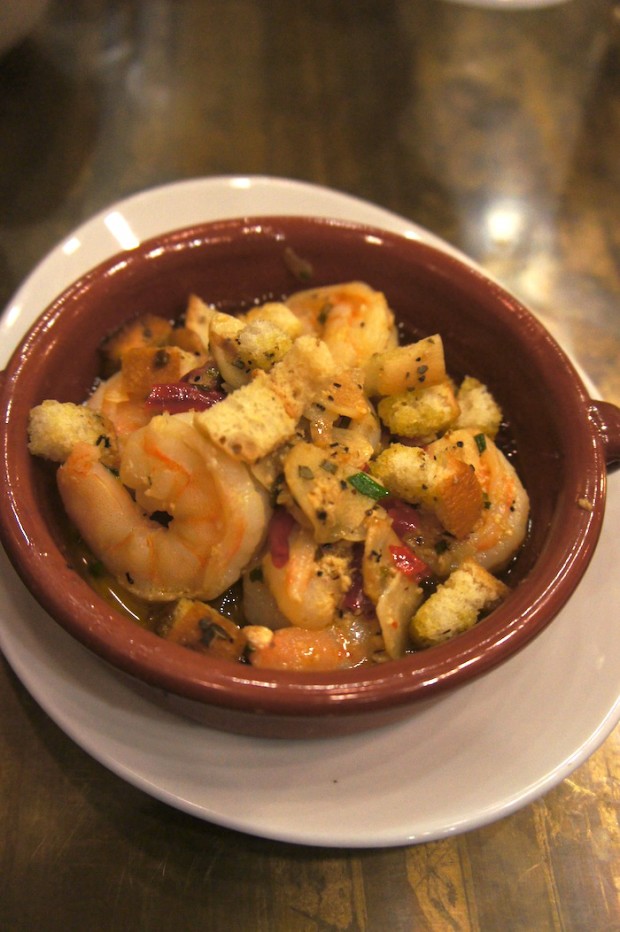 The main Moroccan dish most people are familiar with is couscous, the old national delicacy.  My favorite dish of the night was the above cous cous dish, though it's not on the menu. The flavors of the fresh shrimp and mussels along with the texture of the cous cous all went together very well.
A Decadent Chocolate Pyramid (with a creamy center) with Almond Ice Cream