Jimmy Fallon is broadcasting The Tonight Show next week from June 16-19 on location at Universal Orlando resorts, giving a first look of the brand new Wizarding World of Harry Potter – Diagon Alley. Tickets to the show sold out within minutes online.
We know Jimmy is a huge foodie, dubbed the "Late Night Culinary King", having had food icons from all over the world on the show from acclaimed pastry chef Dominque Ansel to Italian restaurateur and chef Mario Batali. If that wasn't enough street food cred, he even visited Orlando's iconic Beefy King restaurant on his last visit to The City Beautiful.
But we're not all about roast beef sandwiches and turkey legs here in Orlando, so here's a list of a few places Jimmy should check out to get a "taste" of the "real" Orlando!
Border Grill – Authentic Mexican Street Tacos
Slinging some of the best street tacos in Orlando, Border Grill is located conveniently near Universal Studios, perfect place for a quick bite after the show. Get the fantastic pollo asado grilled chicken, tacos al pastor made with marinated and grilled pork, or Pibil style tacos made with Yucatan style pork marinated in orange juice and baked in banana leaves. They also serve lengua (beef tongue) if Jimmy and the crew are feeling more adventurous.
Border Grill
5695-A Vineland Rd, Orlando, FL
(407) 352-0101
http://bordergrillorlando.weebly.com/
The Pharmacy Orlando
From its mysterious unmarked entrance to its celebratory menu of locally sourced ingredients and handcrafted proper cocktails, Pharmacy is a secret place where guests can come and escape to a comfortable/casual atmosphere with moderately priced appetizers, entrees and bar selections. Hidden behind an elevator door, this modern day "speakeasy" near Universal also features local, seasonal menu items including Clams Arrabbiata, Hudson Valley Foie Gras Torchon, Whole Garlicky Cape Canaveral Rock Shrimp, Roasted Whole Seeley's Arc Thyme Chicken and a selection of their own Neapolitan Pizzas.
The Pharmacy
8060 Via Dellagio Way
Orlando, FL 32819
(407) 985-2972
thepharmacyorlando.com
Prato
Helmed by James Beard award nominated Chef Brandon McGlamery, a disciple of acclaimed Chef Thomas Keller of Per Se and The French Laundry, Prato in Winter Park celebrates cuisine from Italy's rich culinary landscape, seamlessly blending Italian classics with modern techniques and seasonal ingredients. The warm space welcomes guests with its contemporary design balanced by rustic elements, including a long bar, which encourages a vibrant and communal atmosphere. Definitely get the Widowmaker pizza, with a whole farm fresh egg baked in the center, made in their wood burning oven.
Prato
124 N. PARK AVENUE, WINTER PARK, FLORIDA
407-262-0050
http://www.prato-wp.com/
Vietnam Cuisine
Home of one of the "Best Things Tasty Chomps Ate in 2013", the banh cuon here is made of silky smooth, rice noodle-y crepes stuffed with ground pork and mushrooms, topped with pork bologna and served with some nuoc cham fish sauce. A visit to Orlando can not be made without visiting the Mills 50 District's Little Vietnam area, home to Florida's largest population of Vietnamese restaurants and businesses – with many pho bowls rivalling and beating those found in big cities like New York and Los Angeles.
Vietnam Cuisine
1224 E Colonial Dr, Orlando, FL 32803
(407) 228-7053
http://ttranvista.wix.com/vietnamcuisineorlando#!menu
The Smiling Bison Restaurant and Bar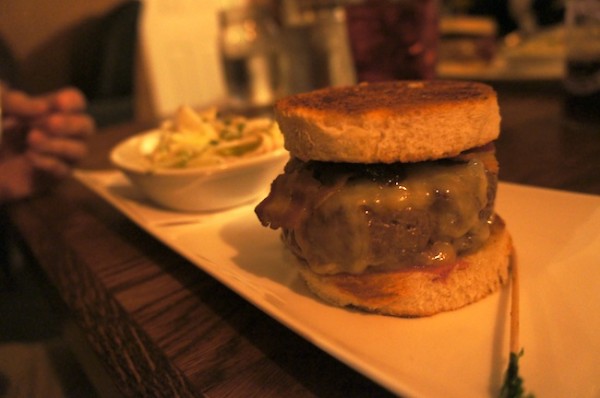 This popular Orlando restaurant with hipster vibes and local food philosophy is home of the fabulous Smiling Bison Burger, a 6 oz. natural bison, garlic aioli, mushroom ketchup, smoked provolone, house bacon, texas toast.
The Smiling Bison
745 Bennett Road, Orlando, FL 32803
(407) 898-8580
http://www.smilingbison.com/
Cask and Larder
For their brunch, Cask and Larder's Nashville Chicken and Cornbread Waffles is made with Bell & Evans chicken thighs that is brined, smoked, dredged, fried, and finally tossed with a smoky spicy "Nashville Hot Chicken" rub. The rub was developed as an homage to the original "Hot Chicken" from Nashville, TN. Don't worry if you can't make it to brunch, this "Southern Pubhouse" helmed by James Beard Award nominated couple James and Julie Petrakis has a version of the Nashville hot chicken for dinner as well.
Cask & Larder
565 W Fairbanks Ave, Winter Park, FL 32789
(321) 280-4200
http://www.caskandlarder.com/
Txokos Basque Modern Kitchen at East End Market
The menu at Txokos Basque Kitchen is be seasonally driven by James Beard award nominated Chef Henry Salgado's access to the East End Market vegetable garden, local, sustainable seafood and many talented Florida farmers. True to the Basque culture guests can experience authentic Pintxos (small plates), Spanish wines and an outdoor Asador for grilling. While you're here, check out the rest of East End Market's merchants from Olde Hearth Bakery to Skyebird Juice Bar, Local Roots, and Lineage coffee. Txokos is also a part of this month's Orlando Weekly Bite 30 Orlando Restaurant Week (Month) throughout June, featuring many other great local Orlando restaurants.
TXOKOS BASQUE KITCHEN
3201 Corrine Dr.
Orlando, FL 32803
321.972.8852
http://txokoskitchen.com/
4 Rivers Smokehouse
No visit to Orlando is complete without braving the Disney-style long lines visiting one of Chef John Rivers's 4 Rivers Smokehouses in Orlando and getting some of their famous 18 hour smoked Texas-style barbecue beef brisket.
4 Rivers Smokehouse
1600 W Fairbanks Ave, Winter Park, FL 32789
(407) 474-8377
https://4rsmokehouse.com