TastyChomps Mini Travel Guide Visit To London, England – Series
Part 1 – The Tourist Sights of London, England, including Stonehenge, Bath, and Windsor Castle
Part 2 – Chowzter's Global Fast Feast Awards 2014 in London, England
Part 3 – A Food Lovers' Feast at London's Borough Market and Broadway Market
Part 4 – London – Harrod's Food Hall, Full English Breakfast, Fish and Chips, Tayyab's
In our previous post, we explored London's Borough and Broadway Markets. London has a rich food heritage that has evolved and changed with the tides of history. Don't miss these four foodie places and dishes to try while visiting London.
Harrods – Food Halls
Whereas the East End of London has historically been known mostly for its huddled masses of the working class, on the other side of town, the West End has been known as the epicenter of luxury, filled with high end residential and commercial real estate, sitting close to the seat of power at Westminster Palace and just a few blocks away from Buckingham Palace.
It's been said that the "City" of London where the financial district is centered is where the money is made, and the west of London is where it's spent.
Today, luxury retail stores from Cartier to Louis Vuitton line the streets.
It's no wonder that Harrod's was built in the West End near Hyde Park just before the Great Exhibition of 1851. The store grew in popularity ever since and later, was sold to Egyptian businessman Mohamed Al-Fayed in the 1980s, and more recently in 2010, to Qatar's royal family.
Mr. Al-Fayed brought Hayyad's to the present day by making the department store world famous for selling high quality, luxury wares to locals and tourists alike, often bringing in celebrities to increase prestige and attract publicity.
The store today occupies a 5-acre site and has over one million square feet of selling space in over 330 departments making it the biggest department store in Europe.
The most popular floor, at least for our readers, would be the world famous Harrod's Food Halls on the bottom floor, comprising of seven specialist departments in five rooms ranging from fish, meat, and poultry, confectionaries, chocolates, bakery, tea, coffee, wine, fromage (cheeses), fruits and vegetables. There are also sit down restaurants for weary shoppers and voracious food lovers alike that include an oyster bar, sushi, and even fresh steamed dim sum. The array is stunning.
Harrod's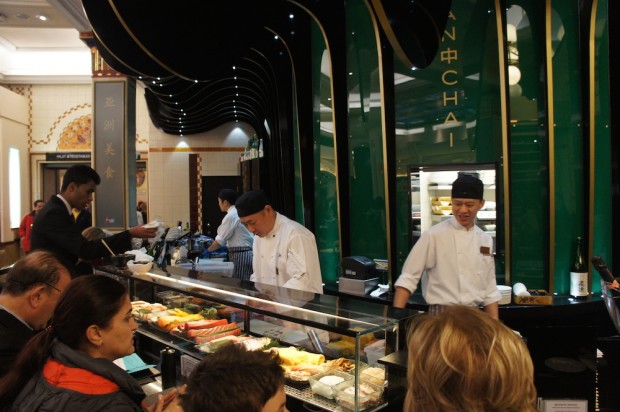 Fish Central
Fish and chips is one of the national dishes of England, consisting of battered fish, commonly Atlantic cod or haddock, and deep-fried chips (slices of potato wedges).
Fish and chips became a stock meal among the working classes in the United Kingdom as a consequence of the rapid development of trawl fishing in the North Sea, and the development of railways which connected the ports to major industrial cities during the second half of the 19th century, which meant that fresh fish could be rapidly transported to the heavily populated areas.
In chip shops in the United Kingdom and Ireland, salt and vinegar is traditionally sprinkled over fish and chips at the time it is served.
Succulent and fresh, the cod at Fish Central is full of thick, white juicy flakes and a nice crispy batter on the outside. Truly, the golden standard of fish and chips in London.
The friendly fellow folks at Chowzter! Getting ready for an amazing presentation from Scott Wink of North Carolina.
The Breakfast Club
A full English breakfast, also known as a "fry-up" as nearly everything in this dish is fried in a pan, is regarded as a staple of traditional British and Irish cuisine. Many British and Irish cafés and pubs serve the meal at any time as an "all-day breakfast". There are also regional variations like the full Scottish, full Welsh, full Irish and the Ulster fry including local dishes in the breakfast .A traditional full English breakfast includes bacon (traditionally back bacon), poached or fried eggs, fried or grilled tomatoes, fried mushrooms, fried bread or toast with butter, sausage, black pudding, and baked beans.
I had the best rendition of a full English Breakfast at The Breakfast Club, off of a side street in Hoxton. The Breakfast Club felt like a hipster's version of a diner, very cozy and comfortable place to dine in with nice servers and overall, friendly atmosphere.
THE FULL MONTY
Bacon, sausage, black pudding, eggs, home-style fried potatoes, mushrooms, beans, grilled tomato and toasted multigrain bloomer 10.00
Tayyab's
Indian restaurants abound in London, particularly along the "Brick Lane" area. As it has gotten more touristy in recent years, some visitors have left wondering if they are still trying. It might be better to broaden the search for great Indian food outside of the famous Curry Brick Lane.
Founded in 1972, Tayyab's is a family owned and run business in Whitechapel serving the finest in Punjabi cuisine. The food comes from the Punjab state in Northern India and Pakistan, and many of the dishes at Tayyab's have a Pakistani flair to them – characterized by less saucy curries and more dry spices.
Just a few short blocks from the Tube station for Whitechapel (which may seem to be longer than normal in the rain), Tayyabs is off a rather unassuming street filled with kabob shops and other fast to go spots for the working man in this mostly South Asian neighborhood.
Bright blue neon lights up the Tayyab's sign and outside the black painted building a line starts to form. You always know a good time will be had when you see a line forming for food.
Inside, the restaurant itself is rather large with multiple levels for dining. We are seated inside next to a small party of friends. It's BYOB here at Tayyab's and some have brought their own bottles of wine and beer, with no corkage fees.
The room is noisy, rowdy, filled with sizzling plates of chicken and lamb dishes. The ambiance was quite modern and chic, a little dark.
Service was not up to par, but I am accustomed to that now at most ethnic restaurants, sad to say. I know with Chinese culture at least, the restaurant business is not about the service, but about the food quality and how fast you can get in and out.
So I guess I shouldn't have been a surprise to find our waiter missing for most of the meal, but at least, the few times we did see him he was pleasant. The thing that irked me the most was that it took me about four tries with four different waiters to finally get my bill to pay and by the end of it, I'd much rather have just got up and looked for the manager to sort it out and save the precious time.
On to the food, which was rather delightful and surprisingly different from what I've been accustom to in Orlando.
For an appetizer, I chose the signature Lamb Chops, a generous portion of savory, grilled lamb with red spices similar to a lamb chop tandoori style. Fabulous, and fun to eat with your hands.
The menu also features a selection of traditional Pakistani "Karahi" dishes cooked in a circular wok-like black metal dish called "karahi." Each dish is simmered and prepared with spices and caramelized onions. The Karahi chicken tikka masala, for example, was found to be a little sweeter and a lot less "saucy" as the version found in other Indian restaurants, cooked almost dry with a little oil on the bottom of the dish and a combination of tomatoes, onions, chills, and I believe pineapple. If you told me that was chicken tikka masala, I would not have believed it from what I've tried before, so it was gratifying to see a different version of this popular "British" dish.
Overall, I would definitely return for the great dishes as well as the excellent price point and value. I believe it was the cheapest meal I had in London with the whole meal coming under 35£s. Would go again.
TastyChomps Mini Travel Guide Visit To London, England – Series
Part 1 – The Tourist Sights of London, England, including Stonehenge, Bath, and Windsor Castle
Part 2 – Chowzter's Global Fast Feast Awards 2014 in London, England
Part 3 – A Food Lovers' Feast at London's Borough Market and Broadway Market
Part 4 – London – Harrod's Food Hall, Full English Breakfast, Fish and Chips, Tayyab's