Bite30 (Orlando Weekly's citywide celebration in which selected restaurants offer special prix fixe menus) ended June 30 with the culimination taking place at Bite Night Orlando at the gorgeous Orchid Garden Ballroom at Church Street Station (formerly Club Paris). The silent auction and portion of ticket sales benefited the Edible Schoolyard OJA
Guests were able to samples of food from 15 of Orlando's greatest chefs, including Henry Salgado (Txokos Basque Kitchen), Josh Oakley (the Smiling Bison), Chau Trinh (Sushi Pop) and more.
Whole Foods Market's Chef Challenge cook-off hosted by three-time winner of Cupcake Wars Hollis Wilder between Kathleen Blake (the Rusty Spoon), Kevin Fonzo (K Restaurant) and Julie and James Petrakis (the Ravenous Pig and Cask & Larder). They were each partnered with local media celebrities including Johnny Magic from XL 1067, Daniel Dennis from A Mediocre Time with Tom and Dan Podcast, Lauren Johnson from Good Day Orlando, and Bakari Savage from News 13. They each had to make four different fish tacos and the ultimate winner of the night was Chef James Petrakis and Daniel Dennis.
Jessica Bryce Young of the Orlando Weekly, myself from Tasty Chomps!, your local Orlando food blog, and local Orlando contestant on Season Five of MasterChef, Francis Biondi! were judges along with a guest judge from the audience.
Chefs & Restaurants at the event included: Kevin Fonzo- K Restaurant Wine Bar, Henry Salgado- Txokos Basque Kitchen, Kathleen Blake The Rusty Spoon, Josh Oakley- The Smiling Bison, Park Plaza Gardens, Julie & James Petrakis- Cask & Larder, Sushi Pop, Tako Cheena by Pom Pom, Range. a shared kitchen – Orlando, FL, Sweet By Holly, Whole Foods Market, The Strand, Hamilton's Kitchen, P is for Pie Bake Shop and Foodie Catering
Complaints of long lines, poor logistics, lack of seating, and vendors running out of food plagued the event, but organizers promised next year's event would be bigger and better.
"Thank you all for coming to Bite Night. We agree with much of the feedback here, and we will definitely have to rethink logistics of this event next year. Bite Night exceeded all expectations in attendance, despite cutting off ticket sales at 11AM on Friday. As ticket requests continued to pour in, we became concerned about the crowd size and made many last minute adjustments in terms of addition personnel, additional, liquor, etc. In the end, the rush of so many at one time definitely had its affect on the resources of the event. However, thanks to your support, we raised thousands of dollars (final count not yet in) for The Edible Schoolyard Project, and hopefully everyone was able to taste some delicious food and enjoy some free drinks. We hope you will continue to follow us and come to future events. We will strive to make future events stand up to the standards of The Great Orlando Mixer, Orlando Zombie Ball, Puppy Love & Best of Orlando." – Orlando Weekly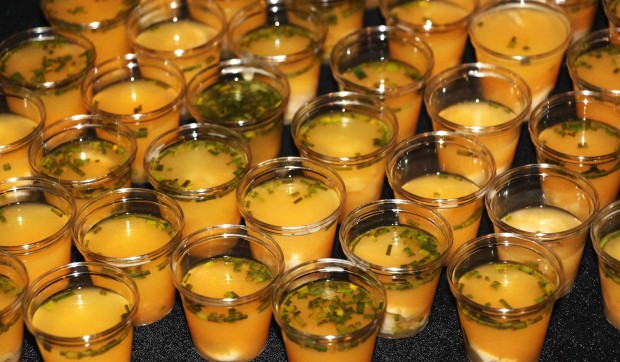 Bite Night Orlando – Event Video directed, filmed, and produced by Unique Michael
Photos by Unique Michael and Krystle Nguyen