We found out recently that there is a donut shop near by our house that makes all their donuts in house. With the recent opening of Donut King in Winter Park, it seems Orlando is ripe for a donut renaissance that would make even Homer J. Simpson proud.
Sip and Dip is located off of the main stretch of US-192 in sleepy St. Cloud. The place is run by a happy Thai couple and has been open for almost 20 years since opening here in 1996. The clientele is local and loyal, and I can see why.
The display case prominently placed in the center calls attention to your eyes immediately. The bright fluorescent lighting illuminates yellow trays of rainbow sprinkled glazed donuts, plump glazed bear claws, red velvet chocolate donuts, apple fritters, and many, many others. The display reminds me of Donut King for some reason, and even the smell and taste are similar – sweet and fluffy and altogether a delight to eat. One donut is $0.98, while buying in bulk at a dozen brings in an even better deal at $7.49 for a design. With quality and tastes like this, there is no reason ever to go back to the run of the mill Dunkin' Donuts.
In addition to their heavenly donuts, Sip and Dip also offers a nice list of bagel and croissant sandwiches and kolaches, which are stuffed hot dog wrapped in bread with cheese and jalapeno peppers, fresh and hot.
The Thai owners even bring a taste of their home here with an assortment of Thai tea and flavored boba teas available for order.
I can't wait to go back!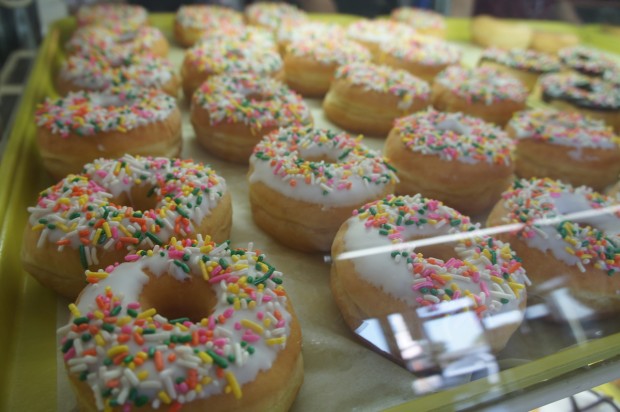 Sip and Dip Donuts – St. Cloud
Website: https://www.facebook.com/sipndip
Mon – Sat: 5:00 am – 11:00 pm
Sun: 5:00 am – 5:00 pm