Primo has a special place in my heart for several reasons.
Many years ago, it was the place, tucked away inside the JW Marriott at Grande Lakes, of one of the first "special" date nights I had with my now-wife, then girlfriend, May. It was a wonderful evening with fond memories of great food and great service, particularly for recent college graduates at the time.
Few in Orlando realize or know that Primo's philosophy and practices towards simple, seasonal food has helped change Orlando's food scene for the better – and continues to do so till this day.
"Seasonal, fresh, local, and organic" – it's now hard to remember a time when those terms were relatively still a novel concept in the local restaurant industry. One could argue that the farm to table movement in Orlando started here at Primo.
Chef Melissa Kelly, with her husband, pastry chef Price Kushner, opened the first Primo in Maine in 2000, a second at the JW Marriott Grande Lakes in Orlando in 2003, and a third outpost in Tuscon, Arizona in 2005.
Chef Melissa Kelly is ever passionate about her food – from sourcing and quality to sustainability – and it shows – in the way she speaks about the food system and her care for her pigs and greens. A graduate of the Culinary Institute of America and an alumni of the legendary Alice Waters' Chez Panisse, she is the first female chef to win the James Beard Foundation's award for Best Chef twice – first in 1999, and most recently again in 2013 for the Northeast.
Chef Melissa Kelly's practical and simple advice to up and coming chefs, particularly female chefs who are often overlooked in the kitchens, is to remember to "keep your head down, work hard, have integrity, travel and read as much as you can."
Many of Chef Melissa Kelly's alumni have taken this advice and nurturing environment and went on to excel in their respective fields in the restaurant industry.
Back in 2003, Primo was the proverbial primordial soup from which some of Orlando's finest chefs emerged: pioneer chefs like Katherine Blake of The Rusty Spoon (who served as chef de cuisine of Primo from 2003-2008), Julie Petrakis of The Ravenous Pig and Cask and Larder, and Alexia Gawlak of Swine and Sons Provisions.
Primo was one of Lake Meadow Natural farm's first clients – now their eggs and chicken are found in countless local Orlando restaurants.
Primo's seasonally changing menu was one of the first to feature ingredients cultivated from an on-site organic garden, and from the resort's own 7,000-square-foot garden at Whisper Creek Farm, in addition to sourcing from Central Florida's small organic farms.
Spring is Chef Kelly's favorite season – she "loves all the alliums and tender wild greens – all the pungent yet delicate flavors."
And the garden is full of wonderful greens and herbs for the season.
 ================
Named after Chef Kelly's grandfather, Primo Magnani, Primo's classical cooking and preparation methods draw strong inspiration from cuisines off the coastal regions of Italy, France and Spain. Chef Kelly grew up around her grandfather's butcher shop, and learned all the Italian classics from her grandmother.
Primo's Chef de Cuisine Mariano Vegel, a native of Buenos Aires, Argentina, grew up cooking in his grandfather's pizzeria and making fresh pasta from scratch every Sunday evening for family dinners. Chef Vegel joined JW Marriott Orlando shortly after graduating from the Instituto Argentino de Gastronomía in 2006.
On a recent media event, we were invited to sample some of the new as well as classic offerings at Primo, sharing the great things they do with food here.
Slow Cooked and Grilled Octopus ($16) Lima Beans / Artichokes / Calabrain Pesto / 'Nduja Sausage (made in house) / Smokey Potato Chips
Octopus is a popular dish in Mediterranean cuisine – and it can be tough to cook well if not given the proper care and technique. Thankfully here at Primo, it's slow cooked tender for 1.5 hours and then grilled to give it a nice smokey char, quite nice flavors with enjoyably crispy and soft textures. The artichokes, marinated in a sherry vinaigrette, with microgreens, pesto, and house made spicy 'nduja sausage all go wonderfully together with the octopus. Light and delicious.
Cold Smoked Tuna Tartare ($16) Tonnato Sauce / Confit Tomatoes / Mint / Sesame Oil / Bottarga / Crispbreads
This tuna tartare is a classic Italian dish, inspired by Chef Mariano's Christmas family memories and traditions, made with a creamy, tangy tonnato aioli traditionally made with fish sauce, anchovies, capers, and tuna. There's big, bold flavors in this dish, made with yellowfin tuna, with care to source fish that are sustainable and regional. To Chef Mariano, this dish represents the intertwining of "happy food memories past,  with dining experiences present together for our guests."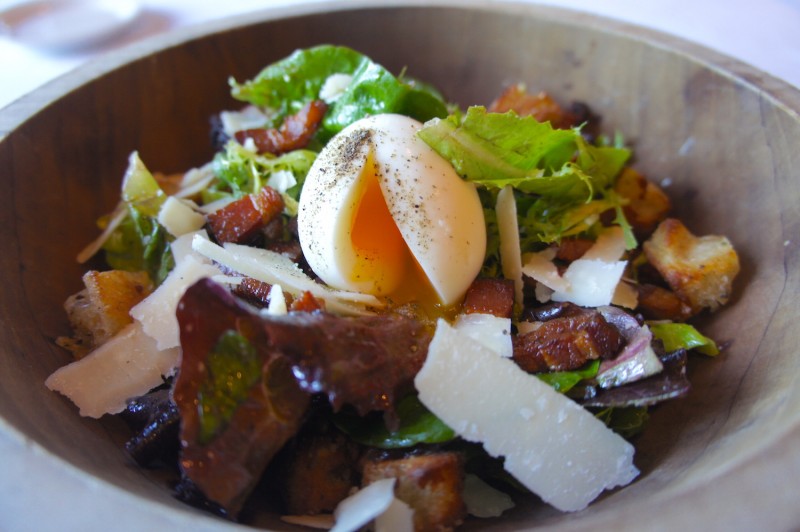 Farmer Salad ($15) PRIMO Lettuces / Garlicky Levain Croutons / House Cured Bacon / Soft Poached Whisper Creek Farm Egg / White Balsamic Vinegrette
The Farmer's salad is hearty enough for a light meal, savory and delectable, topped with house brined and smoked bacon and a perfectly soft poached egg picked fresh daily from the on-site Whisper Creek Farm. The Farmer Salad is one of the most popular dishes served at all three Primo locations, and Chef Melissa Kelly often has this dish as a meal.
Squid Ink Linguini "Frutti Di Marie" ($34) Calamari / Jonah Crab / Rock Shrimp / Clams / Charred Pepper / Tasso Ham / Pimenton Crumbs
I loved this house made black squid ink linguini pasta – the medley of seafood from the uni and calamari to the jonah crab, rock shrimp, and littleneck clams were all so flavorful, and the charred pepper and salty tasso ham topped with pimenton cheese crumbs made the dish just come together beautifully.
Citrus Glazed Sea Scallops ($34) Crispy Sunchokes / Wild Mushroom & Black Garlic Carbonara / Truffles / Pickled Vegetables
Sauteed Scaloppine of Pork Saltimbocca ($36) Sage Infused Mushroom Madeira Jus with Prosciutto / Spinach / Roasted Garlic Mashed Potato
Something that never changes at Primo is their signature hearty pork saltimbocca dish – one of the original dishes inspired by Chef Melissa Kelly's grandpa. The thick slices of pork sit on a sultry bed of prosciutto, spinach and roasted garlic mashed potato with a sage infused mushroom-madeira jus. It's down home Italian comfort and soul food on a plate.
Caramello ($10) Caramel Crusted Pate Choux Filled with Salted Caramel Cremeux / Caramalia Chocolate Ganache / Salted Caramel Popcorn / Caramelized Hazelnut Gelato / Toasted Caramel Marshmallow
For dessert, Primo's pastry chef brought to us a true work of art – the Caramello, which showcases caramel 6 different ways from hazelnut caramel gelato to toasted caramel marshmallow – a fabulous ending to the meal.
If you're looking for simple, fresh, seasonal cooking – whether with influences from Spain or Italy or France, Chef Melissa Kelly's Primo restaurant is definitely a must try for any one serious about the farm to table movement in Orlando. You'll find the heart is there in the cooking, in the ingredients from the gardens in the farm yard to the kitchens and dining room tables.
PRIMO
at JW Marriott Orlando Grande Lakes
Open for dinner 6-10 pm
407-393-4444
4040 Cental Florida Parkway
Orlando, FL 32837
GrandeLakes.com/JWMarriott/PRIMO