I was invited to Dragonfly last week to try out a few items that are featured in the Robata Grill section of the menu.
Robata method for cooking has been growing popular exponentially, however, Orlando is still new to style. To put it simply, Robata (short for Robatayaki) is a Japanese grilling style  that roughly translates to " fireside-cooking".
What's amazing about Dragonfly's Robata grill is that they import specialize coal from Japan, the Bincho-tan. Which is a white coal with the raw material being oak, this emits less carbon and is able to retain 1000 degrees in heat for a long time.
With such an unique grill, the seasoning for the meats and vegetables are really simple- a little salt, a little pepper, and some tare/teriyaki glaze. This allows the true flavors of the grill items to really be enhanced.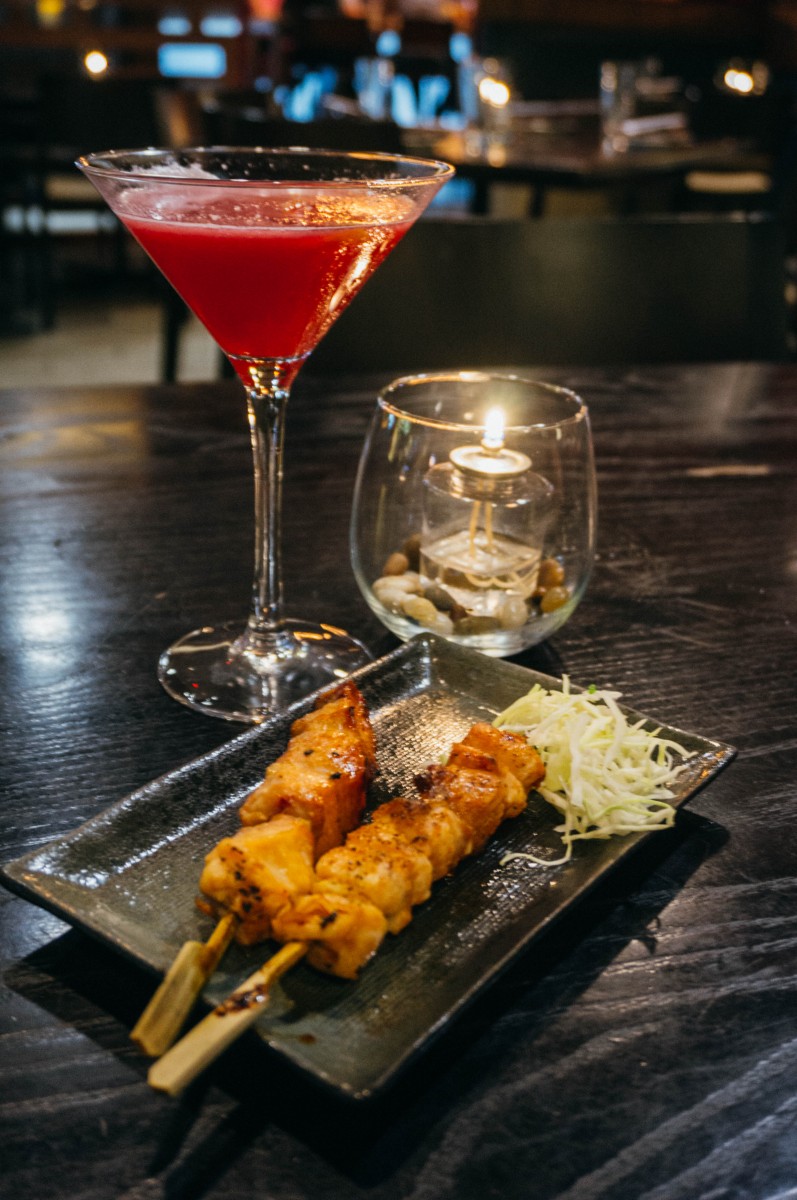 Chicken thigh (6)
Chicken usually just taste like…..chicken….unless being thrown into a ton of spices and dipped in gallons of sauce. However, this skewered chicken thigh had natural sweetness that's been drawn out by the light dash of salt, and incredibly tender. I was thoroughly impressed by the chef's ability to time it on such a high heat grill.
A Shade of Blackberry (10)
Hatsumago Kimoto Sake, Blackberry gastrique, and ginger syrup.
A sweet summer drink, refreshing, light, with a little tang of ginger that pairs so beautifully with the chicken.
Tontoro (7)
Pork cheeks, with a side of sesame oil and salt. You've probably had the korean barbeque pork belly- well, this is the spruced up version of it. It has a pleasant texture, soft, but there's a bit of crunch towards the end bite.
Hot Kagoshima Daze (10)
kaikouzu Kurikogane Shochu, fig-infused bourbon, lillet blanc, togarashi syrup.
My guest really enjoyed this drink. The strong bourbon flavors, with a little bit of spice towards the end. Perfect to cut through the pork fat.
Corn (5)
Sweet corn. Reminds me of the Mexican corn on the cob (elote) that you find from street vendors. Grilled, with spicy seasoning, sharp parmesan cheese, and cilantro.
Shochu Mojito (10)
I was a baby and couldn't handle the taste of bourbon so they brought me a mojito instead. This muddled-cherries mojito gave a little twist to the classic mojito, a little tangier but you still get the sweet and refreshing notes.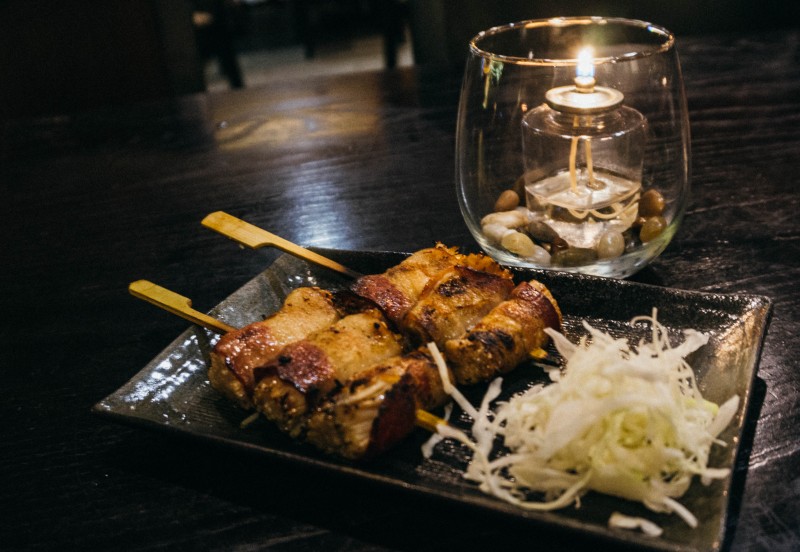 Enoki Mushrooms (6)
Stringy white mushrooms, with subtle flavors so the bacon adds a nice touch.
Whole grilled Branzino
European sea bass, with a ginger scallion pesto on top. The entire fish is grilled and glazed in yuzu butter. Light, savory, and juicy…. we couldn't stop eating it.
We ended with a summer special dessert- matcha pound cake with blueberry jam.
A a little Q&A with one of the grill masters, Jeff :
How long did it take you get used to the Robata Grill?
It took me a month in training.
What would you say is the most challenging thing about the Robato grill?
Timing, because the grill is so hot it can overcook easily.
What's the biggest difference from a regular grill and the Robata Grill?
The coal, the special bincho-tan coal really makes a difference.
Dragonfly Robata Grill & Sushi
7972 Via Dellagio Way, Orlando, FL 32819
(407) 370-3359