The 105,000 square-foot Dining Pavilion at the Florida Mall will feature unique dining options, additional retailers and an expanded seating area, opening in phases throughout the summer. Also of note, Wassabi, the sushi conveyor belt restaurant near the center of the mall has closed. A new business will take its place soon.
On June 1st, Puerto-Rico based El Meson Sandwiches, named one of the top restaurant chains in the world by Travel + Leisure, opened with huge lines – and no signs of abating. Either they're really good at what they are doing with sandwiches, or they need to get more efficient with their lines. El Meson features unique options like all-day breakfast and healthy vegetarian menu items. The Florida Mall restaurant is El Meson's first U.S. location.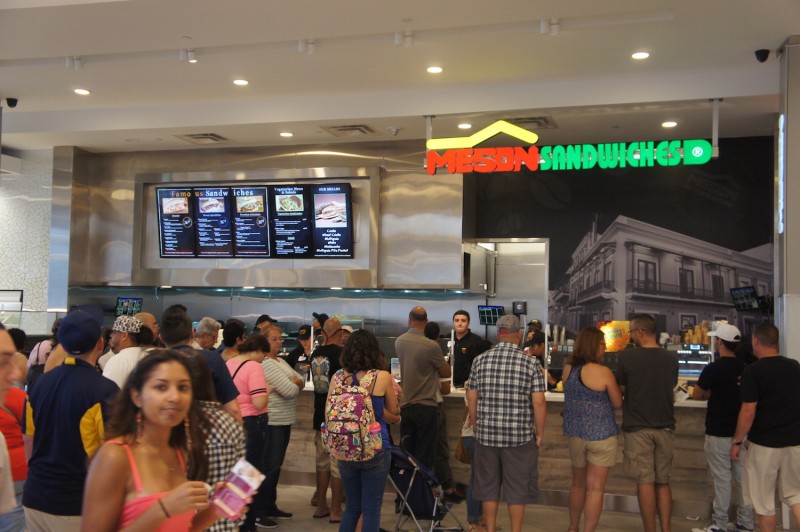 Located between American Girl and Dillard's on the north side of the mall, the Dining Pavilion will offer a total of 23 restaurants, five of which are new-to-market concepts, including El Meson Sandwiches, CARVERA Argentinian Grill, Carlo's Bakery, la Madeleine and Bubbleology. The additional restaurants to join the Dining Pavilion include Tobu, Five Guys Burger and Fries, Charley's Philly Steaks, Dumpling and Noodle Bar, Chicken Now, A&W All American Food, Asian Chao, Sbarro, Taco Bell, Häagen-Dazs, Spoleto Italian Kitchen, Nature's Table, FRESH – Healthy Café, Jamba Juice, Ugrean, and SUBWAY.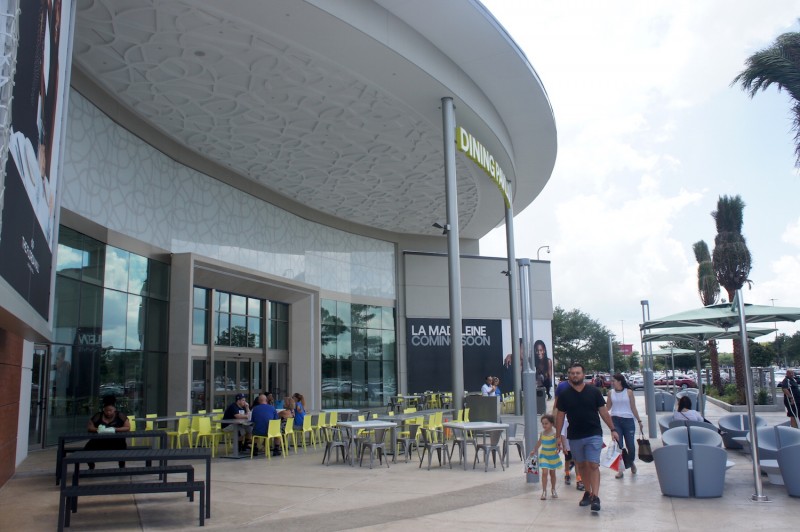 Boasting more than 1,400 indoor and outdoor seats, the Dining Pavilion will exude a contemporary feel, featuring bright floors and impressive millwork, in addition to numerous first-class amenities such as a large seating lounge featuring 85-inch TVs, LED lighting, expansive restrooms and two family rooms, new way-finding signage, enhanced Wi-Fi throughout the mall, and outlets with USB connectivity to charge electronic devices. Guests will find a redesigned exterior entrance at the front of the space, which will better accommodate customer flow into The Florida Mall and the pavilion.
In addition to new dining options, the Dining Pavilion will also feature five new retailers, including Morana, SportsAction, Inc., Ron Jon Surf Shop, Yankee Candle, GNC and Delores Jewelers.
"The addition of unique restaurant concepts, new retailers and enhanced amenities within the new Dining Pavilion will provide our shoppers with more choices when they visit The Florida Mall," said Brian Hanson, general manager of The Florida Mall. "We look forward to introducing the sleek, reimagined space to our community and visitors, offering a fresh new customer experience that is well-suited to our market."


New-to-Market Concepts
Name: El Meson Sandwiches
Description: Puerto-Rico based El Meson Sandwiches is renowned for its Caribbean-inspired grilled sandwiches on artisan bread and its 100 percent Arabica coffee. Named one of the top restaurant chains in the world by Travel + Leisure, El Meson features unique options like all-day breakfast and healthy vegetarian menu items. The Florida Mall restaurant will be El Meson's first U.S. location.
Opening Date: June 1, 2015
Square Footage: 717
Name: CARVERA Argentinian Grill
Description: CARVERA Argentinian Grill will open its first location outside of Puerto Rico in a modern space at The Florida Mall. CARVERA is a neighborhood fast-casual grill restaurant with a diverse menu based on traditional Argentinean comfort food. It will offer the local community the quality and flavor of exquisite meats cooked to perfection on the grill. CARVERA creatively adapts the Argentinean cuisine with a fusion of regional dishes to bring the perfect balance from diverse cultures to any table; thus, offering a compelling alternative to traditional ethnic style venues. CARVERA's mission is to provide a flavorful hint of the Argentinean spice in Hispanic and US markets by offering customers a typically ethnic array of the best Argentinean made-to-order dishes with fresh ingredients from the highest quality, at reasonably family-affordable prices. Combine a casual friendly ambiance, with a diligent staff, to create a sense of 'place' in order to reach the goal of overall value in the lunch/ dining experience.
Opening Date: Summer 2015
Square Footage: 1,778
Name: Carlo's Bakery
Description: Carlo's Bakery is known for our delicious pastries, desserts & cakes. Originally opened by Carlo Guastaffero in 1910, Carlo's is a family owned bakery featured on the TLC hit show Cake Boss. The Florida Mall concept will be its first location in the state of Florida.
Opening Date: Summer 2015
Square Footage: 2,231
Name: la Madeleine
Description: The popular la Madeleine will make its Florida debut with the new Florida Mall location. From the signature fireplace to crave-worthy food, each la Madeleine welcomes guests to relax, visit with friends and family, and enjoy their country French fare.
Opening Date: Fall 2015
Square Footage: 4,517
Name: Bubbleology
Description: Hailing from London, Bubbleology offers bubble tea, a refreshing flavored fruit and milk tea served ice cold or piping hot and filled with chewy natural tapioca balls. The teas are rich with antioxidants and have a base of green tea, black/red tea or white tea. Customers can enhance the flavor with natural fruit flavors and/or milk.
Opening Date: Summer 2015
Square Footage: 120
Name: Morana
Description: The Florida Mall will be the first Florida location, and one of the first US boutiques outside of California for the Brazilian accessories brand. The boutique is known for high-end fashion jewelry and accessories that are synonymous with style and sophistication.
Opening Date: Summer 2015
Square Footage: 768
Name: SportsAction, Inc.
Description: SportsAction, Inc. is an athletic footwear retailer with several stores located in south Florida in the most important and premium malls. SportsAction specializes in providing quality products and great styles in a variety of brand name performance, sports lifestyle and soccer footwear, apparel and accessories. SportsAction is in the process of expanding and continued growth with the opening of this new location in Central Florida, helping to achieve their mission.
Opening Date: Fall 2015
Square Footage: 4,489
Casual Dining
Name: Tobu
Description: This quick service Asian concept sets the bar for the next generation of fast food concepts by offering a variety of distinct and delicious menu items presented in a clean, eye-catching store. The menu includes your choice of fresh chicken, beef, pork, tofu, and sushi rolls served alongside delicious sides such as mixed vegetables, egg rolls, steamed or fried rice, salad and more. Tobu provides an innovative style and unique alternative at malls by serving only the finest ingredients presenting the best possible dining experience.
Opening Date: June 1, 2015
Square Footage: 1,419
Name: Five Guys Burgers and Fries
Description: Five Guys Burgers and Fries specializes in handmade burgers cooked to perfection on a grill, served with fresh-cut fries cooked in pure peanut oil. The popular fast-casual concept uses the freshest of ground beef to create 250,000 possible burger options with all the toppings you could stuff between fresh-baked buns.
Opening Date: June 1, 2015
Square Footage: 732
Name: Charley's Philly Steaks
Description: Charley's Philly Steaks are made with 100 percent USDA choice steak, 100 percent all-white meat chicken breast and fresh deli meats. Each Philly steak is grilled fresh, right when it's ordered.
Opening Date: June 2015
Square Footage: 732
Name: Dumpling and Noodle Bar
Description: Dumpling and Noodle Bar brings the noodle bowl concept into the 21st century by combining a modern and appealing restaurant aesthetic, dynamic ordering system and exciting "kitchen to bar" service offerings with diverse Asian fusion inspired by udon and ramen options. Each menu item can be paired with unique and deliciously-blended teas and slushes. The concept has been designed, from top to bottom, to attract customers with a fresh and modern brand and design, and an even-flow trendy and social atmosphere that keeps coming back for more. This is a lunch and dinner experience you won't want to miss!
Opening Date: June 2015
Square Footage: 400
Name: Chicken Now
Description: Chicken Now is a counter-serve concept known for its chicken fingers served in sandwiches, wraps and salads. Original or grilled, this delicious concept serves only the freshest chicken, cooked to order the way you like it. Chicken Now is dedicated to providing customers with the highest quality service, catering to families and people of all ages.
Opening Date: June 2015
Square Footage: 795
Name: A&W All American Food
Description: A&W All American Food is a fast-food outlet serving namesake root beer and floats that can be paired with a variety of delicious burgers, lightly breaded chicken fingers, hot dogs and French fries. Satisfy your taste buds and grab a soft-serve blended dessert treat to finish off your meal.
Opening Date: June 1, 2015
Square Footage: 600
Name: Asian Chao
Description: Asian Chao delivers healthy alternatives with zesty and tangy flavors like Orange Chicken, Beef & Broccoli, Vegetable Medley, and other popular dishes. The first Asian Chao opened at The Florida Mall in 1991.
Opening Date: June 1, 2015
Square Footage: 600
Name: Sbarro
Description: As the pre-eminent, quick service New York pizza place worldwide, Sbarro serves made-from-scratch dough prepared daily, San Marzano style tomato sauce, and hand-shredded 100 percent whole milk mozzarella. The restaurant also prides itself on offering other Italian-American cuisine including spaghetti, lasagna and baked ziti served with Carmela Sbarro's signature sauce.
Opening Date: June 1, 2015
Square Footage: 618
Name: Taco Bell
Description: Taco Bell is the nation's leading Mexican-inspired quick service restaurant chain serving made to order and customizable tacos, burritos, and specialties like the exclusive Doritos® Locos Tacos, gourmet inspired Cantina Power Menu and lower calorie Fresco Menu.
Opening Date: June 2015
Square Footage: 623
Name: Häagen-Dazs
Description: Häagen-Dazs is a counter-service chain offering the purest and finest of ice cream sorbet and frozen yogurt. Originating in New York, Häagen-Dazs went from offering only three flavors – vanilla, chocolate and coffee – to innovating the frozen dessert experience with distinctive flavors such as vanilla swiss almond, butter pecan, and dulce de leche, among others.
Opening Date: June 1, 2015
Square Footage: 240
Health-Conscious
Name: Spoleto Italian Kitchen
Description: Spoleto Italian Kitchen is an international brand with restaurants located in Brazil, Mexico and Costa Rica. The Florida Mall location is an interactive eatery where diners can create their own pastas, flatbreads, salads and desserts.
Opening Date: June 2015
Square Footage: 2,509
Name: Nature's Table
Description: Nature's Table offers great menu choices such as gourmet wraps and paninis, classic sandwiches, salads and delicious protein bowls. It's a perfect blend of the traditional and the new, the healthy and the indulgent. The restaurant recently introduced a new menu this year featuring many flavorful options.
Opening Date: June 1, 2015
Square Footage: 718
Name: FRESH – Healthy Café
Description: FRESH – Healthy Café features a wide variety of fresh and healthy foods, including wraps, grilled paninis, salads and soups. Pair these delectable offerings with the concept's renowned smoothies or fresh squeezed juices for the perfect health experience. FRESH also offers a delicious kids' menu that all kids will enjoy!
Opening Date: June 1, 2015
Square Footage: 224
Name: Jamba Juice
Description: Jamba Juice offers smoothies, fresh-squeezed juices, yogurt and fruit blends, wheat grass shots, slow-cooked, steel-cut oatmeal made with 100% organic oats, and healthy baked goods.
Opening Date: June 1, 2015
Square Footage: 280
Name: Ugrean
Description: Ugrean strives to provide a healthy and flavorsome dining experience that will surprise both your senses and expectations. All food is sourced from the most responsible local farmers, suppliers and traders to meet and exceed customer's expectations. Ugrean's menu includes signature salads, fresh juices, and create-your-own salads with fresh ingredients, in addition to tarts, gelato, macaroons and more for the sweet tooth. The concept will be reintroduced under the new brand name, ugrean, previously known as 'Fifth Avenue Bistro'.
Opening Date: June 1, 2015
Square Footage: 607
Name: SUBWAY
Description: SUBWAY sandwiches are made to order right in front of the customer, precisely the way they want – using freshly baked breads, select sauces and a variety of delicious veggies and toppings. Top off your sandwich with a sweet-tooth satisfying dessert.
Opening Date: June 1, 2015
Square Footage: 797
Retailers
Name: Ron Jon Surf Shop
Description: Ron Jon Surf Shop, the World's Most Famous® surf shop brings the beach to you! All the great names and assortments in swimwear, casual clothing, surfboards, skateboards and beach accessories you've come to expect from Ron Jon can be found at Ron Jon Surf Shop at The Florida Mall.
Opening Date: Fall 2015
Square Footage: 8,343
Name: Delores Jewelers
Description: Delores Jewelers is a family owned and operated high-end jewelry store that has been in business since 1975. The retailer that specializes in one-of-a-kind custom jewelry designs and creation, and also offers fine jewelry pieces from authorized dealers for PANDORA, Alex & Ani, Vanna K, Simon G, Artcarved, Camelot, Benchmark, Mars and more. Delores Jewelers promises to provide excellent customer service and looks forward to assisting customers in finding the best jewelry.
Opening Date: Summer 2015
Square Footage: 1,691
Name: Yankee Candle
Description: The Yankee Candle Company, Inc. is a leading designer, manufacturer, wholesaler and retailer of premium scented candles. Yankee Candle has more than a 40-year history of offering distinctive products and marketing them as affordable luxuries and consumable gifts.
Opening Date: June 1, 2015
Square Footage: 1,422
Name: GNC
Description: GNC sets the standard in the health and nutrition industry by demanding truth in labeling, ingredient safety and product potency, all while remaining on the cutting edge of nutritional science. General Nutrition Centers is the world's largest company of its kind devoted exclusively to helping its customers improve their quality of life. The new GNC will be the second location for the brand at The Florida Mall.
Opening Date: Summer 2015
Square Footage: 2,080
Photos from a recent trip to The Florida Mall