Known to few, Zona Fresca opened on September 24, 2015 in Winter Park, FL. By word of mouth, Zona Fresca began to be a favorite for many locals.
On October 17, 2015, we were invited for a tasting of Zona Fresca's dishes from their menu. Before the dishes rolled out, we sat down with General Manager and Winter Park Zona Fresca owner Nigel Bogaert.
According to Mr. Bogaert, he did his best to mirror his location according to the first location in Fort Lauderdale.
With his location in Winter Park, he targets families and college students. Mr. Bogaert dreams of making Zona Fresca a place for all to come and feel part of a community – a family.
To start your meal, enjoy a bowl of tortilla chips with a number of toppings.
These toppings go well with chips as well as each item you order on the menu.
You can enjoy some pickled vegetables, which are a bit spicy but there is a sweetness to the vinegar twist to what you originally find in a Mexican grill.
From left to right, you have: freshly made guacamole, habanero hot, pico de gallo, pickled vegetables, tomatillo, and salsa fresca.
My favorites are the guacamole, pickled vegetables, and pico de gallo. Each of these are refreshing and nicely balanced.
The habanero hot is a topping that will add heat to your dishes. Tomatillo and salsa fresca adds a different taste to your dishes.
Zone Fresca offers salads and soups, which can be found on their menus in the restaurant or online.
The Pozole Soup consists of braised chicken, hominy, onions, cilantro, and radishes in a guajillo chili broth.
The soup is mellow and delicious for a chilly day. It has many textures, but they are all cohesive to one another.
Chili Rellenos are charbroiled poblano peppers stuffed with jack and cheddar cheese, served with black beans, cilantro rice, and pico de gallo.
This dish is warm and you can taste all the flavors added by its method of being charbroiled. The jack and cheddar cheese flavors blend well with that of the peppers'.
Each bite is recommended with a little pico de gallo to add a crunch and a little freshness.
Zone Fresca offers a number of different street tacos. Each are open faced perfect bites on two soft corn tortillas.
There are two tortillas because you often drop the filling, which you can use the second tortilla to scoop up and continue to enjoy your meal, with a beer to wash it down.
Do not let your eyes fool you, these tacos are a healthy alternative to a typical, authentic Mexican taco because of the lean cuts of meat chosen by Zona Fresca.
Typically, Mexican tacos include lean and fatty bits of the protein chosen for tacos, which helps in influencing the flavors of the meat with the assistance of the Maillard reaction.
The Chicken Breast taco is a bit dry and needs a little seasoning and more lemon, but the guacamole does wonders to the taco.
This taco is topped with cactus, avocado, cilantro, onions, and lemony dressing.
Roasted Pork is topped with pickled onions and cilantro. The pork is cooked well and the pickled onions is a unique flavor to add to the pork.
Still, a little more seasoning is needed to quench my tastes.
Machaca tacos are served with poblanos, tomatoes, and queso fresco. The taco seems plain, even when served with the toppings.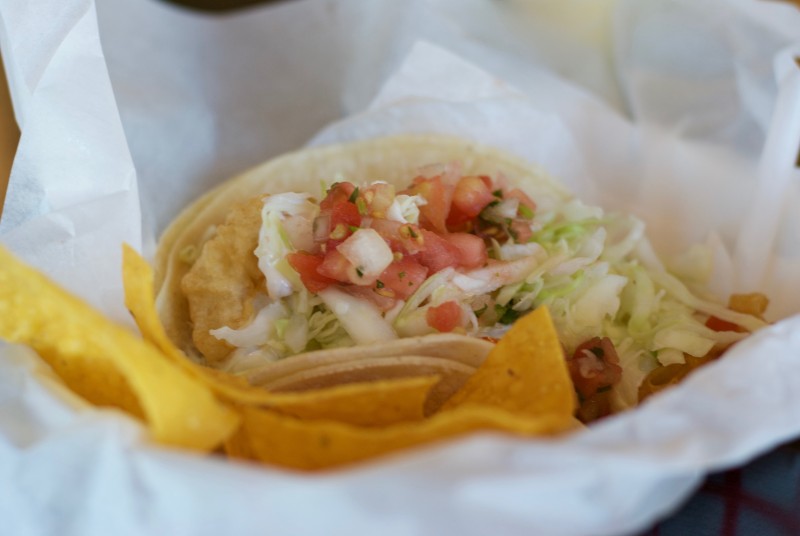 Baja Fish tacos are served with cabbage, pico de gallo, and a tangy dressing. The tangy dressing makes the tacos refreshing.
To our liking, the fish is soft on the inside and crispy on the outside.
However, do not leave it waiting too long, the outside will not remain so crispy.
With that being said, make sure you eat the delicious taco the moment it reaches your hands.
Please visit the Zona Fresca website for more information regarding the menu, catering, etc.

Zona Fresca
1035 N Orlando Ave
Ste 105
Winter Park, FL 32789
Phone number (407) 622-4840