EPCOT's origins may have started off as the template for the city of tomorrow but it has also become the premier host of excellent food festivals, including the International Food and Wine Festival, which runs in fall and The Festival of the Arts, a new addition for 2017, which runs prior to Flower and Garden.
The 24th EPCOT International Flower and Garden Festival©, runs from March 1st to May 29th and showcases an abundance of flower displays, ranging from classic Disney characters to more intricate floral designs. Along with those displays, each country in the world pavilion also has a delicious sampling of food and complementing beverages, making for a delightful afternoon in the park. The following were but a small selection of the over 100 food and beverage items.
Urban Farm Eats: Crabless Cake with Crispy Vegatable Slaw, Lemon Vinaigrette and Old Bay Remoulade, the crabless cake with a delicious remoulade has a crisp exterior and a delicious vegetarian option.
Florida Fresh: Carne Asada with Black Bean Cake and Cilantro-Lime Sour Cream, this dish has the elements of a great southwestern style barbecue.
Smokehouse: Beef Brisket Burt Ends Hash with White Cheddar Fondue and Pickled Jalapenos, by far my most favorite dish, a balance of flavors with the heat from jalapenos and coolness of sour cream created a spoonful of delight.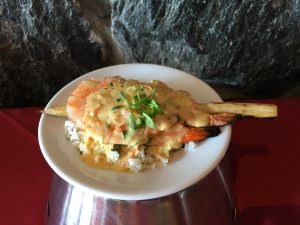 La Isla Fresca: Sugar Cane Shrimp Skewer with Steamed Rice and Coconut Lime Sauce, on a bed of herb flavored rice and coconut sauce brought the flavors of the tropics.
Northern Bloom: Seared Scallops with Green Beans, Butter Potatoes, Brown Butter, Vinaigrette and Apple-wood Smoked Bacon, on a bed of green beans with potatoes and bacon was my second favorite sampling.
Everything Berry: Warm Wild Berry Buckle with Pepper Berry Ice Cream, this refreshing dessert showcased a tasty blend of seasonal berries and an even tastier ice cream.
Florida Fresh: Key Lime Tart topped with Toasted Meringue, had true zest of key lime with a natural sweetness and tart flavors.
Tea, scones and Disney's baking prowess were on display with both a selection of sweet and savory scones accompanied by a selection of Twining's Tea©. The savory scone filled with the Earl Grey Butter and a side of tea was my favorite. I am partial to Earl Grey though.

The wine pairings included Floriography Blooming Red 2014 and Blooming White 2015 from the Western Cape of South Africa.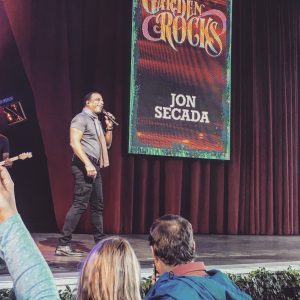 Epcot International Flower & Garden Festival Highlights for 2017 currently include:
Outdoor Kitchens offering delectable small plates, and flavorful non-alcoholic and alcoholic beverages—along with several new food and refreshment kiosks
More than 70 world-renowned Disney-themed topiaries—including many totally original displays
Vibrant gardens, flower towers, wildlife habitats and walkways—some being presented for the very first time
Inspirational exhibits, seminars, how-to demonstrations and all-new farm-to-table dining experiences
Garden Rocks™ Outdoor Concert Series featuring throwback beats from fan-favorite bands—with an assortment of debuting acts and dining packages
Blossoming from March 1 to May 29, 2017, the Epcot International Flower & Garden Festival boasts fun-filled exploration for every age and interest. It is a foodie festival that is not to be missed for those who enjoy great food, beautiful flora and the Florida sunshine.