Alton Brown, the Food Network television personality of Good Eats, Iron Chef America, and Cutthroat Kitchen fame, will be returning to Orlando for his live "Eat Your Science" show at the Dr Phillips Performing Arts Center on April 22, 2017.
On his last visit to Orlando, he stopped by some local favorites such as Beefy King, Credo and Lineage Coffee, Skyebird Juice Bar, Olde Hearth Bakery, Kappo at East End Market, The Ravenous Pig, Pho 88, and Pom Pom's Tea House and Sandwicheria.
On March 14, Alton Brown posted this on Facebook:
"Dear Orlando: The last time I was in your fine city for Alton Brown Live, you directed me to these fine establishments. Well…I'm coming back April 22 (http://bit.ly/EYSOrlando) and need your help again. Where should I go? #ABRoadEatsORL"
I humbly submit a few places for his next visit, including a few of my favorites.
Knowing he is probably on a tight schedule, I recommend visiting the Mills 50 area first, where he can hit up a few spots at once:
1. Mamak – Malaysian street food

Dishes to try: Wontons in hot peanut sauce and the roti canai.
Mamak
1231 E Colonial Dr, Orlando, FL 32803
Phone: (407) 270-4688
www.mamakasianorlando.com/

Dishes to try:  The Oak-smoked St. Louis ribs (half-rack $14.99, full $22.99) are truly among the best, if not the best, ribs in all of Orlando – slow-cooked with a crispy surface yet tender, fall of the bone meat within and a nice sweet flavor. Try it with the crispy sweet fennel apple salad.
Pig Floyds
1326 N Mills Ave, Orlando, FL 32803
Phone: (407) 203-0866
www.pigfloyds.com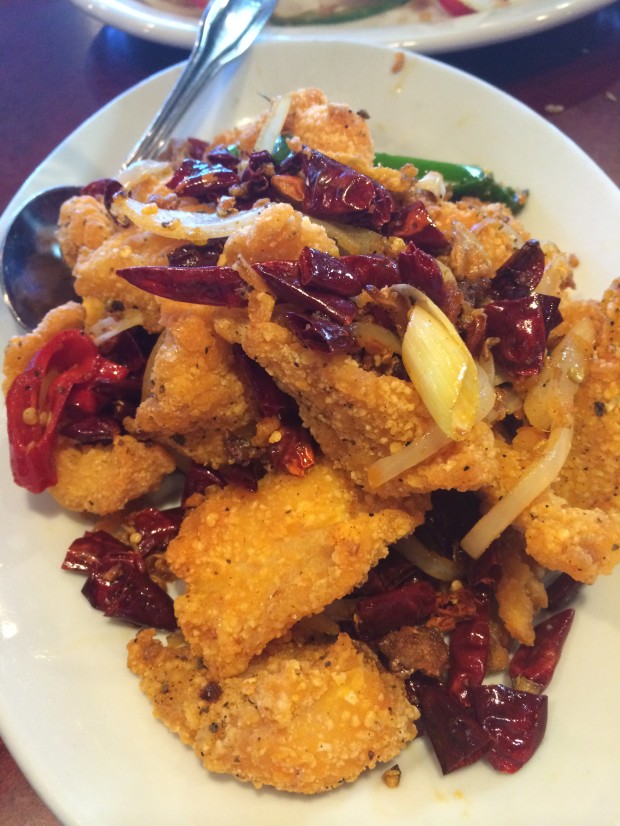 Dishes to try: La Zi Fish, fried with Sichuan peppercorns and the pan fried house made dumplings.
Chuan Lu Garden
Phone (407) 896-8966
??1101 E Colonial Dr, Orlando, FL 32803
http://www.chuanluorlando.com/

Dishes to try: Banh cuon, a rice noodle crepe dish filled with mushrooms and pickled daikon radish.
Vietnam Cuisine
1224 E Colonial Dr, Orlando, FL 32803

Dishes to try: Pork Tonkotsu Ramen – made with a 24 hour pork broth, and topped with slices of braised pork belly, poached Lake Meadows soy pullet egg, and house made garnish
Seito Sushi
4898 New Broad St, Orlando, FL 32814
(407) 898-8801
www.seitosushi.com

Dishes to try: Spicy Egg Pizza
The Osprey Tavern
4899 New Broad Street
Orlando, FL 32814 407-960-7700

Dishes to try: The Cronut or the Traditional Glazed Donut
Donut King
3716 Howell Branch Rd Winter Park, FL 32792
(321) 316-4817
http://www.thedonutking.com/

Dishes to try: Vietnamese pork tacos and Vietnamese coffee
Viet-Nomz Vietnamese Pho & Street Fare
7581 University Blvd, Winter Park, FL 32792
Phone: +1 407-636-6069
http://vietnomzfl.com/
Dishes to try: The Gyro bowl, a generous bowl with a large lavash flat bread base overflowing with bulgur wheat grain, sliced pickled red onion, chopped tomatoes, and slices of beef and lamb doner / gyro.
Shishco Mezze and Grill
118 Lake Ave, Maitland, FL 32751
Phone:(407) 661-1336
Menu: shishcomezzegrill.com
10. Bulla Gastrobar in Winter Park
Dishes to Try: Huevos Bulla, made with eggs, homemade potato chips, Serrano ham, potato foam and truffle oil. The dish is mixed at the table.
Bulla Gastrobar
110 S Orlando Ave #7, Winter Park, FL 32789
Phone: (321) 214-6120
Where would you send Alton Brown? Use the hashtag #ABRoadEatsORL on facebook, twitter and instagram to send him your recs.