Whether you decide to sit outside in the warm Florida sun or inside the unique restaurant, Harry's Poolside Bar & Grill have a number of drinks and meals for you to enjoy. You can find Harry's inside Rosen Centre Hotel along with many of their other restaurants serving a variety of cuisines to please your palate.
Here is a little insight to the poolside restaurant menu.
Cayman Island Calamari – Crispy Island Spiced Panko Calamari served with Cayman Aioli. If you are not fond of the calamari texture, this is a calamari dish for you as it is more crispy than anything from the panko coating. The Cayman aioli sauce will add a nice flavor to the crispy appetizer.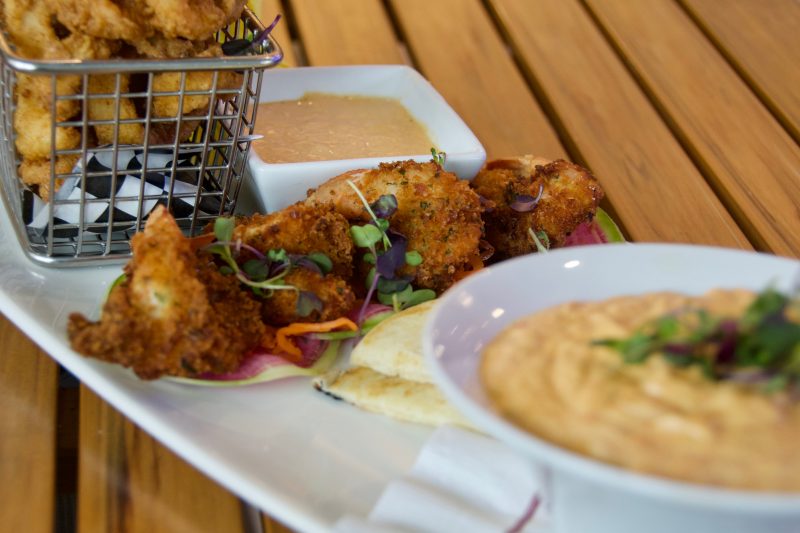 Island Coconut Shrimp – Crispy Coconut Gulf Shrimp usually served with Orange Chili Sauce. These shrimp are a decent size and fresh. They are lightly seasoned and also go well with the Cayman aioli sauce on our plate.
Oh My "Gorgonzola" Dip – with Caramelized Onions, Garlic, Roasted Tomatoes & Artichokes served with Baked Roti Bread. The dip itself is very flavorful and one bite will not be enough. In my opinion, I would prefer the dip with the to stones over the roti bread. Maybe you could try it both ways and let us know your preference!
Island Mahi Mahi Wrapped in Banana Leaf – Island All-Spiced Mahi wrapped in Banana Leaf. Served with Jasmine Rice, Coconut Curry and Mojo Tostones. The Mahi was slightly dry, but a little drizzle of lemon will help that as well as add a nice citrus kick to brighten up the coconut curry flavors. The jasmine rice had notes of coconut as well as it was topped with coconut shavings.
Jamaican Jambalaya – Chicken, Shrimp and Chorizo Sautéed with Onions, Peppers and Tomatoes with Zesty Creole Sauce served over Rice and Beans. This dish is a favorite of Harry's and we can see why. The proteins are prepared on the side and added to the sauce when ordered, which allows alterations to occur when clients have allergies. The sauce is already slightly spicy, but you can crank up the spicy level by letting your waitress and chef know your preference on spice level when given a scale of 1-10. We tried the dish with a level 9 on the spicy scale and we were not disappointed; don't worry, we could still taste the other flavors this dish offered.
Trio of Tropical Sorbets – Mango, Coconut and Pineapple served in a Chocolate Wafer Shell with Fresh Fruit. We were aware of the delicious dessert alternatives, but we wanted something light after our full meals. The coconut sorbet was our favorite of the three.
Zested Mojito – Bacardi Limon Rum with Fresh Muddled Mint and Lime Shaken Vigorously and Topped with Soda. The drink was made strong and delicious. The mint added was not so fresh and the notes of mint were masked by rum.
Pineapple Upside Down – Svedka Vanilla Vodka and Malibu Coconut Rum Served Neat with Pineapple and a Splash of Maraschino. This drink was sweet like fruit punch, which hid the taste of alcohol. This can be very dangerous if you plan on having a few. At that point, go with a bucket deal that they have at this restaurant. If you're not a fan of sweetness, squeeze a lemon into the drink and it'll cut the sweetness for you.
For more information on the cocktail bucket deals and Harry's in general, please visit Harry's Poolside Bar & Grill.