As I walked through the doors of Del Frisco's, I was immediately captivated by a vibrant atmosphere. Their upstairs bar, where the event was hosted, offered a great venue. It was the perfect setting for wine tasting and mingling with guests. 
The winemaker himself, André Hueston Mack, greeted guests and conversed with them about his Maison Noir wines. According to Mack he has been working with Del Frisco's for the past three years and they have been a huge aid in getting his business off the ground. "They were really one of the big anchor accounts in New York that really put me on," says Mack. This is the second meet and greet of its kind, the first one was held in Charlotte, North Carolina. Mack likes the "hang out" vibe that meet and greets have to offer which is why Del Frisco's decided to hold the event in such manner. There is less pressure and overall it is a relaxing stage for people to sample wines and foods.  At this tasting, there were six wines in total. They read directly off of his menu as follows:
White wines:
2017 Love Drunk Rose (left)
"100% single vineyard fruit (77% Chardonnay with 23% Pinot Noir) from McMinnville AVA Vineyards, some of the oldest and best plantings, produce fruit of consistently outstanding quality. An intoxicating rosé. Much like new love, it clouds the brain, causes the eyes to sparkle, cheeks to glow, blood pressure to rise, and lips to pucker."
2015 Knock on Wood Chardonnay (right)
"100% Chardonnay, all stainless-steel and no malolactic fermentation. Procured from hillside vineyards in Yamhill-Carlton AVA, reminiscent of the grand crus of Burgundy's Cote d'Or. It benefited from a very long and cold fermentation – almost two months – resulting in a lean and mean wine with perfume of honeydew melon and pear surfing huge waves of minerals, bringing a nice tide of racy starfruit to the finish."
2015 O.P.P. Pinot Gris (Other People's Pinot Gris) (left)
"The 2015 vintage was Oregon's hottest and largest harvest on record, producing lush round fruit with balance acidity! We would like to introduce our take on Pinot Noirs favorite mutation: The 2015 Other People's Pinot Gris is like Juggling Apples, Pears and Peaches while dancing to Pharell's 'Happy' – enthralling, upbeat, fresh and deluxe"
Red Wines:
2015 O.P.P. Pinot Noir (Other People's Pinot Noir) (right)
"The 2015 Other People's Pinot is classic Oregon Pinot- earmark Willamette Valley. It is accessible, a great value, and stays true to the character of vineyards from which it was born. Earthy, spicy, floral, herb-framed flavors of cherry with gingery wood spice tones."
2013 XL Pinot Noir (left)
"Nuff Said…A special bottling inspired by Andre 'Mouton Noir' Mack's 40th Birthday"
Horseshoes & Handgrenades Red Blend (Oregon Syrah, blended with Cabernet Sauvignon and Merlot from Red Mountain Washington) (right)
"Fruit-driven, full-bodied complex red blend sourced from Southern Oregon and Red Mountain Washington. The rich, ripe, voluptuous fruit comes from Oregon Syrah with just enough Washington Cabernet Sauvignon and Merlot to give it complexity and structure."
There were also hors d'oeuvres prepared by Executive Chef Greg Thompson in order to compliment the taste of the wines.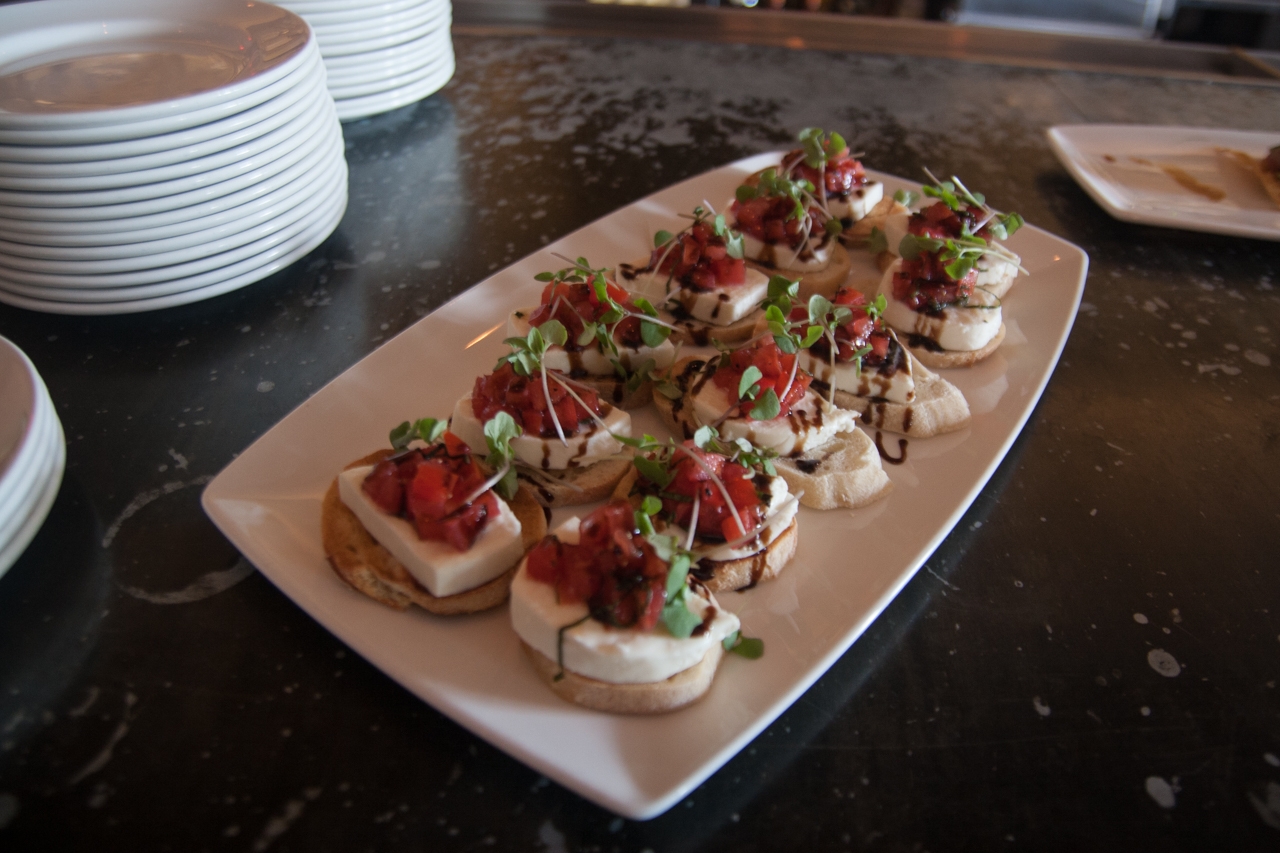 HEIRLOOM BRUSCHETTA  Fresh Mozzarella, Sweet Red Onion, Basil & Balsamic Glaze on Ciabatta Toast
JUMBO LUMP CRAB STUFFED OYST Lemon hollandaise and Hackleback Caviar
LAMB CHOPS AND BACON Tender Lamb Served with Light Sauce & Seared Bacon with Garnish
Each dish was very unique and offered their own personality when tasted with each wine. And likewise, each wine portrayed a different character depending on which appetizer it was paired with. My favorite pairing was the HEIRLOOM BRUSCHETTA with the Knock on Wood Chardonnay. It was a match made in heaven. The smoothness and deep taste to the chardonnay soaked into the thick mozzarella and it was a soothing sensation upon my tongue, very rich. I also enjoyed the pieces of seared bacon. Since they were fatty bits, it melted in your mouth and unleashed a savory classic bacon flavor.  I also enjoyed the slight crisp shell in which the piece of meat was enclosed in due to being seared.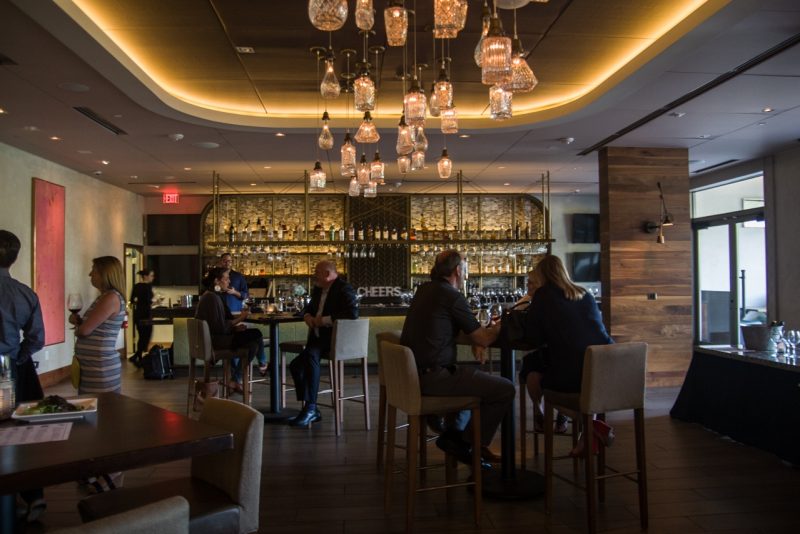 The upstairs bar and veranda room is a suitable place for holding parties and functions according to Del Frisco's Sales & Event Planner, Jo Truett. It satisfies both an indoor and outdoor experience. The outside patio overlooks International Drive and provides a warm welcome to friends and family. Del Frisco's hopes to host events similar to this one in the future more frequently.  Overall, it was a great experience and something to look forward to if you want to unwind and meet new people while indulging in scrupulous food and wine.