I love nothing better than going to dinner with friends. Especially, a couple that both you and your partner mutually like, meaning all four people are happy and no one has to pretend to like someone for the benefit of their relationship. I know you understand what I'm talking about, we all go through it. Finding good friends, especially at the age I am now (a much wiser age), friends that my husband also enjoys being with, can be challenging. Thankfully, on this occasion, all was right in the world. Friday night, the kids are home with our amazing sitter (she paints my daughter's nails and bakes), meeting terrific friends (a couple we both love to be with), for a casual, but classy dinner at RusTeak Restaurant and Wine Bar in Ocoee. One of my local favorites!
Mahogany walls, dark cherry wood bar and furniture, chrome fixtures, a perfect mix of trendy and casual, rustic, as the name of the restaurant implies…this is RusTeak. A seasonal menu of American, farm-to-table favorites with an edge, and a selection of over two-hundred wines from around the world, a large variety of craft beers, and handcrafted cocktails. RusTeak has an upscale feel while creating an atmosphere in which I feel completely at ease in, wearing shorts and flip-flops, as I did on this night. Walking in, I quickly realized that RusTeak is one of the many restaurants taking part in Bite30 during the month of June. During all thirty days of the month, RusTeak is offering a special prix fixe, multi-course dinner menu for a set price of $30. We didn't partake in the Bite30 menu on this night, but I do plan to return and try it soon. With our friends running a few minutes behind, we had no trouble finding a seat at the bar for a little pre-dinner conversation and drinks (Ponga Sauvignon Blanc for me, dirty martini for my husband). My glass of wine was icy-cold perfection for this humid night (welcome, summer weather, can't say I've missed you).
With our friends arrival, we sat down at the high-top table, each of us merrily looking at our menus, my legs happily dangling from my bar stool (short girl problems), finally settling on a few appetizers to share: Pumpkin Seed Edamame, Tomato Jam Jar, and Soft Jumbo Pretzel Sticks with two dipping sauces (mustard and cheese).
Tender edamame sautéed with butter, garlic, parmesan, and toasted pumpkin seeds…it's one of the best edamame appetizers I have ever tasted. Savory, salty, fresh, and rich all at the same time. The buttery parmesan coated each piece of edamame so perfectly, it took all my willpower not to suck the pod after I had already eaten the soybean. Good thing I stopped doing that after the third or fourth one.
The Tomato Jam Jar is one of RusTeak's favorites (always on the menu). A jar precisely filled with layers of house-made ricotta cheese, spinach almond pesto, and cherry tomato jam, served with toasted Naan bread. The cheese is creamy, the pesto is grainy and thick with herbs, while the jam is pleasantly sweet. A trifecta of velvety, earthy, and nectarous.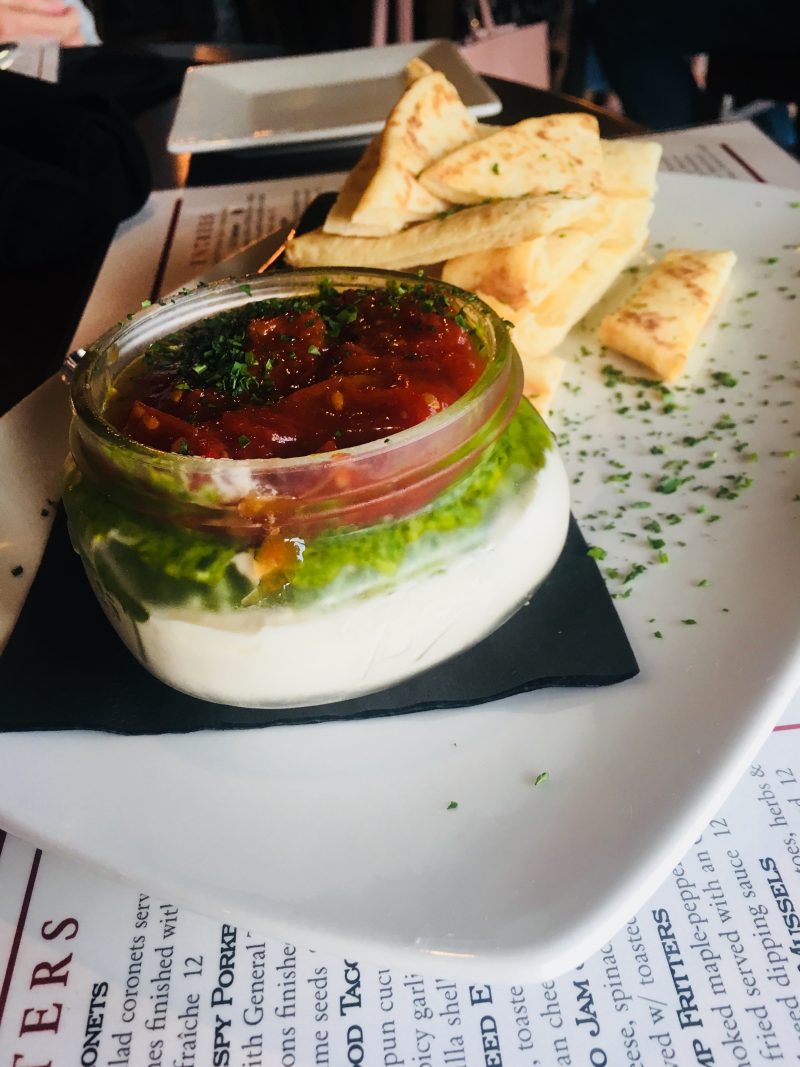 You can't go wrong with soft pretzels, especially dipped in mustard and cheese. Doughy, salty pretzels at RusTeak, are a surprisingly perfect pairing with super Tuscan red wine (I should know, I had plenty of both).
Moving on from our appetizers, and plenty of conversation, we ordered our main entrees. RusTeak offers flatbreads, salads, burgers, sandwiches, and entrees such as Pesto Salmon and Scallop Ratatouille. My friend ordered the Shrimp Tacos, my husband went with the Fig & Rib Flatbread, while two of us settled on an entree called Stay Gold Ponyboy. The name alone, caught my eye. The Outsiders! But, the dish itself did it for me: grilled flat iron steak, spinach-maple bacon yukon gold mashed potatoes, grilled asparagus, all topped with creamy gruyere mornay and two jumbo shrimp. My steak was tender, the potatoes were hearty, the asparagus crisp, and all of it nestled deliciously well with the sauce. I would order this again and again (and not just because of my childhood crush on Ponyboy).
Everyone at the table was completely stuffed…so, of course, everyone refused dessert…except me. In the name of journalism and foodies everywhere, I convinced my husband and friends that we had to try the Dulce de leche Bread Pudding served with a scoop of vanilla ice cream and caramel sauce. Wow! Spongy bread pudding made with sweetened milk and caramel, warm out of the oven plated with cold, rich ice cream. Everyone refused at first, but, they were thanking me in the end.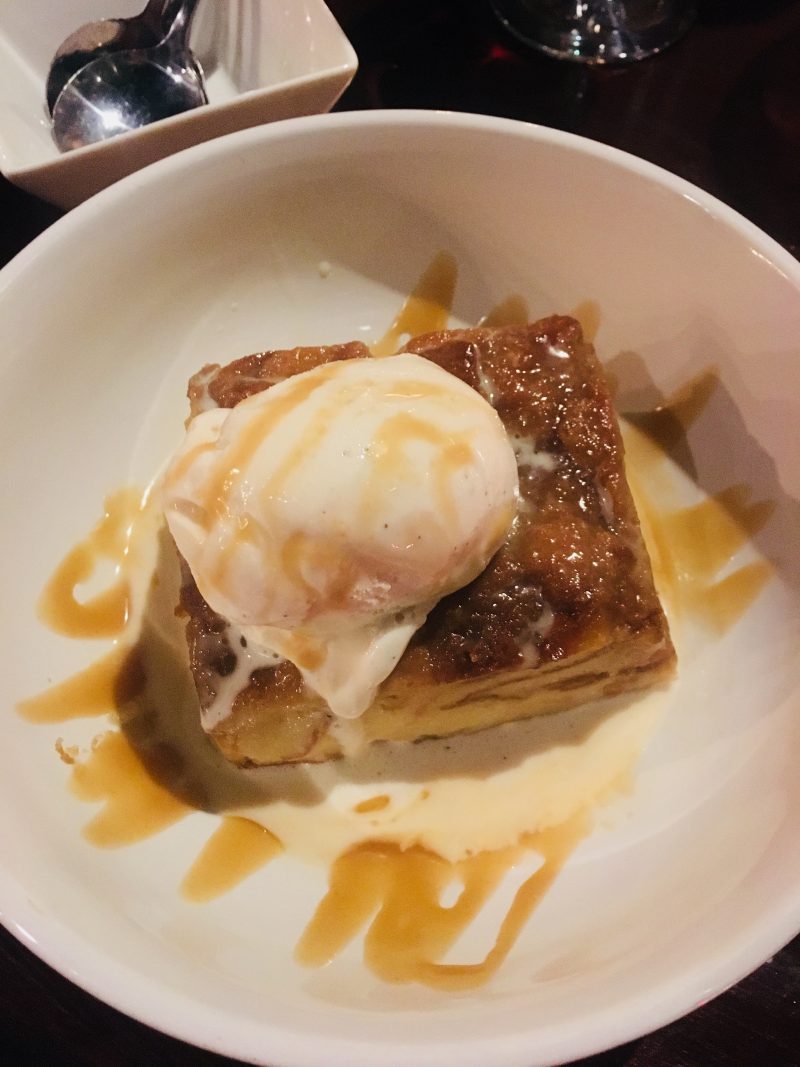 RusTeak Restaurant and Wine Bar is a restaurant I frequent often and recommend consistently. I love that the atmosphere is comfortable, but also eye-appealing. It's a place you can make as "dressy" as you wish. The staff is always polite and knowledgeable, and helpful when recommending a bottle of wine from the expansive list. The food is always freshly prepared and prepared with creativity. Every meal is fantastic, and even better when in good company.
RusTeak Restaurant and Wine Bar