Guy's Award-Winning Burger!  Voted "Best Burger in Las Vegas" by Seven Magazine & Won New York City Food and Wine Festival's Burger Bash
Bacon Mac N' Cheese Burger – Crispy smoked bacon, six-cheese mac 'n cheese, lettuce, tomato, onion, pickle, crispy onions, donkey sauce, garlic-buttered brioche bun
We were invited to Guy Fieri's American Kitchen & Bar in The Villages to check out their revamped menu.  Some of the new menu items includes Baja Fish Tacos, Jack Daniels New York Strip Steak, Big Bite Burrito and the Old School Steak Sandwich.   Guy Fieri's American Kitchen & Bar has also made several other improvements.  They have lowered everyday menu prices, introduced daily specials and rolled out a new Sunday brunch menu.
"On Sundays We Brunch" will be every Sunday from 10am-3pm with prices ranging from $5.95 to $12.95.   The new Sunday brunch menu includes Chicken Fried Bacon, Biscuits & Gravy, the All–American Breakfast Burger, as well as some of Guy Fieri's signature dishes.  Guests also have the option to make their brunch bottomless with unlimited mimosas and bloody marys for only $15.  The bottomless option has a two-hour limit.
The restaurant's owner Greg Pranzo is the same owner as the newly-opened Cinco Tacos & Tequila in Winter Park, FL which just celebrated their ribbon cutting ceremony on National Tequila Day this past Tuesday.
Pastrami Egg Rolls – House made pastrami, Swiss cheese, sweet & sour cabbage, Russian dressing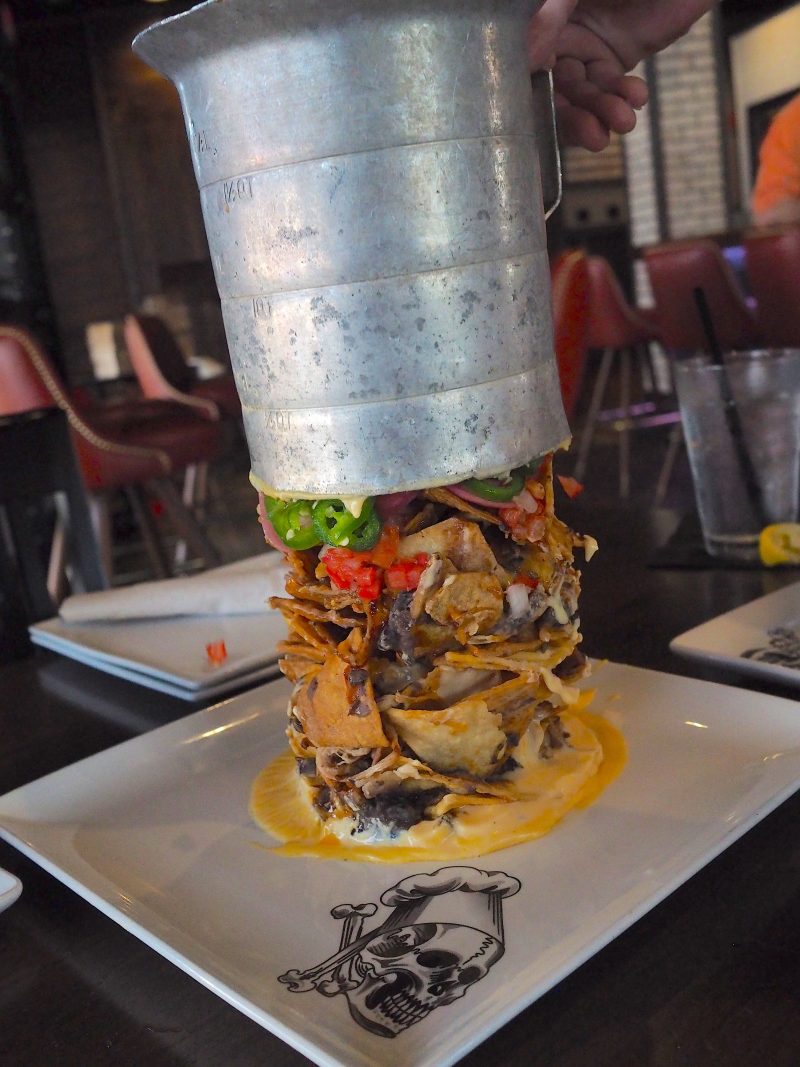 Trash Can Nachos – Warm corn tortilla chips, pulled pork, bourbon brown sugar, BBQ sauce, SMC (super melty cheese), cheddar, beans, jalapenos, crema, pickled red onion, cilantro, pico de gallo
Roasted Garlic Hummus – Scratch-made chickpea hummus, olive tapemade, fire roasted red peppers, herb grilled flatbread, fresh veggies
Guy's Big Island Punch – Southern Comfort, Dragonberry Rum, Dark Rum, orange, pineapple, mango, lime, cherry
Tattooed Mojito – Coconut Rum, lime, blueberries, mint, ginger ale
*NEW* Baja Fish Tacos – Crunchy panko-crusted cod, cole slaw, chipotle ranch, pico de gallo on a warm tortilla
*NEW* Jack Daniel's New York Strip Steak – 12 oz New York strip seared, mash potatoes, side of wonder fries, bacon, sour cream, cheddar, broccolini, mushrooms, scallions, Jack Daniel sauce  
Rockin' the "Diners, Drive-Ins and Dives" shirt that I got from Guy Fieri himself last year during filming at Saigon Noodle & Grill!
(Source: Guy Fieri's American Kitchen & Bar)
Guy Fieri's American Kitchen & Bar at Lake Sumter Landing
1045 Old Camp Rd, The Villages, FL 32162
(352) 633-3018
guysvillages.com